Davies' shaky start comes at inopportune time
Brewers' bullpen has thrown 13 innings over last two games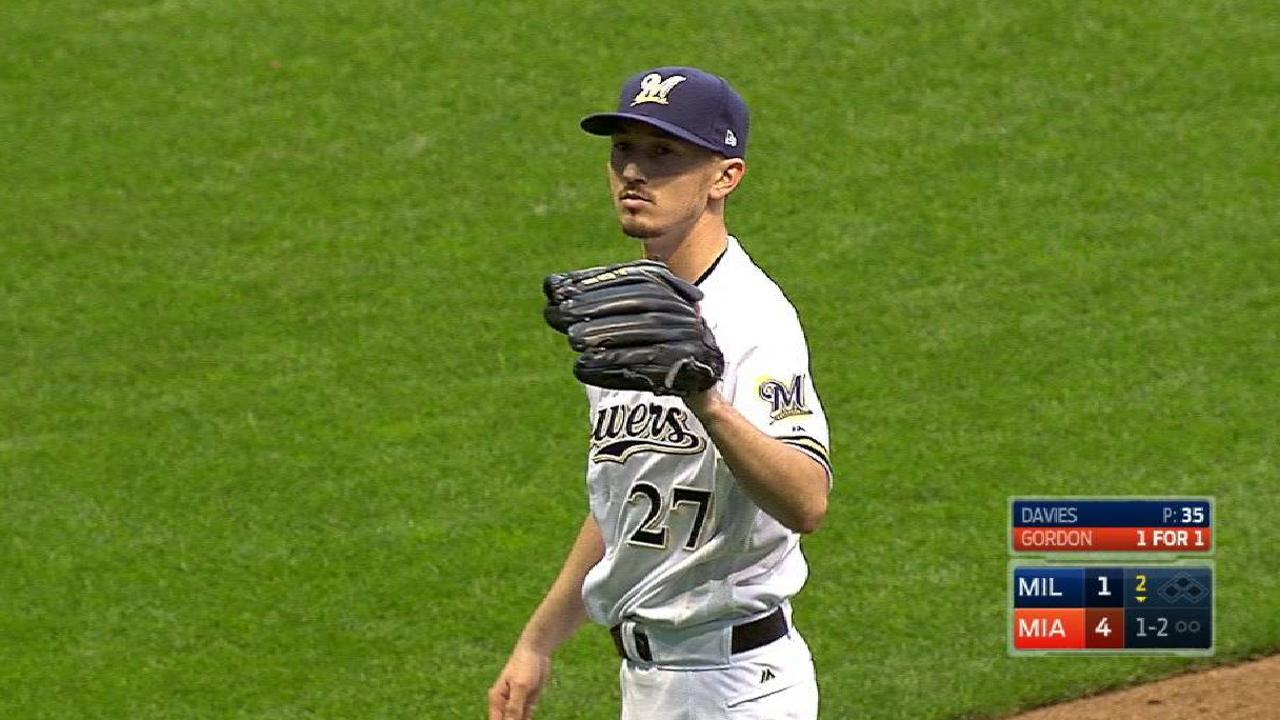 MILWAUKEE -- It became apparent rather quickly that it wasn't Zach Davies' night on Saturday in the Brewers' 7-4 loss to the Marlins at Miller Park.
Davies' shaky start, which saw him allow six runs in four innings, came at a bad time for Milwaukee. The Brewers used eight pitchers in Friday's win and brought in four relievers on Saturday. Rookie Brandon Woodruff starts the finale against the Marlins and Brent Suter, who is not stretched out to pitch a full outing, will take the mound Monday on the road against the Pirates. Over the first two games of the series against Miami, Brewers relievers have combined to throw 13 innings.
While the Brewers have won six of their last eight games, they don't have another off-day until Sept. 25, which comes after a crucial four-game series against the National League Central-leading Cubs. Chicago has won five straight since being swept by Milwaukee at Wrigley Field on Sept. 8-10. The Brewers trail the Cubs by four games with 14 to play after Saturday's loss.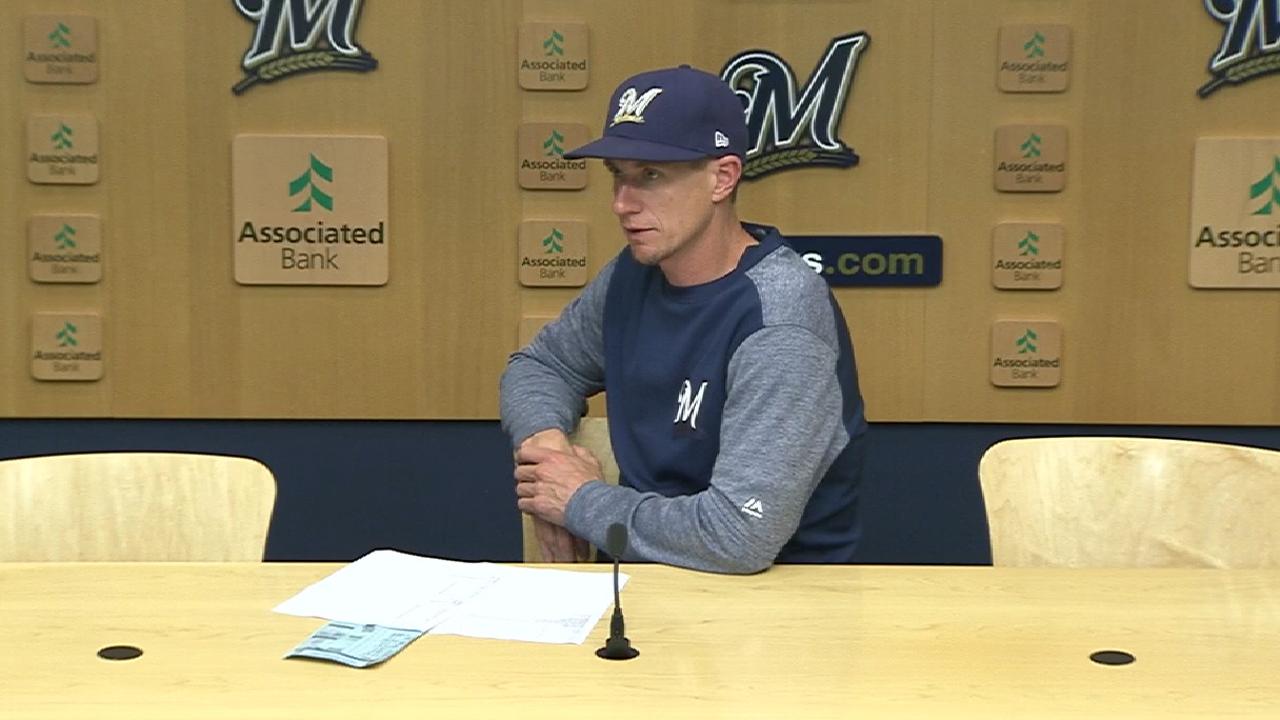 Davies, who was a visitor in his own home ballpark against the Marlins due to Hurricane Irma, quickly found himself scrambling on Saturday. The 24-year-old allowed four straight singles to begin the bottom of the first, and all four of those Marlins scored. Weak contact haunted Davies. He only allowed three "hard-hit" balls all game, according to Statcast™.
"He didn't get it going," Brewers manager Craig Counsell said. "The first inning was a struggle for him. The two hitters just got him behind the eight ball and in a jam right when the game starts. Just six, seven pitches into the game, and you're already in a jam and having to make pressure pitches like immediately. He just wasn't getting to the corners, and that's trouble for anybody."
"It was a tough first inning," Davies said. "I thought I made them have some weak contact, but they found holes and that's baseball. It's a rough start to the game, and a tough time of the year to have those rough starts."
In the third inning, he left a first-pitch changeup dangling over the center of the plate, which Derek Dietrich whacked at 100.9 mph off the bat off the right-field foul pole for a two-run home run.
Davies had a chance to become the first Brewers starter since Chris Capuano in 2005 and first right-hander since Pete Vuckovich in 1982 to win 18 games.
With Davies' season-low four-inning effort, the bullpen, which used eight pitchers to complete Friday's win and had several men unavailable on Saturday, was forced to log four more innings. The group allowed one run, and Counsell said the group is in decent shape for Sunday's finale.
"We know we have little margin for error," Counsell said. "When you're chasing, you have little margin for error. The teams ahead of us are doing a good job of winning games, and we know the margin is slim. Losses make it a little bit slower. We'll answer. We have consistently, and I'm certain we will again."
Fabian Ardaya is a reporter for MLB.com who covered the Brewers on Saturday. This story was not subject to the approval of Major League Baseball or its clubs.