Donaldson homers twice in four-hit game
Blue Jays third baseman continues run of success against Twins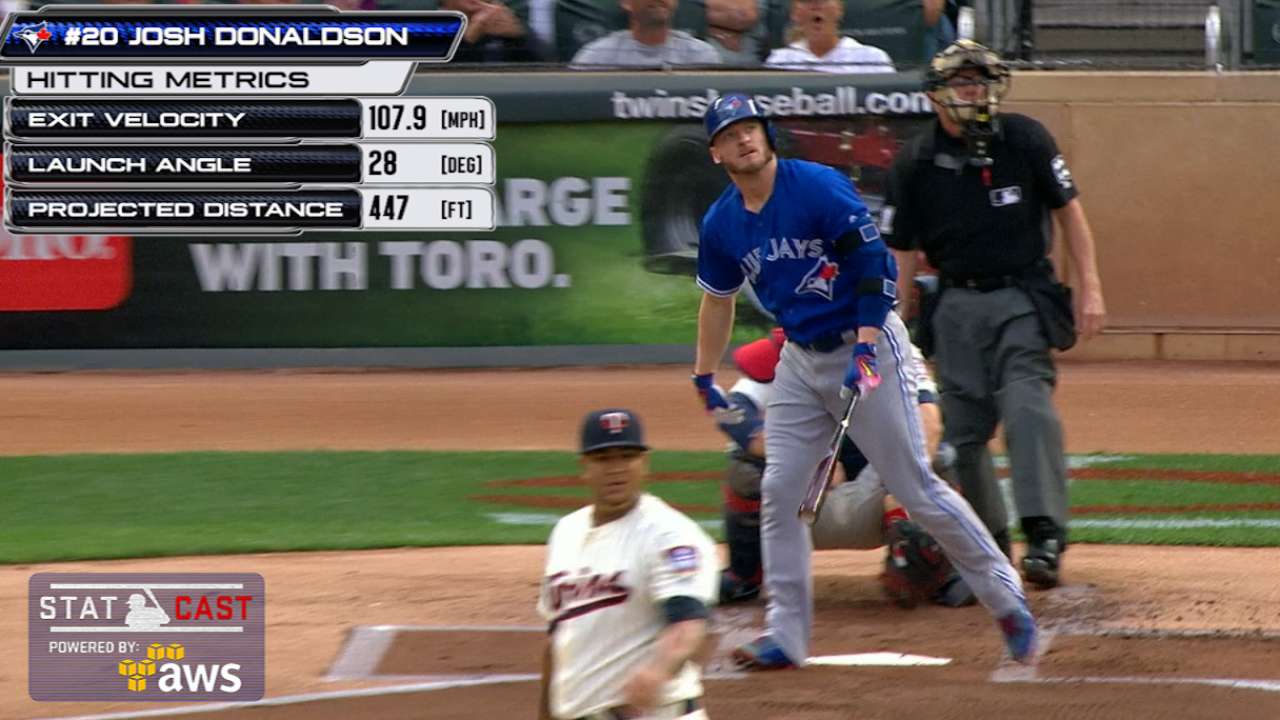 MINNEAPOLIS -- It doesn't seem to matter which Twins pitcher Josh Donaldson faces. He typically tends to hit well whenever he faces Minnesota.
That was certainly the case Saturday night at Target Field for the Blue Jays third baseman. Donaldson slugged two homers, including one to score the game's first run, to lift Toronto to a 7-2 win over Minnesota.
The first of Donaldson's two homers, a second-deck shot to left field, was the second-longest he's hit all year, according to Statcast™. It traveled 447 feet and had an exit velocity of 107.9 mph.
It was also a pitch Donaldson has had success with this year: a fastball up in the zone. This particular pitch by Twins starter Adalberto Mejia was even higher than Donaldson was accustomed to, though. Per Statcast™, it was the highest pitch he's hit for a home run since Statcast™ was introduced, with a pitch height of 3.71 feet off the ground.
"I've been seeing a lot of fastballs up in the zone pretty much all season long," Donaldson said. "There's times when I'm swinging and missing at it, and there's times when I'm connecting with it. The times that I connect with it, good things normally happen for me."
Donaldson bookended his night with a pair of solo shots, as he also went deep in the top of the ninth inning to add to Toronto's lead. His 27th homer of the year just cleared the fence in center field, clearing the outstretched glove of Twins center fielder Byron Buxton.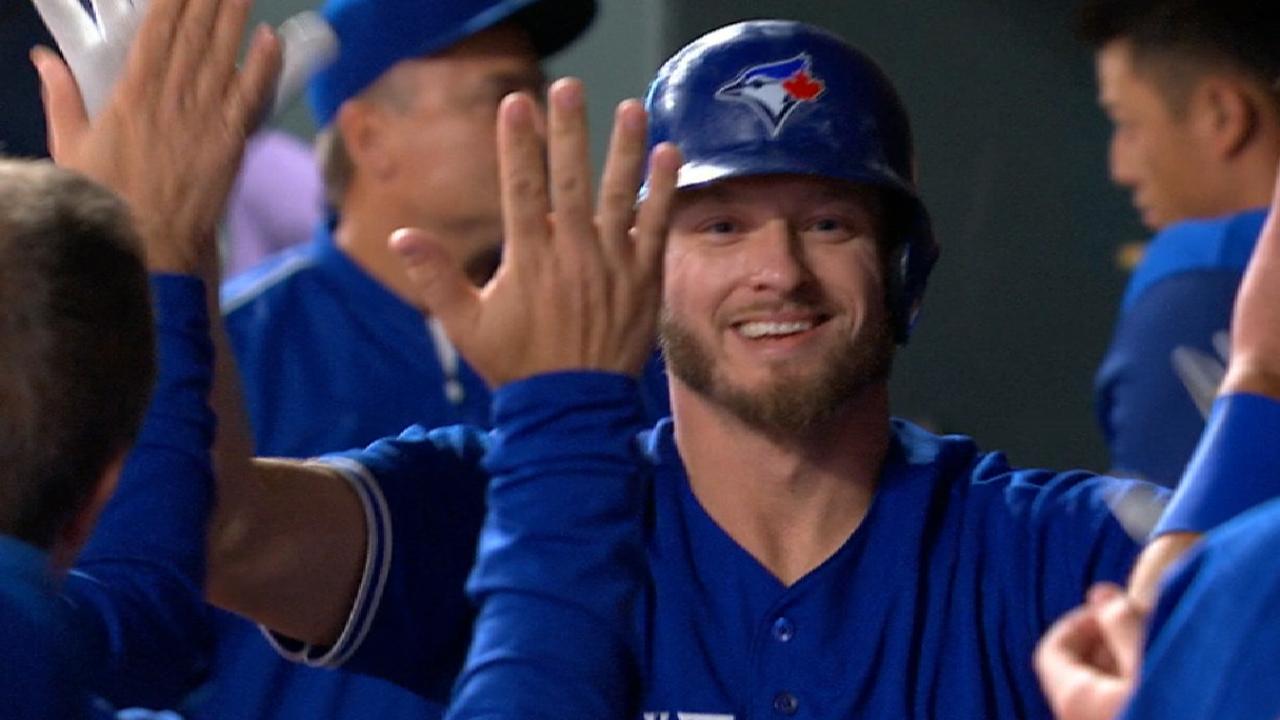 "I thought there was a chance for a second, because the ball wasn't necessarily traveling great tonight," Donaldson said. "I didn't know if it was a homer for sure. I knew that I hit it well, and I knew that he was going to make a pretty good attempt to come down with it."
Donaldson finished the game 4-for-5 with two RBIs and four runs scored. He also singled in the fourth and eighth -- and even stole his second base of the season in the eighth inning, eventually coming around to score.
"One thing about Josh, he's as motivated as any player you're going to run into," said Toronto manager John Gibbons. "It's important to him. He shows up every night, looks to punish the baseball."
Following Saturday's four-hit, two-homer performance, Donaldson has the most home runs in the American League (19) since the All-Star break. He's also batting .423 (11-for-26) with four homers and eight RBIs against the Twins this season. Donaldson has hit eight home runs in 18 career games at Target Field.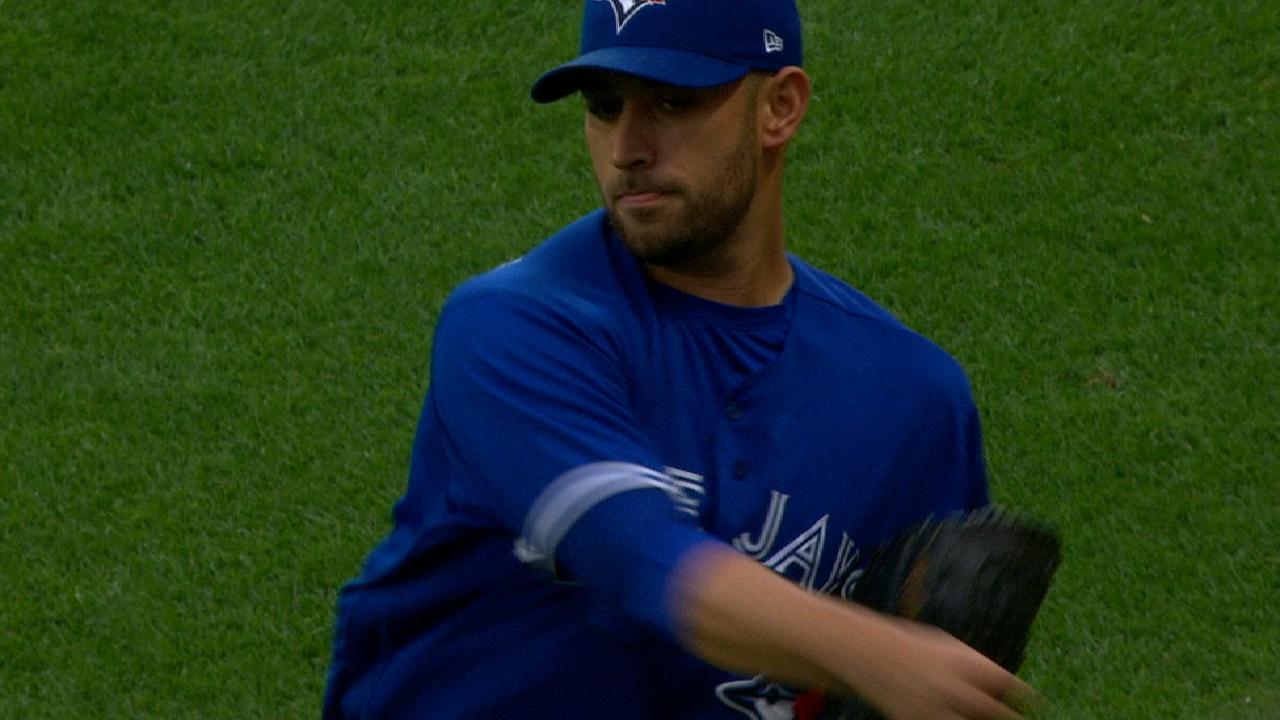 On a night when starter Marco Estrada was cruising, Donaldson provided plenty of offense to back up his pitcher -- much to Estrada's delight.
"He's swinging a lot better as of late. It's good to see," Estrada said. "We need guys like that. Hopefully, he keeps going."
Tyler Mason is a contributor to MLB.com based in Minneapolis and covered the Blue Jays on Saturday. This story was not subject to the approval of Major League Baseball or its clubs.