Has DeShields emerged as starting CF in '18?
'He has worked his rear off and gotten better,' Banister says of DeShields' improved defense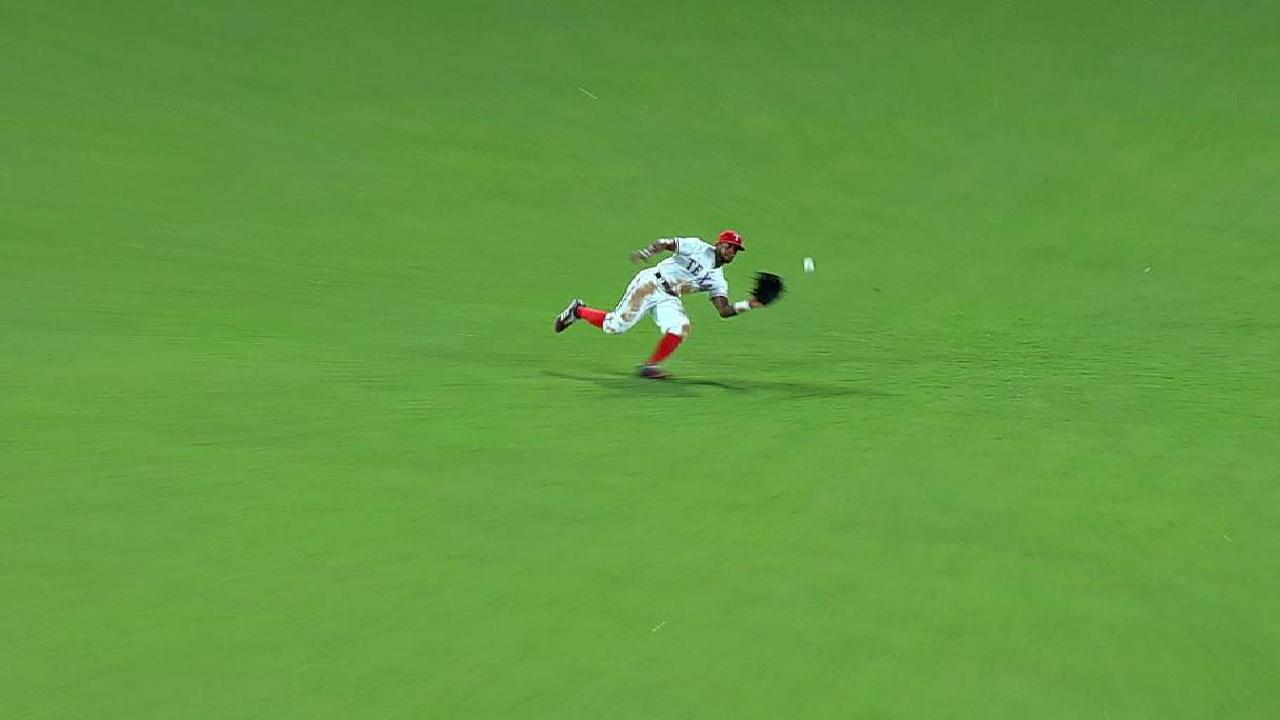 ANAHEIM -- Delino DeShields has re-emerged as a dynamic offensive force at the top of the Rangers' lineup. But his improved defense is another reason why DeShields has pushed his name to the top of the list of potential starting center fielders in 2018.
"He sure hasn't hurt himself, doing as much as he can do and continues to do," manager Jeff Banister said. "He is forcing all of us to view him in that type of [role]."
DeShields began the season as a backup outfielder with Carlos Gomez as the Rangers' starting center fielder. Gomez is currently sidelined with a sprained right ankle and it is uncertain if he'll be back before the end of the season, after which he will be a free agent.
The Rangers signed Gomez to a one-year deal last winter because they didn't trust DeShields to be their starting center fielder. That appears to be changing because of his defense.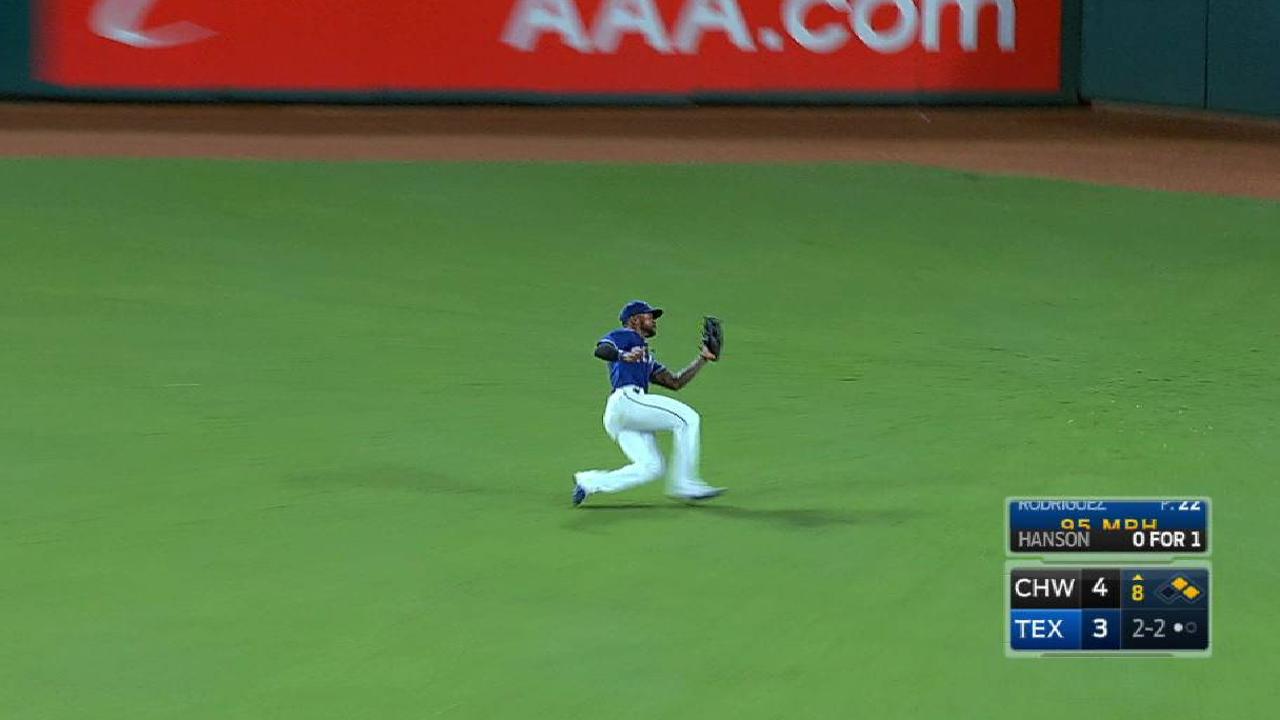 DeShields has played superbly on offense. But Banister acknowledged that at the beginning of the season DeShields needed more improvement defensively than offensively to become a front-line center fielder.
He has done that, according to multiple defensive statistical analysis. According to STATS Inc., his defensive WAR in center has gone from -0.6 as a rookie in 2015 to -0.1 last season to +0.6 this year. He has become a plus defensive player in center.
"It starts with ownership of playing center field," Banister said. "If you watch, I see things between pitches, he's moving the left fielder over because he's moving, or he's moving the right fielder toward the foul line because of what he is seeing. It starts with that preparation. You are the leader, you are the quarterback."
DeShields remains one of the fastest players in the game, which is why center field would be ideal for him. But there is more than just speed involved.
"It's paying attention to the hitter and focusing on the ball off the bat," Banister said. "He is getting better reads off the bat and the routes are better. You don't see redirection in the middle of the route.
"His arm is better, it's getting stronger and more accurate. The next step is getting rid of the ball quicker."
DeShields has had an issue in the outfield of picking up ground balls cleanly, but he has worked hard with field coordinator Josh Bonifay to address that.
"He has worked his rear off and gotten better," Banister said.
The Rangers have many areas to address in the offseason and multiple pitching issues are at the top of the list. If DeShields has convinced them he can play center field, it gives them one less area to address.
"He is a player," Banister said. "He's shown everybody he comes to play the game."
T.R. Sullivan has covered the Rangers since 1989, and for MLB.com since 2006. Follow him on Twitter @Sullivan_Ranger and listen to his podcast. This story was not subject to the approval of Major League Baseball or its clubs.