Sano hopes to return at end of upcoming trip
Twins third baseman has made slow progress rehabbing left shin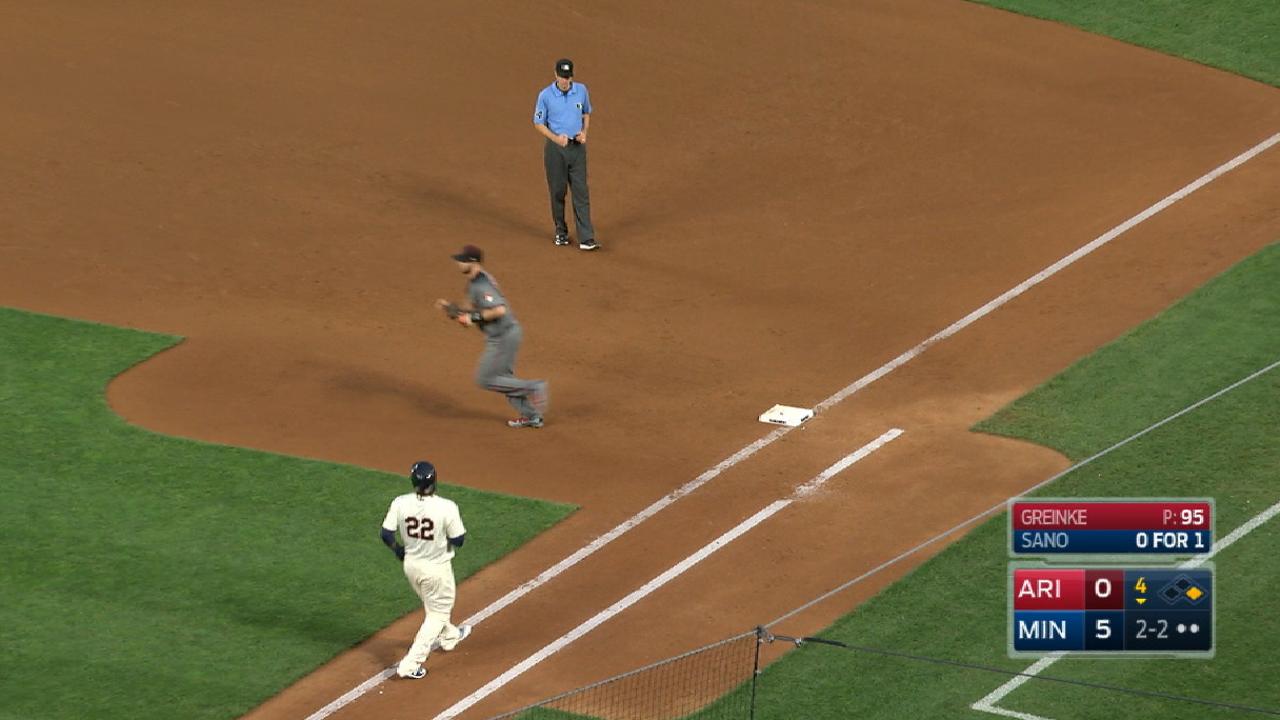 MINNEAPOLIS -- The return of Twins third baseman Miguel Sano remains unclear during the final stretch of the team's postseason chase. Minnesota had a two-game lead over the Angels for the second American League Wild Card spot going into Saturday.
Sano has been frustrated by the lack of progress he's made rehabbing his left shin. He sustained a stress reaction when he hit a foul ball on Aug. 18.
Prior to a tilt with Toronto on Saturday, Minnesota manager Paul Molitor admitted that it was "possible" Sano could return to the club in the back half of the final road trip. The Twins wrap up this six-game homestand Sunday, then embark on an 11-day road trip to three cities Monday. The trip begins with a three-game set against the Yankees, who hold the top AL Wild Card spot..
"The reality is, I'm not as encouraged today as I was when we first got home, because I had heard of some of the things he had done prior to our return," Molitor said. "It just hasn't been a great week. He hasn't been on the field as much as we had hoped."
For the last week, Sano has been participating in running drills and taking batting practice at Target Field and will likely continue to do so during the early part of the next road trip. Molitor wasn't ready to admit if he expected to see Sano in uniform before their final home series, which begins Sept. 29.
"I haven't thought about if I might or might not. It's day to day for me," Molitor said. "I get reports and talk to [Sano]. Each day, you just wait to see what the news is going to be."
Worth noting
• In the fourth inning of Friday's 4-3 loss to the Blue Jays, Byron Buxton swiped his 25th bag of the season. It was his 21st stolen base in a row, dating back to May 24. That is tied with Zoilo Versalles (1965-66) for the second-longest streak in Twins history, trailing only Chuck Knoblauch (1994) and Matt Lawton (1999-2000), who each had streaks of 22 in a row.
"He's on quite a run," Molitor said. "There are times when I hope he runs and I know it's going be a little more risk, because of release time and catcher. There are times when he might have to take that chance to get in scoring position."
Shane Jackson is a reporter for MLB.com based in Minneapolis. This story was not subject to the approval of Major League Baseball or its clubs.