Righty Fulmer has successful elbow surgery
24-year-old already rehabbing and expects to be fine in spring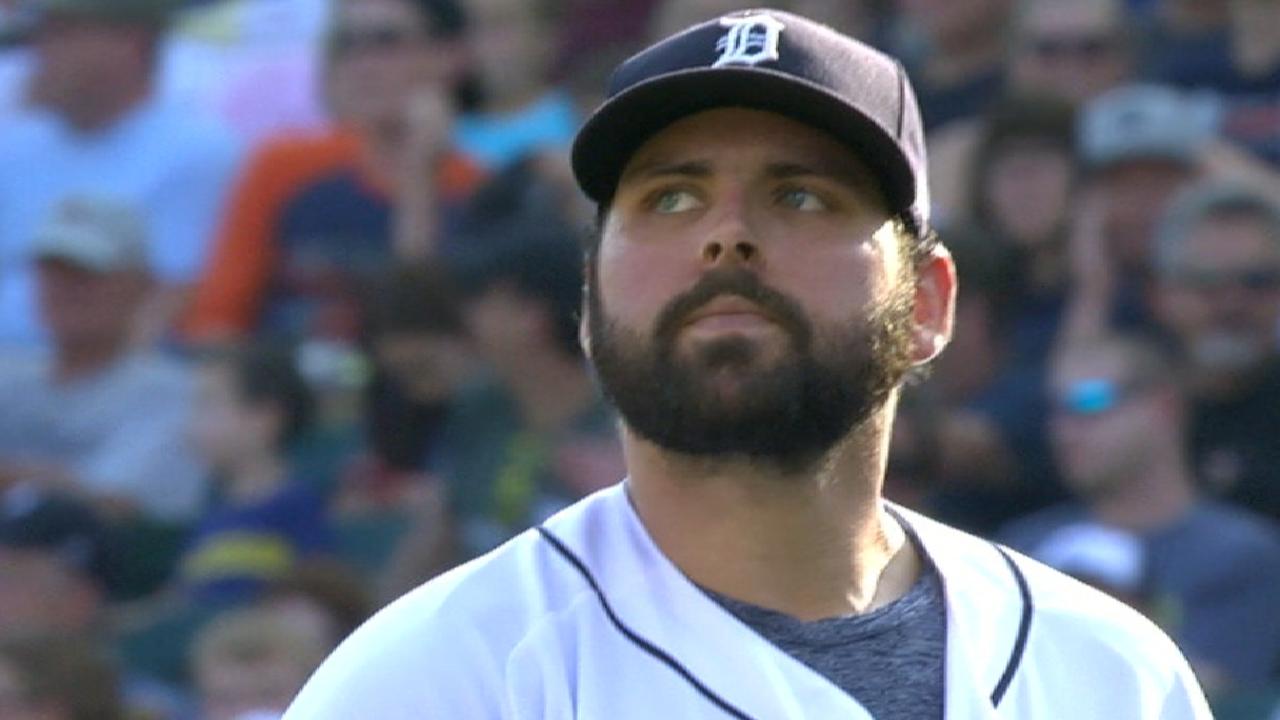 DETROIT -- Michael Fulmer should be fine to resume pitching next Spring Training after surgery on his elbow earlier this week. His offseason plumbing career, however, might be in jeopardy.
"The boss isn't happy," Fulmer said Saturday. "It may be a good source of rehab. I'm not saying digging or anything, but maybe just kind of handling the tools and picking up some weighted stuff, just moving around."
Fulmer would have to be cleared for that first. For now, his right arm is in a wrap and sling following ulnar nerve transposition surgery on Monday. Dr. James Andrews performed the procedure at his clinic in Pensacola, Fla., with no issues, moving the nerve to a part of the elbow where it shouldn't be restricted anymore, which caused the numbness Fulmer has been dealing with the past couple years.
"We started rehab the day after surgery," Fulmer said. "We're already starting to straighten it out, bend it, do some wrist stuff and forearm stuff. Robbie [Williams], our [physical therapy] guy, said I'm way further than what I should be. He said it's as quickly as he's seen in his years doing PT."
Thank you to everybody for the well wishes. Surgery went well and I'm looking forward to spring training coming back better than ever!! 💯%

— Michael Fulmer (@MFulmer12) September 12, 2017
Expect the rehab process to continue into the offseason before he picks up a baseball again. Once he does, though, he expects to be ready to ramp up his throwing program quickly.
"I'll probably give it a full three months off," Fulmer said. "That way, I'll do rehab for a full three months, won't pick up a baseball, then once I pick up a baseball, I should be full bore."
Previous surgeries on other pitchers suggest that shouldn't be a problem. Mets hurler Jacob DeGrom had the same surgery around the same time last year, and was throwing in Spring Training games in early March before tossing six scoreless innings in the second game of the Mets' regular season.
"The hard part," Fulmer said, "is making sure I get my body in shape for Spring Training, because obviously I'm going to be able to do limited stuff lifting-wise. I'm not going to sit there and pull on deadlifts. But I also have to take time to get my body in shape and lose these pounds I'm going to end up putting on."
In other Tigers rotation injury news, Jordan Zimmermann said Saturday he felt fine after throwing a 40-pitch bullpen session Friday. Zimmermann, who received a nerve block injection in his neck last week to alleviate recurring stiffness, will throw another mound session Monday. If he feels fine doing that, he could rejoin the Tigers' rotation for Thursday's series opener against the Twins at Comerica Park, which would give him enough time for two starts before the season ends.
Jason Beck has covered the Tigers for MLB.com since 2002. Read Beck's Blog, follow him on Twitter @beckjason and listen to his podcast. This story was not subject to the approval of Major League Baseball or its clubs.