No. 6 prospect Scott joins O's ahead of callup
Power left-hander expected to be added to roster before Sunday's game vs. Yankees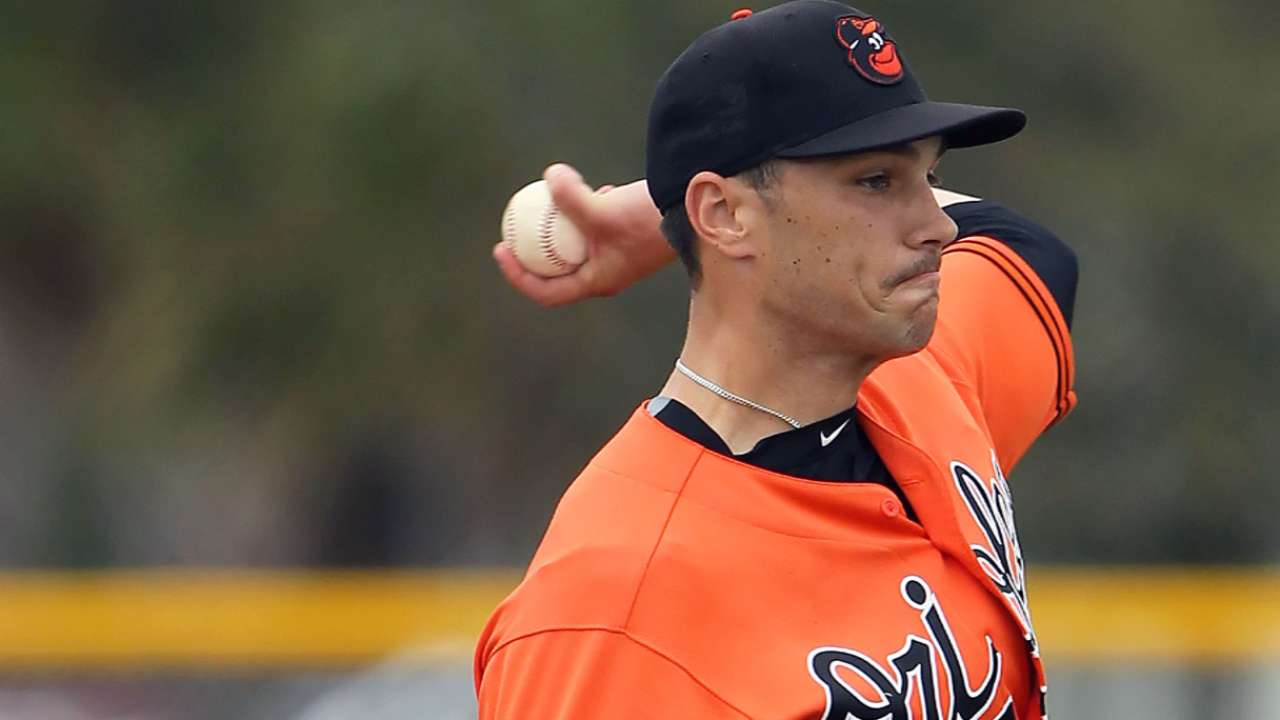 NEW YORK -- Touted lefty Tanner Scott joined the Orioles in New York on Saturday morning, and the O's No. 6 prospect is expected to be added to the active roster prior to Sunday's finale against the Yankees.
"We're going to have to protect him anyway at the end of the year. And it's as much about being around the environment. Everything that you can eliminate, one more challenge that guys face," Orioles manager Buck Showalter said of Scott, who is the organization's premier power pitching prospect. "Saw it some with Trey [Mancini] last year. Just like to have him around to have things that don't surprise you next year. Hopefully I'll be able to get him in some games. We will see."
Scott's elite fastball gives him closer potential, as he'll routinely hit 100 mph (or higher) while sitting comfortably at 95-99. This year, the O's decided to start him in three-inning stints, giving him five or six days of rest in between. Scott, 23, went 0-2 with a 2.22 ERA in 24 starts at Double-A Bowie this season. He struck out 87 and walked 46 in 69 innings.
Scott took a work day on Saturday morning at Yankee Stadium. He will pitch in the Arizona Fall League, though some injuries kept his innings lower than the organization would like, contributing to the O's decision to add him for the final two weeks.
Asked whether he sees Scott as a starter or reliever in the big leagues, Showalter coyly said "yes" before elaborating that the preference is always to develop starters first.
"It's kind of like with [Gabriel] Ynoa last night," Showalter said. "We're trying to win games and develop players, unlike a lot of other teams at this stage. Every time we can get a better look and a better feel and expose some guys to some things they need to be exposed to, we've got to take advantage of it, whether it's short or long.
"I'm not going to back myself in a corner. Maybe the other team doesn't let him pitch two or three innings. That's happened some in Bowie, and there's a chance that it could happen here. But I'll try to get him in there."
Brittany Ghiroli has covered the Orioles for MLB.com since 2010. Follow her on Facebook and Twitter @britt_ghiroli, and listen to her podcast. This story was not subject to the approval of Major League Baseball or its clubs.