Inciarte eyes 200-hit season with Braves
Center fielder is 12 shy of milestone with 16 games left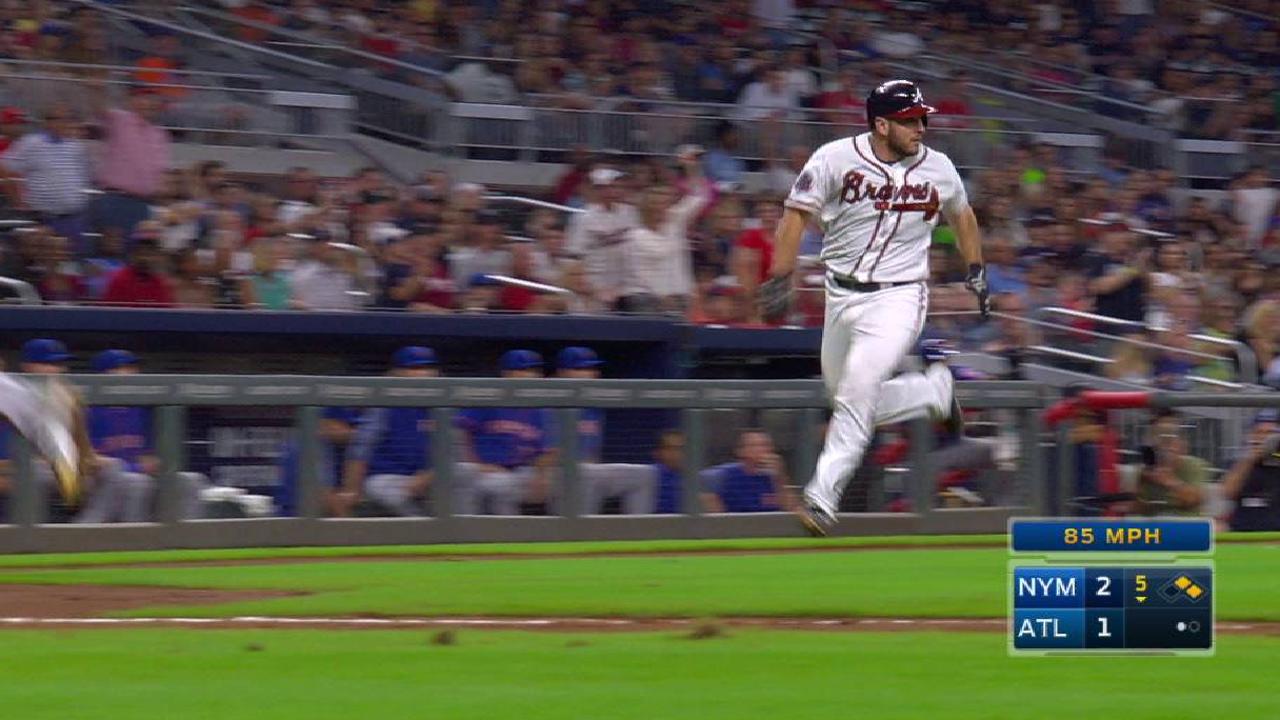 ATLANTA -- Ender Inciarte has already positioned himself to enter the offseason feeling pretty good about the possibility of landing a second consecutive Gold Glove Award. But over this season's final two weeks, he will be chasing another lofty goal -- the seventh 200-hit season in Atlanta Braves history.
Inciarte's challenge was slowed by a jammed left thumb on a headfirst slide into first base during Tuesday's win over Nationals. But he took another step toward the milestone Friday night, when he delivered a key hit -- a game-tying fifth-inning single -- during the Braves' 3-2 win over the Mets at SunTrust Park.
"You look at all of the hits he's got," Braves manager Brian Snitker said. "He's been big all year. He hits anybody."
Inciarte played with the jammed thumb for the remainder of Tuesday's game, rested Wednesday, and was back at the top of the Braves' lineup the past two nights. The thumb has seemingly been an issue, as he has recorded just one hit in eight at-bats the past two games.
But as the Braves have come to realize, it takes a lot more than a jammed thumb to sideline Inciarte, who has logged MLB's second-highest innings total as a center fielder this season. He trails Colorado's Charlie Blackmon by just one inning in this category.
"He's a leader and the kind of guy you want on your team," Braves outfielder Lane Adams said. "He comes to play every day."
Inciarte's game-tying single off the Mets' Rafael Montero was his 188th hit of the season. With 12 hits over the season's final 16 games, he would join Ralph Garr, Felipe Alou and Marquis Grissom as the only players in Atlanta history (dating back to 1966) to record 200 hits in a season.
Garr set the Atlanta record with 219 hits in 1971 also reached the 200-hit mark in '73 and '74. Alou reached this milestone in 1966 and '68. Grissom notched this achievement in 1996, making him the only Braves player to do so within the past 43 seasons.
Inciarte was not available to comment on his pursuit after Friday's game as he was undergoing treatment . But there's no doubt he is focused on adding to the splendor of this year, which was enriched in July when he received his first All-Star selection.
Plagued by hamstring issues the past two years, Inciarte did not record more than 159 hits in any of his three previous big league seasons. But his second-half surge last year provided some indication he was ready to set a career-best mark.
Dating back to last year's All-Star break, Blackmon leads all Major League hitters with 290 hits. Houston's Jose Altuve and Inciarte rank second with 289.
Mark Bowman has covered the Braves for MLB.com since 2001. This story was not subject to the approval of Major League Baseball or its clubs.