Kiermaier's Gold Glove skills wow Trop crowd
Rays center fielder robs JBJ, Betts and drills late HR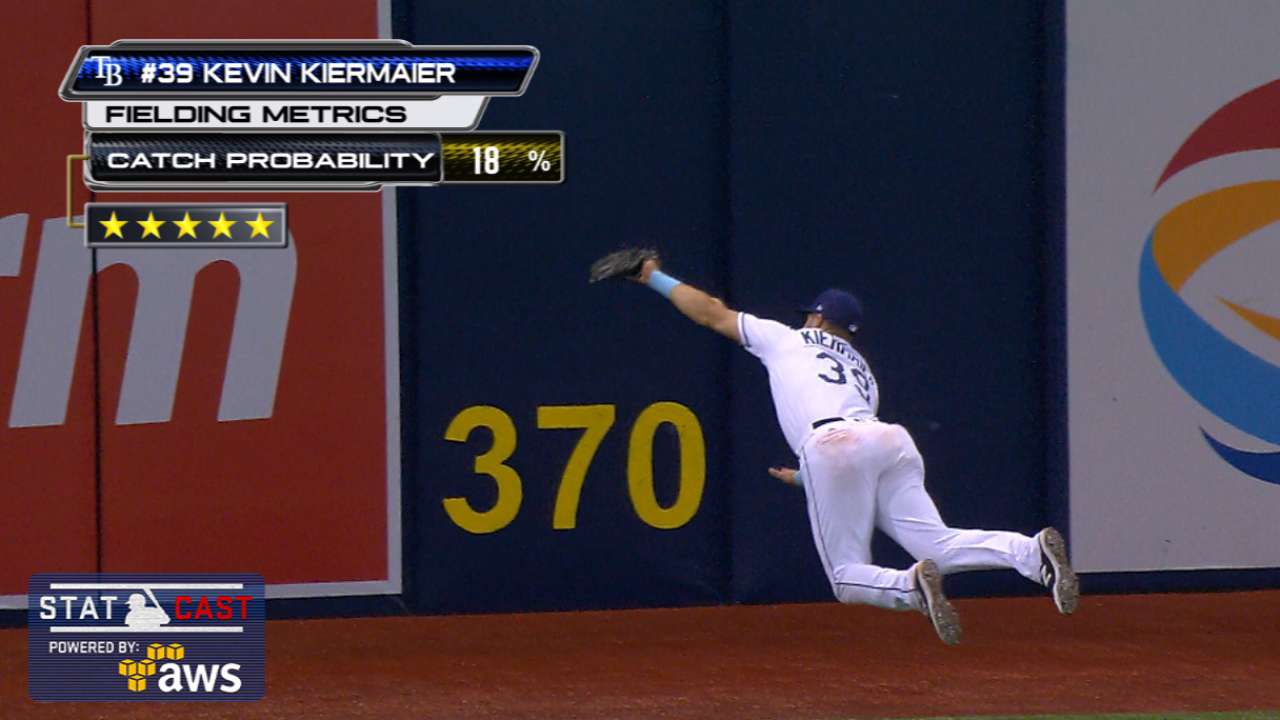 ST. PETERSBURG -- Kevin Kiermaier makes fans wait to go to the concession stand -- when he's on defense.
As well they should, you never know what you'll miss if you don't watch the two-time Gold Glove Award-winning Rays center fielder display his immense skills. Friday night was no exception in a 15-inning, 13-6 loss to the Red Sox at Tropicana Field.
First, he stole a double from Jackie Bradley Jr. in the ninth.
Bradley hit what appeared to be a two-run double to the gap in left-center field with the potential tying and go-ahead runs on base. But Kiermaier shifted his body into high gear and made a diving backhanded catch before rolling into the wall.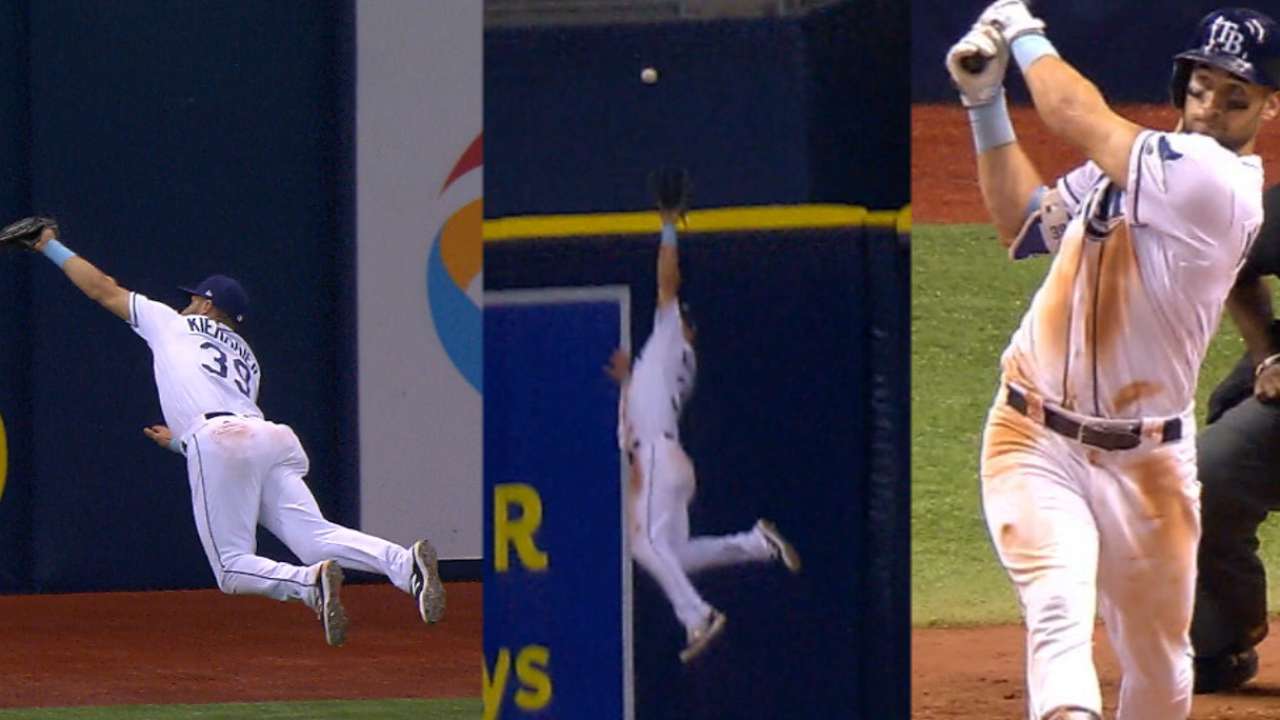 "Jackie, I knew he hit it well right there between me and [left fielder Peter Bourjos]," Kiermaier said. "And it was just one of those things where I needed to make that catch no matter what. And I wanted to preserve the game and, you know, I was able to come up with the catch right there.
"Probably one of my better ones I've had. I had a long way to go but, like I said, when I see that ball in the air, all I want to do is catch it. Come down with it. And let my instincts take over. And you get such an adrenaline rush when that ball's in the air going after it."
Still, pinch-runner Rajai Davis advanced to third on the play, then scored on Xander Bogaerts' single to left that tied the score at 5, but the go-ahead run did not score thanks to Kiermaier's gem.
According to Statcast™, the catch had an 18 percent probability, making it a 5-star catch. He had 5.1 seconds to cover 101 feet, and covered 104 feet.
On the play, Kiermaier became the sixth outfielder this season to reach four 5-star catches.
"That was pretty spectacular," Rays manager Kevin Cash said. "I've seen three years of spectacular plays. That's probably right there at the top."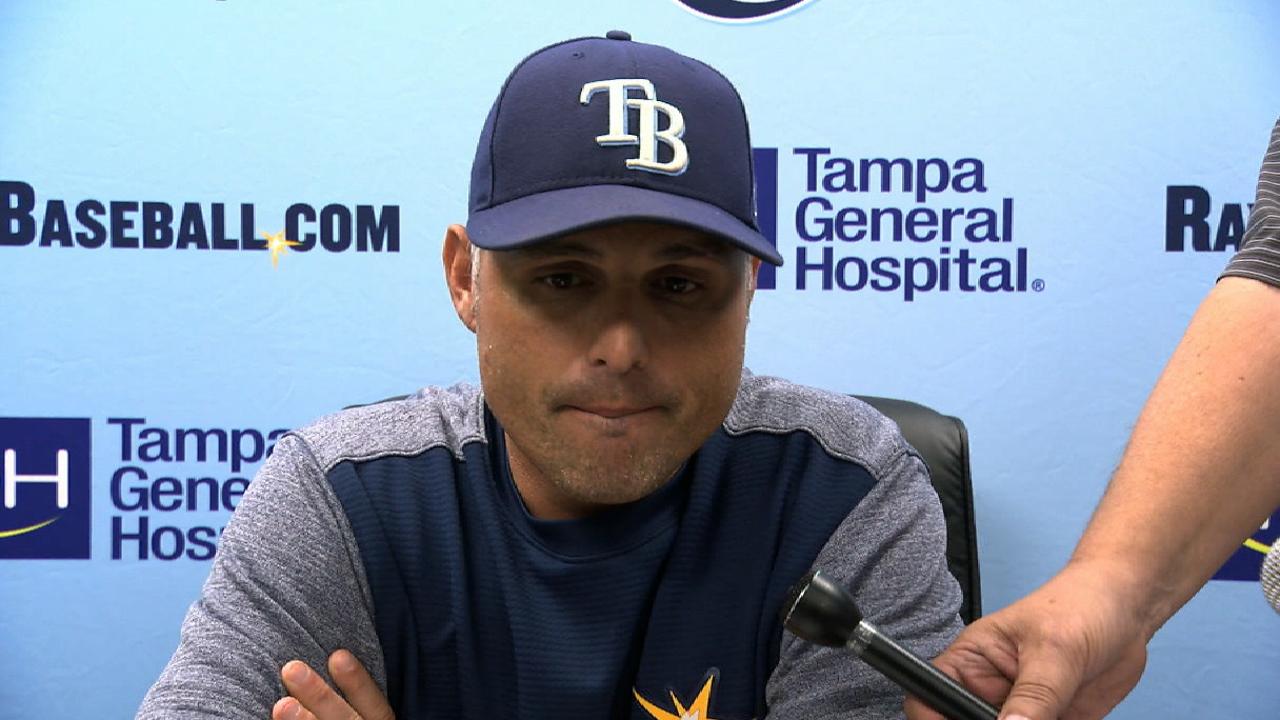 Even Bradley had to salute Kiermaier.
"I was mad at the moment, but you definitely have to respect that play, It was a tremendous play by a tremendous player," Bradley said. "Unbelievable catch."
If the catch in the ninth wasn't enough, he added another beauty in the 10th when Mookie Betts hit a ball to deep center. Kiermaier gave chase then hauled in the drive with a leaping catch at the wall for the first out of the inning.
In the 14th, Rafael Devers delivered an RBI single that put the Red Sox up 6-5. On the back end of the play, Kiermaier alertly threw out Mitch Moreland trying for third, which might have prevented the Red Sox from padding their lead.
"I got to the ball, and I know my momentum was going away from it," Kiermaier said. "But in batting practice, and we have free time, I'm always messing around making throws like a middle infielder. Making throws away from where my momentum is taking me. Right there I got back in position, got [the ball to] third. [Evan Longoria put] a good tag on him. Just trying to kind of limit the damage right there."
Kiermaier then showed some offense, hitting his career-high 14th homer to lead off the bottom of the 14th and tie the score at 6.
"I wanted to keep things going," said Kiermaier, who went 2-for-6. "Capitalize any way I could. I got a good pitch to hit and turned on it."
However, Kiermaier's heroics could not help the team avoid a disappointing loss -- one that saw it chase nemesis Chris Sale early, only to come up short.
"Getting the lead on [Sale]," Kiermaier said. "...If you ask me, I think he's the best pitcher in the game. So for us to get a lead on him was huge. And [closer Alex Colome], he's been a horse all year for us. So things like that are going to happen every now and then. It didn't go our way tonight. A really tough one to get away."
Kiermaier left for a pinch-hitter in the 15th after experiencing some back tightness, but he said he did not expect to miss any time.
Bill Chastain has covered the Rays for MLB.com since 2005. This story was not subject to the approval of Major League Baseball or its clubs.