Newcomb sharp as Braves hold off Mets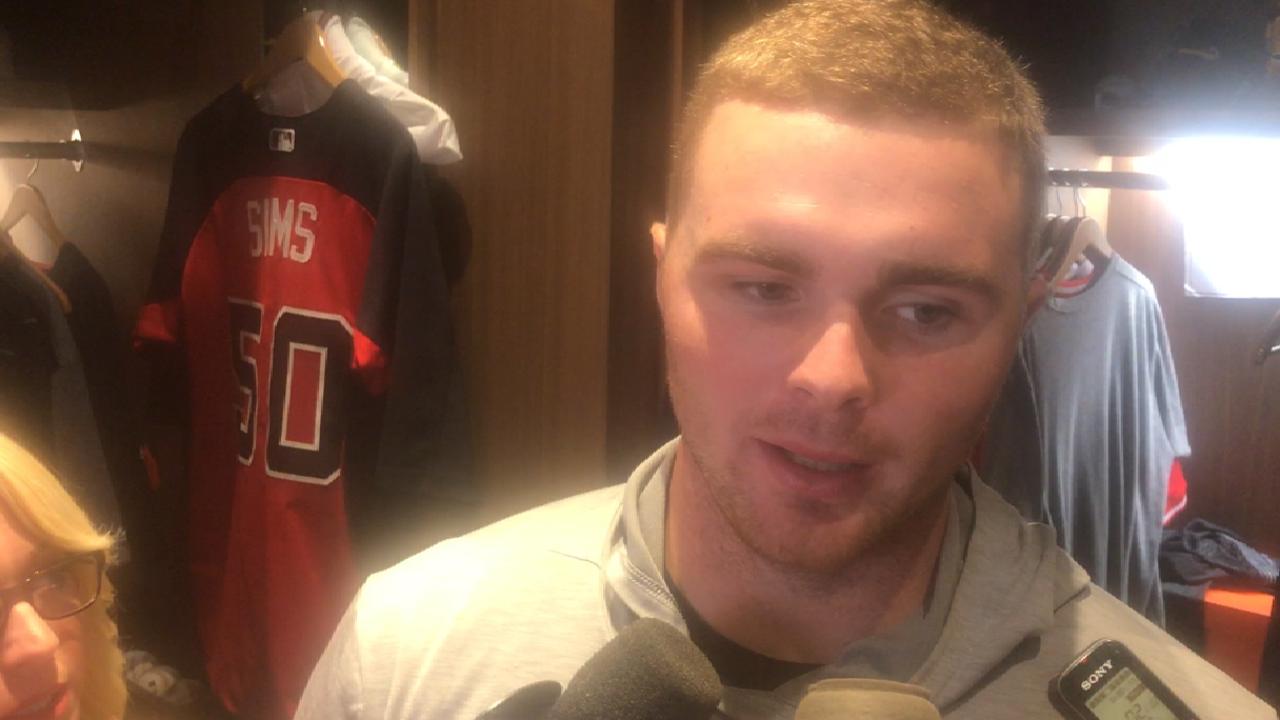 ATLANTA -- Sean Newcomb provided a glimpse of how effective he can be with his entire arsenal working, while Rafael Montero was unable to stall the Braves' two-run fifth inning on their way to a 3-2 win over the Mets on Friday night at SunTrust Park.
Lane Adams delivered a go-ahead sacrifice fly in the fifth inning to support Newcomb, who allowed two runs and notched eight strikeouts over 5 1/3 innings to earn his third career win and first since Aug. 20. The rookie left-hander displayed an effective fastball, curveball and changeup as he struck out five straight batters after allowing Dominic Smith's game-tying double with one out in the fourth.
Newcomb has long shown a good fastball-curveball mix, but it's the evolving development of the changeup that could start taking him toward another level. He induced a swing and miss with eight of the 16 he threw during this game. He had never produced more than five swings and misses during a game with his changeup.
"I think I just need to keep throwing [the changeup] more," Newcomb said. "I think I'm getting a better feel for it just from all of the reps. But I'm a lot more comfortable with it than I was last year and at the beginning of this year."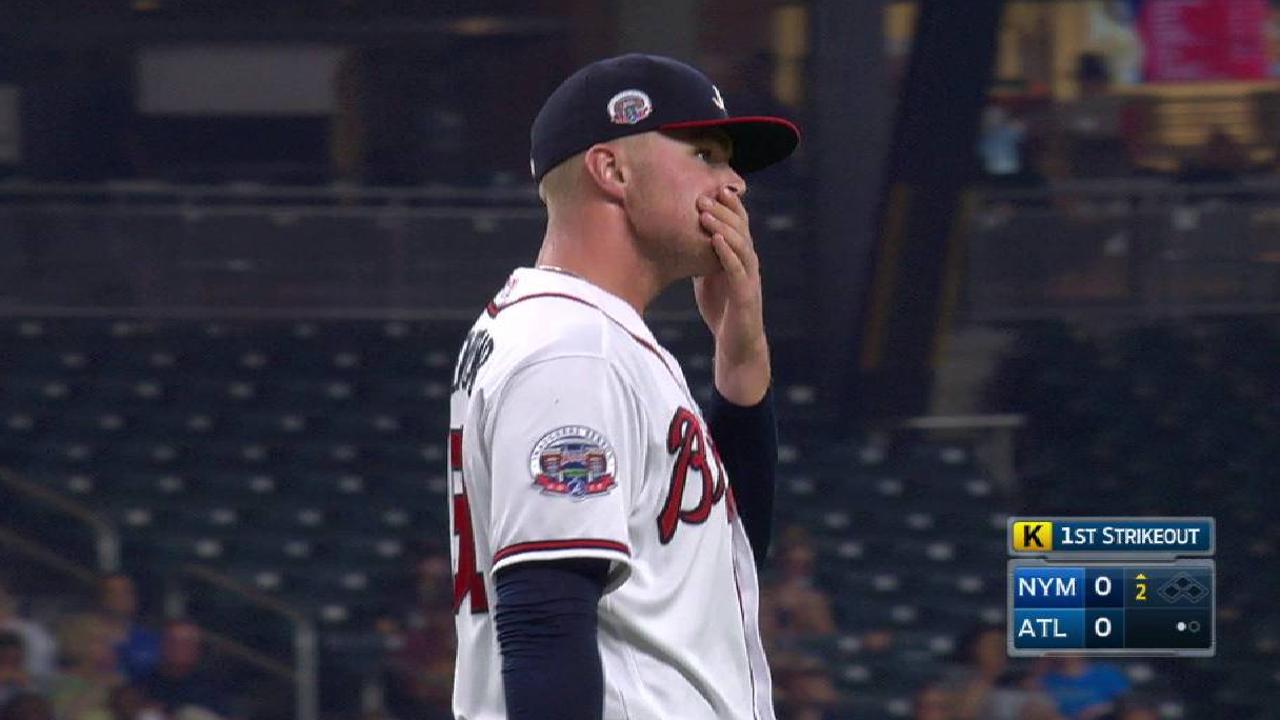 Montero allowed just four baserunners through the first four innings and issued just two walks -- his lowest total in his past four starts -- over 4 2/3 innings. But those two walks (one intentional) in the fifth proved costly for the right-hander. He encountered a one-run deficit in the second inning when the Braves opted to not accept a catcher's interference call on David Freitas' one-out dribbler in front of the mound to score Dansby Swanson.
"It was really that fifth inning where they kind of caught me with the double and the walks," Montero said through an interpreter. "I wouldn't say that this is my best start. I am OK with what I did at the beginning, but I am going to keep working to hopefully get back steady."
• Montero labors with pitch count, exits in 5th
The Mets' offense had a hard time creating additional runs, missing on a bases-loaded opportunity in the sixth when Juan Lagares grounded into a double play to end the inning. The Mets wouldn't get closer as the Braves' bullpen held them scoreless down the stretch.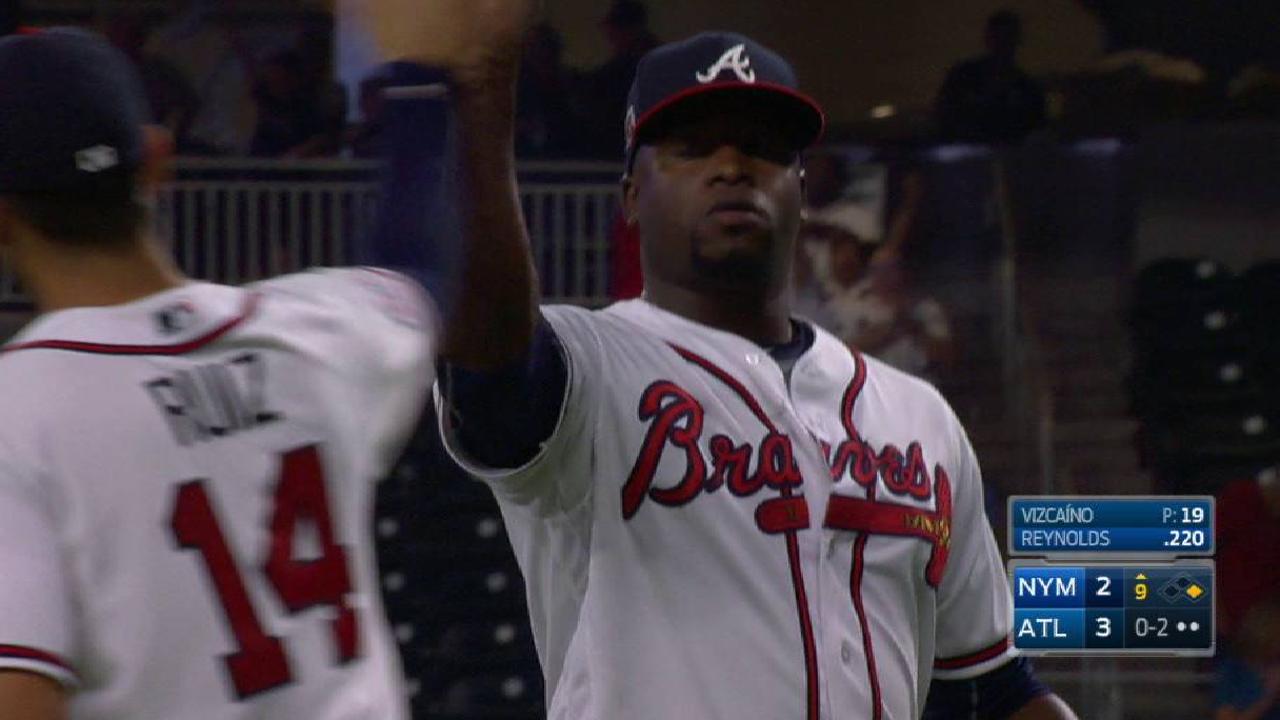 "We didn't add on or we would still be playing," Mets manager Terry Collins said. "We have to put some things together."
MOMENTS THAT MATTERED
Two was too many: Freitas doubled and scored on Ender Inciarte's game-tying single with one out in the fifth. Montero then got into trouble when he issued a six-pitch walk to Ozzie Albies and uncorked a wild pitch that led to the decision to load the bases by intentionally walking Freddie Freeman. This set the stage for the sacrifice fly delivered by Adams, who had entered when left hamstring tightness forced Matt Kemp's exit at the end of the fourth.
• Inciarte eyes 200-hit mark with Braves
Braves manager Brian Snitker said Kemp was likely dealing with a cramp and will be evaluated on a day-to-day basis.
"Lane Adams has been great," Snitker said of the backup outfielder who's had the game-winning RBI in the past two home games. "He comes off the bench and gives you three good hacks. He's a really good defender, and it's nice to have somebody like that on the bench."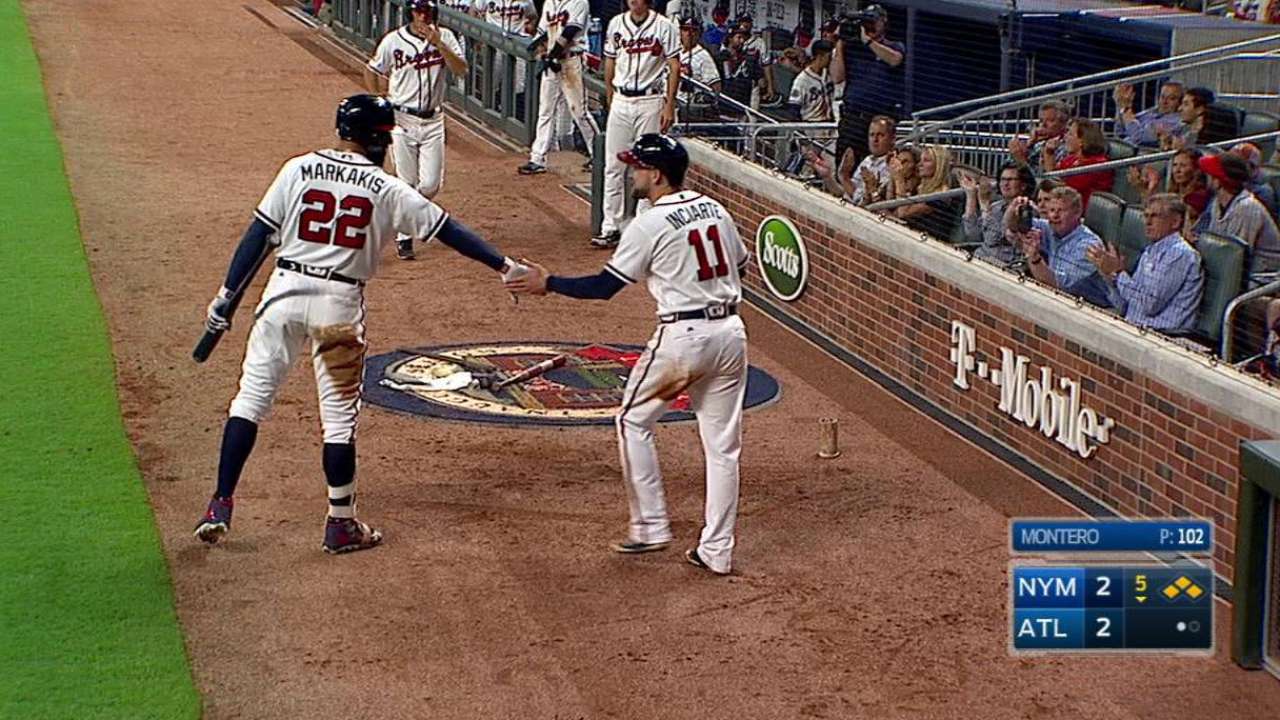 Two was not enough: After Smith recorded the second of the two fourth-inning doubles that exploited Kemp's limited mobility, Lagares was set down by the first of Newcomb's five straight strikeouts. When the Braves starting pitcher exited with the bases loaded and one out in the sixth, Dan Winkler entered and promptly got Lagares to ground into a double play.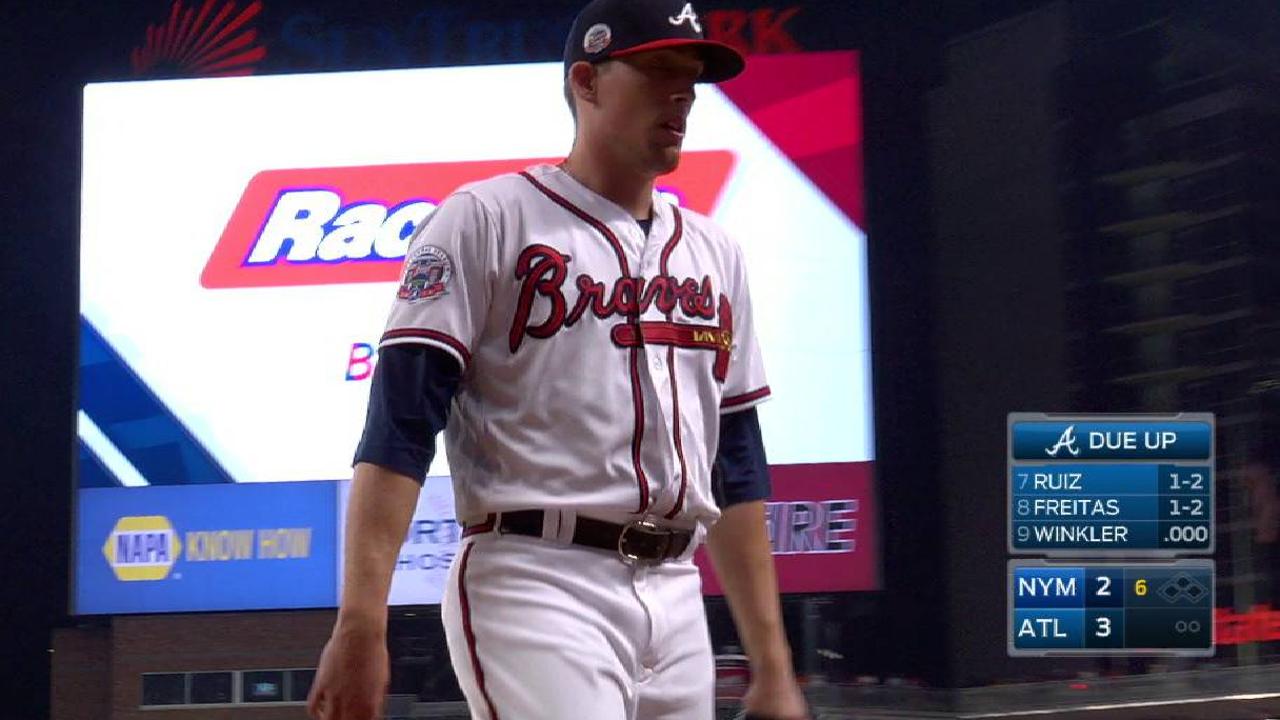 QUOTABLE
"It depended on what side of the plate he was working. If he was working in to me, [the fastball was] sinking, and if he was working away, it was cutting. He had his fastball working and he ran it up to 97 mph." -- Smith, on Newcomb's command against the Mets
"I didn't want to pass a run up, regardless of the situation." -- Snitker, on his decision to trade an out for a run when he had the choice on the catcher's interference in the second inning with the pitcher's spot in the order coming up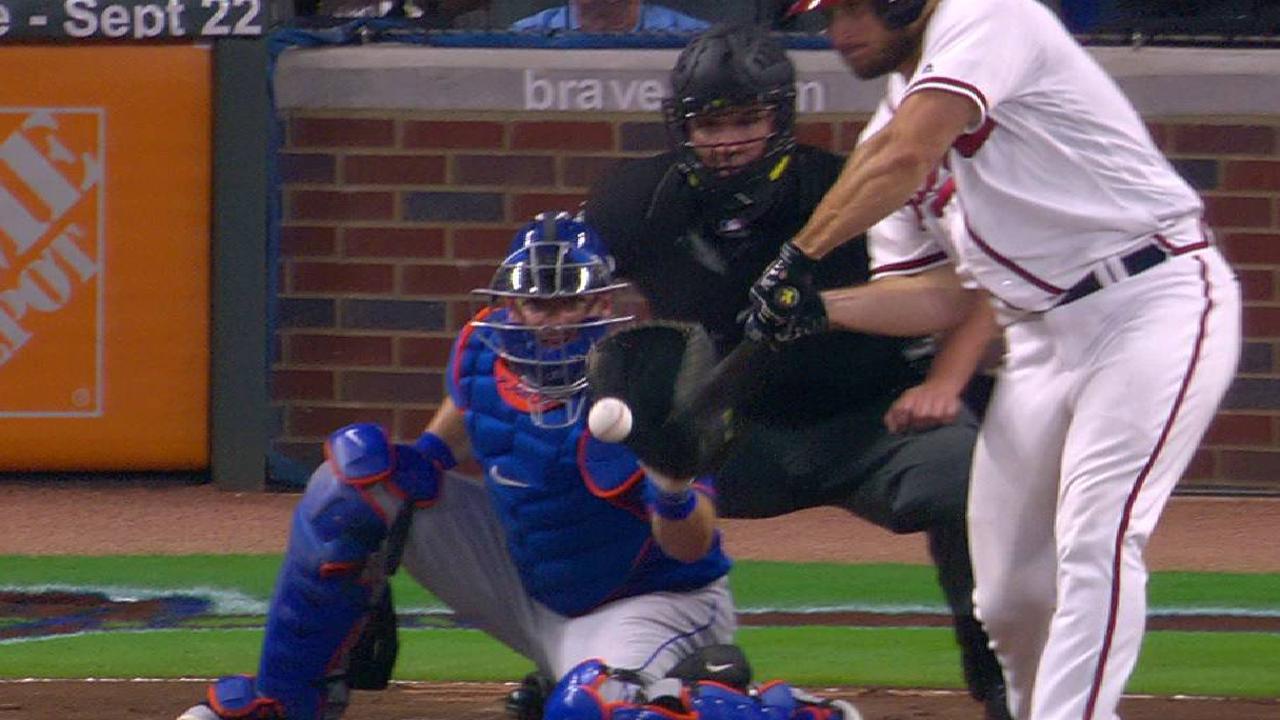 SOUND SMART WITH YOUR FRIENDS
With two hits, Braves right fielder Nick Markakis notched his 10th career 150-hit season. Dating back to Markakis' 2006 rookie year, the only other players to have that many 150-hit seasons are Adrian Gonzalez, Robinson Cano and Miguel Cabrera.
AFTER FURTHER REVIEW
The Mets challenged a neighborhood call at second base in the ninth inning after Norichika Aoki slid into the bag on a fielder's choice. The replay appeared to show Albies' foot on second base to record the out, and the call stood.
WHAT'S NEXT
Mets: Jacob deGrom takes the mound at SunTrust Park as the series continues Saturday at 7:10 p.m. ET. deGrom is 8-4 with a 3.87 ERA in 15 road starts this season.
Braves: R.A. Dickey will take the mound Saturday night at 7:10 ET. Dickey has won both of his starts against the Mets this year, but he has allowed at least four runs in four of his past five outings. Preview >>
Watch every out-of-market regular-season game live on MLB.TV.
Mark Bowman has covered the Braves for MLB.com since 2001. Jaylon Thompson is a reporter for MLB.com based in Atlanta and covered the Mets on Friday. This story was not subject to the approval of Major League Baseball or its clubs.