Gomez progressing, hopeful for return to lineup
Rangers veteran sidelined since Sept. 9 with ankle injury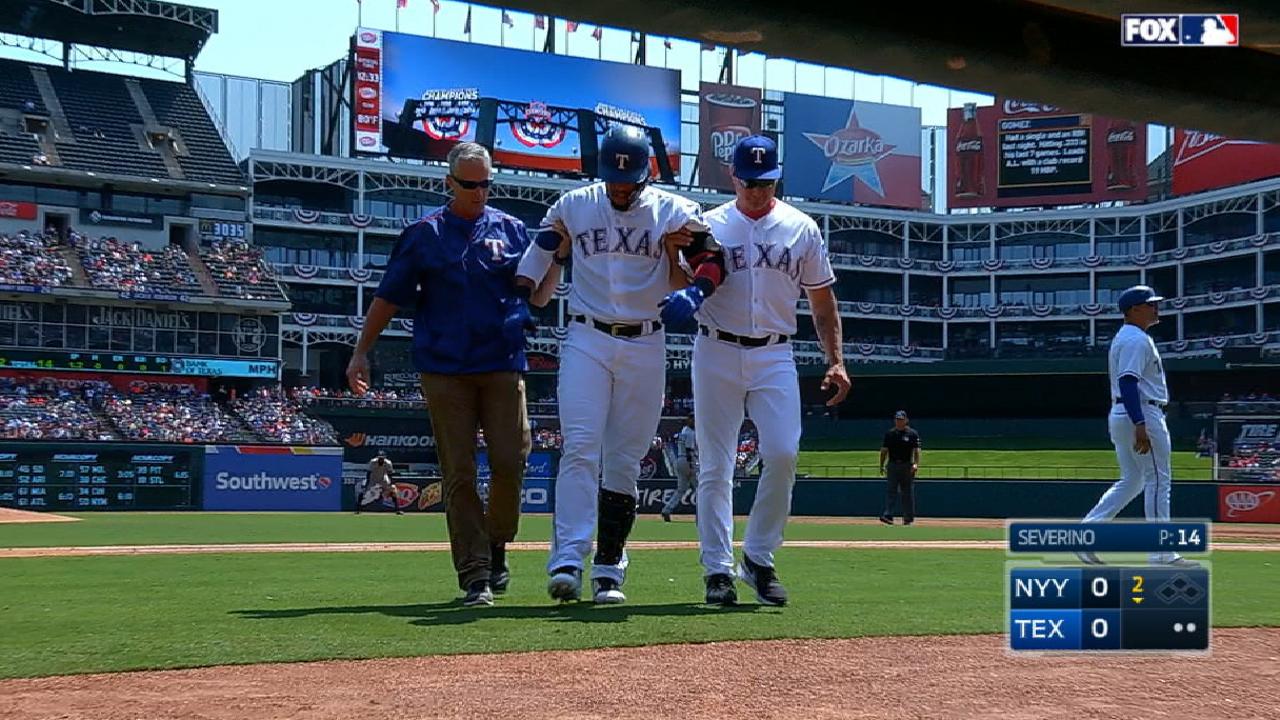 ANAHEIM -- Carlos Gomez, sidelined with a sprained right ankle, has started taking batting practice outside with the rest of the team and doing some light jogging.
There is still much more progress needed, but Gomez is determined to get back in the lineup and be able to play center field before the season is over.
"With those things, it's day to day, especially right now in September," Gomez said. "Every day it gets better and I get closer to playing. I think today I have to get ready for any situation, pinch-hit or something like that. Before the season is over I do expect to play center field again."
Gomez hasn't been in the lineup since turning the ankle last Saturday against the Yankees. He has already missed time this season with a strained right hamstring and a cyst in the back of his right shoulder. This could end up being the first time since 2011 he has been unable to get 400 at-bats in a season. He has 351.
"I'm not really happy [with the injuries] but it's the way it is," Gomez said. "I know if I had played the time I was supposed to with my 140 games I'd have a really good season. I'm not really disappointed with the season I've had because it's not because I'm not producing, [it's] because I haven't been on the field.
"Being frustrated is part of the job. Nothing I can do. When I'm playing, I try to do my best. When something isn't right, try to fix it as quick as possible. Having the strained hamstring is a regular injury for anybody. Sprained ankle was the first time it had ever happened to me. And the thing on my back was a freak thing."
Sense of urgency? Maybe not
Rangers manager Jeff Banister acknowledged that his team has a steep battle ahead for an American League Wild Card spot, but he isn't sure that the much-quoted "sense of urgency" is the answer.
"A sense of urgency can be detrimental," Banister said. "I'm sure this is not a popular thing to say but a sense of urgency can create anxiety. You create a certain amount of tension in moments. One thing we did in the last couple of years was no panic. We just played the game with a purpose of adults with teenage enthusiasm."
Rangers beat
• Pitcher Tyson Ross has cleared unconditional waivers and become a free agent.
• A.J. Griffin's relief appearance on Thursday was his first after 85 Major League starts. But Griffin was a reliever at the University of San Diego and had 15 saves in his first Minor League season with Vancouver in 2002.
• Second baseman Rougned Odor had all four RBIs in the Rangers' 10-4 loss to the Mariners on Thursday. The last Rangers player to have all four of the team's RBIs in a game was Prince Fielder on Sept. 28, 2015, in a 7-4 loss to the Tigers.
T.R. Sullivan has covered the Rangers since 1989, and for MLB.com since 2006. Follow him on Twitter @Sullivan_Ranger and listen to his podcast. This story was not subject to the approval of Major League Baseball or its clubs.