Mets close to plan on Syndergaard's return
ATLANTA -- Noah Syndergaard is progressing toward a return to the Mets' rotation, according to manager Terry Collins.
Syndergaard threw a bullpen session on Thursday as he works his way back from a right lat injury that has sidelined him since early May. Collins said he is close to pitching again this season.
"We will see how his is today after his bullpen yesterday," Collins said. "I am sure he is going to play a little toss and we will see where he is tomorrow. Then we will make a next step, whatever it may be. It could be another bullpen or try to get him into the game."
The Mets are taking it slowly with Syndergaard, who figures to be a key piece in their 2018 rotation. Prior to injury, the right-hander had a 3.29 ERA in five starts.
"It is not going to be a lot of pitches thrown," Collins said. "This is a process of making sure he is going to be OK and he knows that he will be OK."
Collins didn't rule out the possibility of Syndergaard pitching out of the bullpen. The manager said it will be a decision on how to best utilize him for the remainder of the season. The main thing is to make sure that he is healthy enough to get back on the mound.
"We are going to take a look on where he might fit and get all the people together and come up with a game plan," Collins said.
Dominic adjusting to Major League game
Dominic Smith has played well since being called up on Aug. 11 from Triple-A Las Vegas. He has seven home runs and 19 RBIs in 114 at-bats. He did endure a rough patch to end August, but he has ramped up production in September.
"Dom is doing it right away, and I think our hitting guys have done a great job stressing some things to him in his swing that he has applied," Collins said. "We are starting to see some balls to all fields, and that is what I like."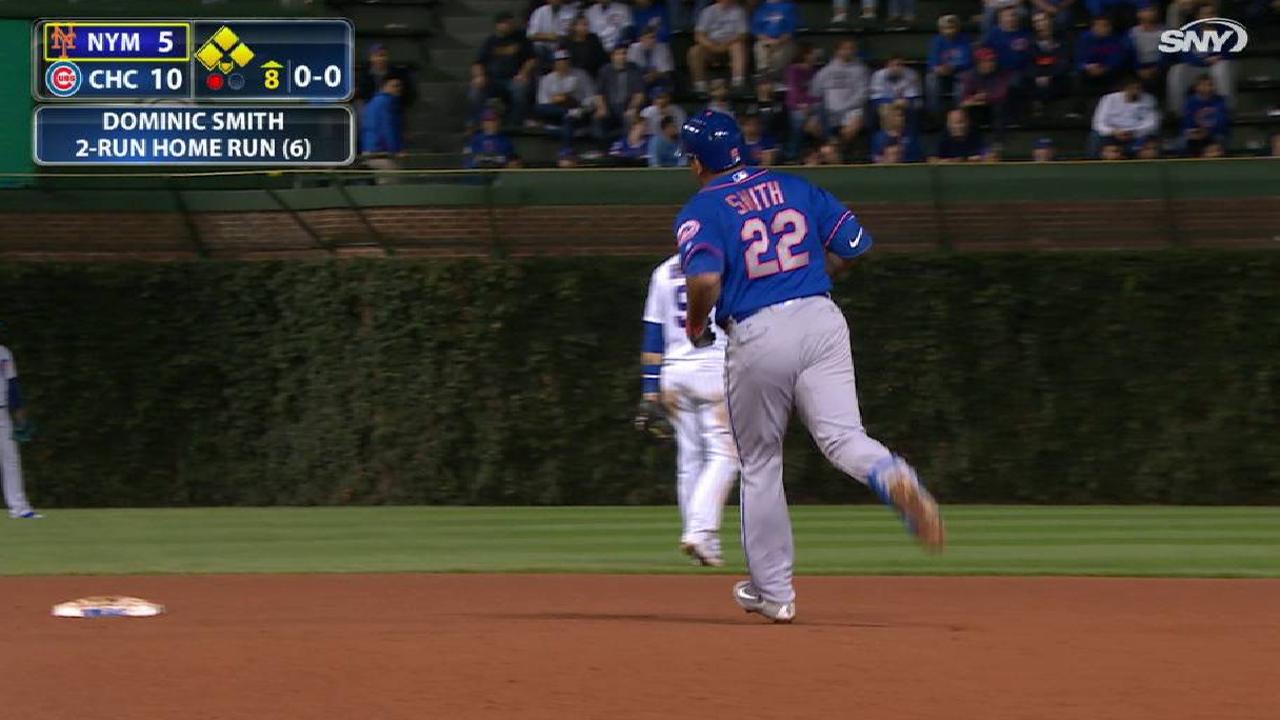 The help of Mets' hitting coach Kevin Long has helped build Smith's confidence at the plate. He is starting to adjust to off-speed pitches as he has created more contact with a smoother swing.
In his last 13 games entering Friday, Smith hit .298 with seven extra-base hits. He also had a .617 slugging percentage during that span, giving the Mets' lineup a powerful bat in the middle of the order.
Mets aiding with hurricane relief efforts
The Mets are helping those displaced by the recent hurricanes in Houston and Florida by hosting a Hurricane Relief Drive next week at Citi Field. They will accept donations on Tuesday through Thursday from 10 a.m. to 7 p.m. in front of the Jackie Robinson Rotunda.
The Mets are partnering with Queens Borough president Melinda Katz in holding the event and are accepting donations that include canned goods, wipes, soap, shampoo, toothbrushes and diapers. The supplies will be delivered to the Houston Food Bank and Mustard Seed, a community outreach group in Fort Pierce, Fla.
Help those affected in Houston and Florida by donating to our Hurricane Relief Drive September 19-21 at @CitiField. https://t.co/1HG3mCwLEA pic.twitter.com/DjM5gLf2hP

— New York Mets (@Mets) September 15, 2017
Jaylon Thompson is a reporter for MLB.com based in Atlanta. This story was not subject to the approval of Major League Baseball or its clubs.