Stiff back forces Frazier out of Yanks' lineup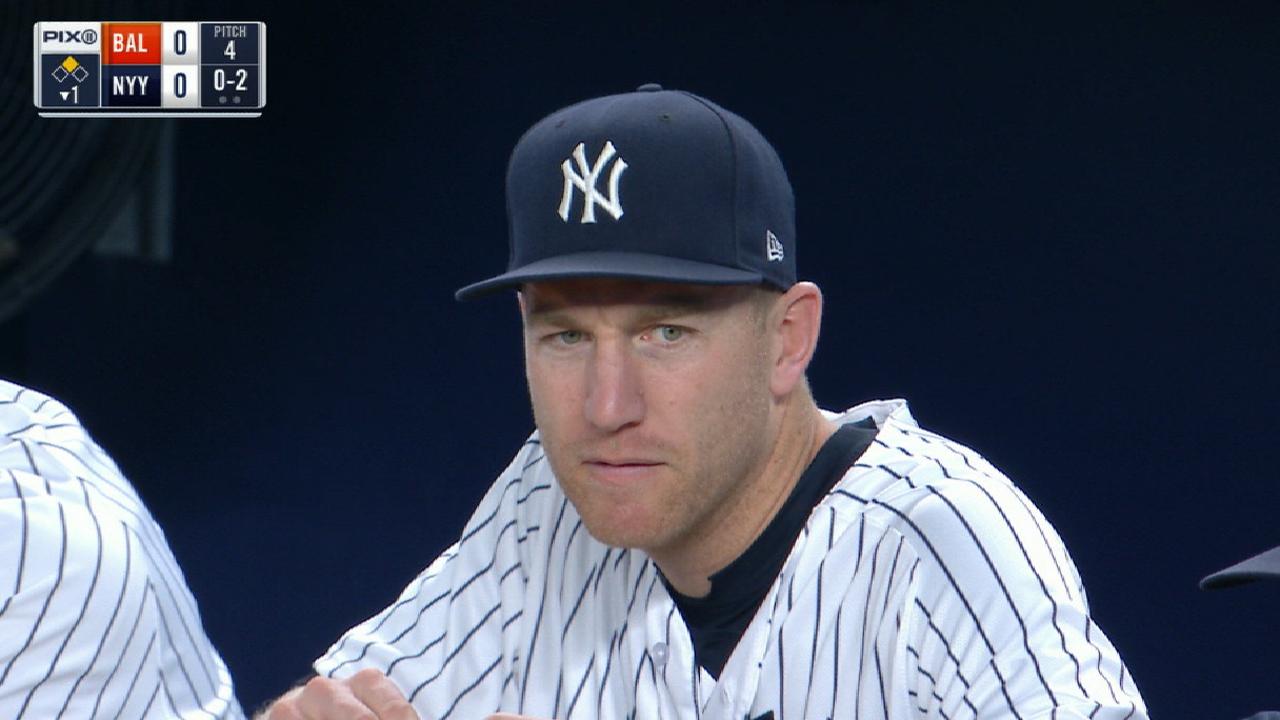 NEW YORK -- Todd Frazier has a stiff back, and it forced the Yankees' hot-hitting third baseman from the starting lineup for Friday's game against the Orioles at Yankee Stadium. Frazier has four home runs and 11 RBIs over his last 10 games.
"His back was just a little stiff and I said, 'OK,'" Yanks manager Joe Girardi said. "So it doesn't get any worse. I said, 'I'll give you today and you'll be back in there tomorrow.' It's nothing we're worried about. No tests. He's had back issues in the past."
Frazier said he first felt his back getting stiff late in Thursday's 13-5 win. Girardi left the door open for Frazier to pinch-hit Friday, if needed.
With first baseman Greg Bird back from a bout with back spasms, Girardi is going to have to do some juggling with his corner infield spots. Frazier played third and Chase Headley played first on Thursday; on Friday, Headley went to third and Bird to first.
Headley batted .315 in the 49 games entering play Friday. Bird had two homers and 10 RBIs in his previous 15 games.
Asked how he planned to handle the juggling act, Girardi said, "I look at matchups, trying to give each of them three out of four days.
"Sometimes [facing] a left-hander will determine who is going to play. It's paying attention to the schedule for me and picking spots and looking at matchups and who I feel should be in there that day, and who should maybe not be in there."
Yankees honor Michael
The Yanks paid their respects to Gene Michael, the former player and manager who as general manager in the early 1990s constructed the New York club that won four World Series titles in five years.
Michael's No. 17 was painted on the grass in foul territory along the first-base and third-base lines. Orioles manager Buck Showalter, Girardi and former Yankees Willie Randolph, Paul O'Neill and David Cone each laid a bouquet of flowers at home plate before a moment of silence was observed and a tribute video shown.
Yanks pitch in for Irma relief
The Yankees are donating $500,000 to help communities affected by Hurricane Irma. Half will go to the Red Cross and half to the Salvation Army.
"The destruction that was caused in the wake of Hurricane Irma will have a long-lasting impact on the lives of many," general partner/vice chairperson Jennifer Steinbrenner Swindal said in a team statement. "During times like these, it is important to offer support in whatever way possible, and our hearts go out to all those affected."
Less than two weeks earlier, the Yankees donated $100,000 to assist with Houston's recovery from Hurricane Harvey. In addition, the players on the big league roster pledged to collectively donate $9,000 after every win from Sept. 4 until the end of the regular season.
Worth noting
• Outfielder Aaron Hicks took dry swings and worked out, and he said that his strained left oblique is feeling good. Hicks also said he is battling a case of strep throat and is taking antibiotics. Girardi said the club is still hoping to get Hicks back from the disabled list and into games before the end of the season.
• Matt Holliday hit out of the No. 8 spot in the batting order Friday. It was just the sixth time in Holliday's career that he batted eighth. The other five came during his rookie season in 2004.
Roger Rubin is a contributor to MLB.com based in New York. This story was not subject to the approval of Major League Baseball or its clubs.