Miscues sting Cardinals in decisive 6th inning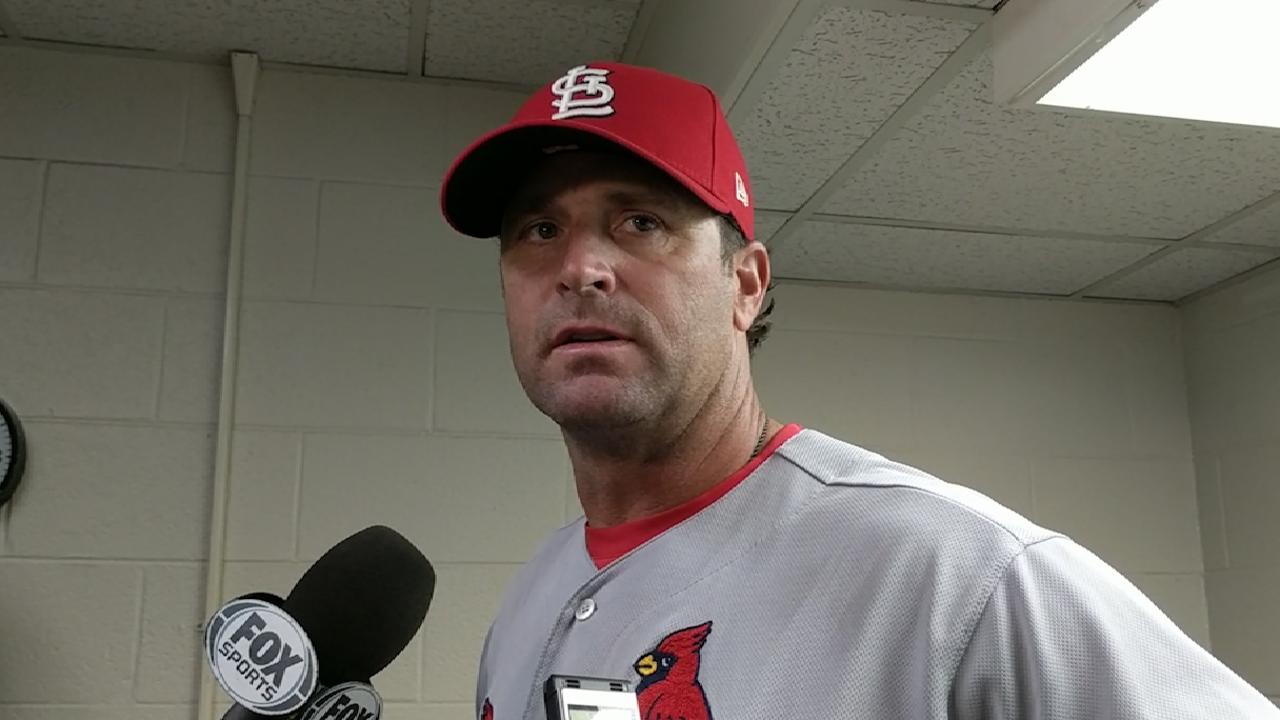 CHICAGO -- Any momentum bottled from a fortuitous turn of events in the fifth came gushing out one inning later when, with a series of lapses in the field, the Cardinals paved a path for the Cubs to surge ahead and ultimately coast to an 8-2 win on Friday afternoon at Wrigley Field.
The loss cost the Cardinals precious ground in the standings, where they now trail the division-leading Cubs by four games and the Rockies by 3 1/2 in the National League Wild Card race. Fifteen games remain on the Cardinals' regular-season schedule.
"We had a lot of things go right," Cardinals manager Mike Matheny said afterward. "We had one inning that went really wrong."
By the end of it, the Cubs had sent 11 batters to the plate and scored seven times to erase the frustration of a pair of earlier ejections. The Cardinals were left to lament how a few plays not made aided those efforts.
Trouble started in the sixth with the Cardinals leading, 2-1, when the first two batters reached against Carlos Martinez, who through five innings had limited Chicago to three hits. Alex Avila followed with a slow grounder just out of the reach of Martinez and second baseman Greg Garcia.
Center fielder Harrison Bader charged in, but, upon seeing Kris Bryant freeze at third, didn't hurry a throw back into the infield. Bryant took off for home.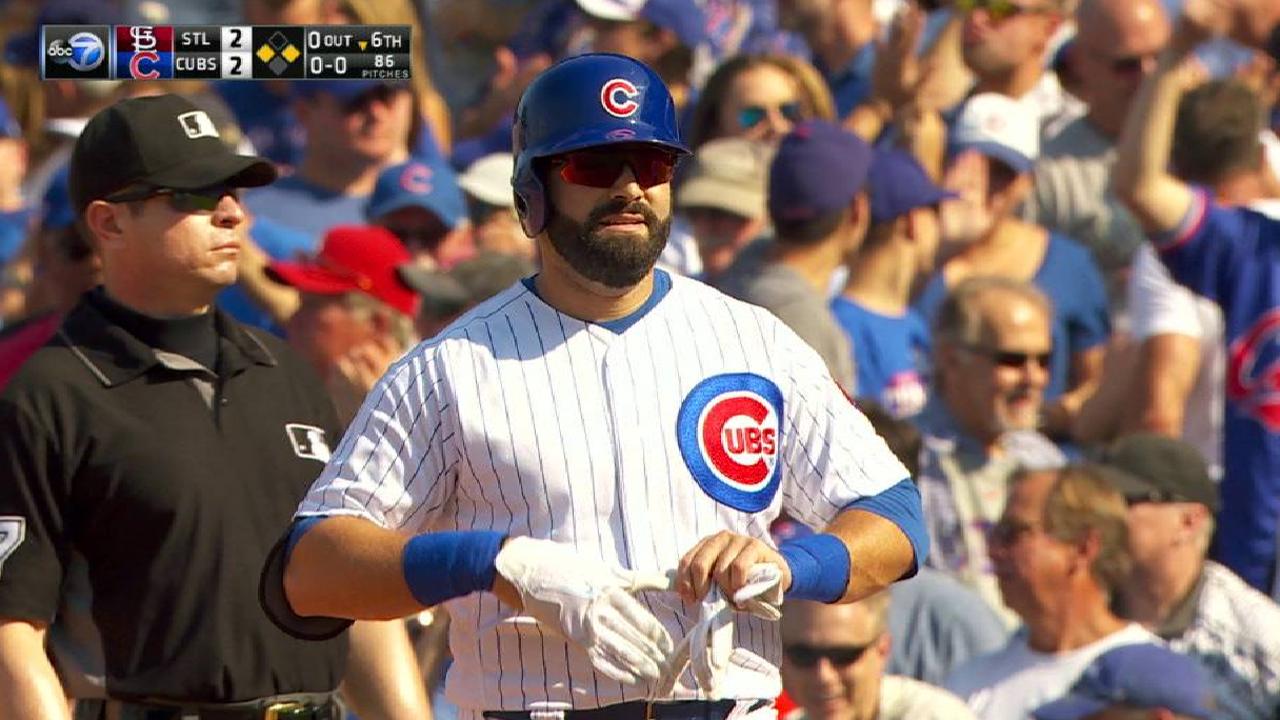 "He was just standing on third and the ball was dead stopped by me, so I was focused on taking care of the ball and getting it in when I can," Bader said. "Then you kind of look up and you get caught [in a tough spot]."
"That was an overly weird play," added Bryant. "I saw [Anthony Rizzo] running at me, and their guy pump faking to third; I figured he was going to throw to third to get one of us out."
Bader couldn't recover in time to get anyone. Bryant scored the tying run.
"For us, it's something that we've been working on with our outfielders all year -- get the ball in as quick as you can," Matheny said. "What [Bryant] is doing doesn't really change the fact that you're going to be hitting the cutoff man right in the head anyhow. So if he comes up [throwing] right away, you have them probably in a rundown."
Jon Jay followed with an RBI bloop single that could have produced an out, too, had Garcia been quicker to cover the bag.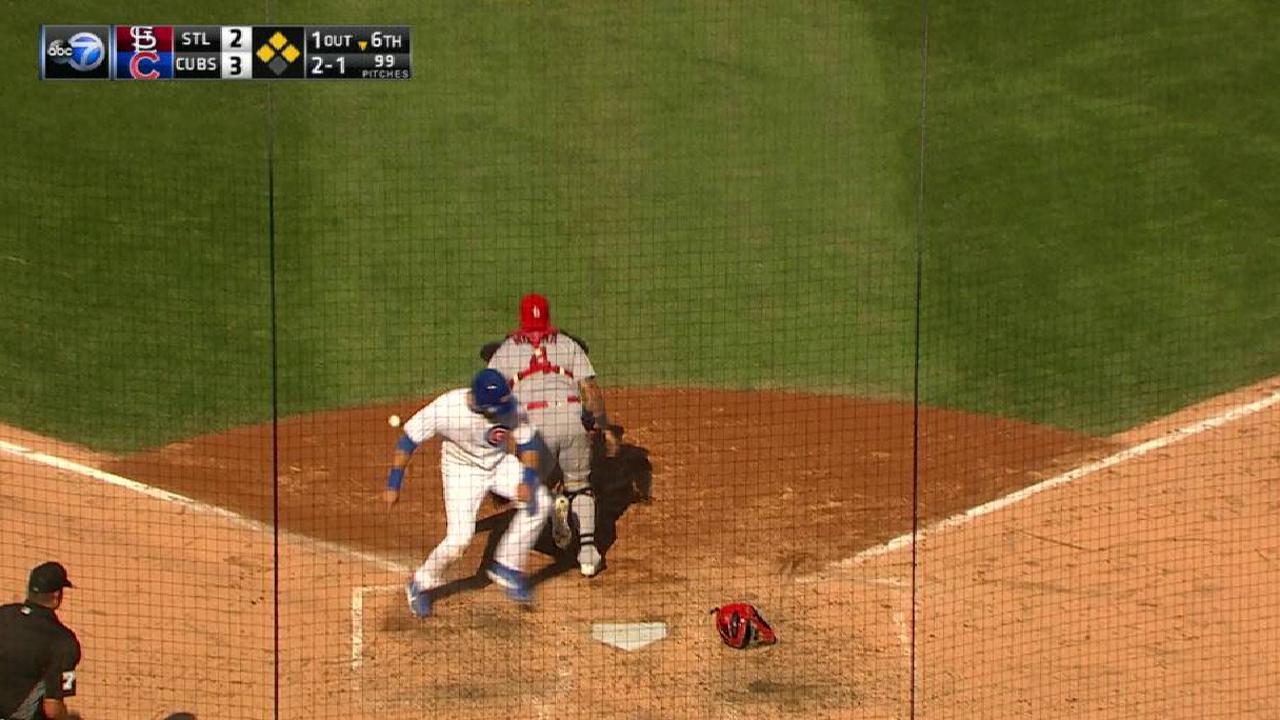 The most costly defensive blunder, however, came two batters later that when, after Matheny stuck with his starter in a bases-loaded spot, Martinez couldn't turn a comebacker into an inning-ending double play. He fumbled the ball before ultimately shuttling a low throw home that Yadier Molina couldn't corral to salvage even one out.
The misplay turned into a five-run swing.
"Yeah, I feel like it should have been a double play," Martinez said, speaking through a translator. "It's frustrating because they're obviously plays that I can make, that my team can make, and I haven't quite been able to make certain adjustments."
Indeed, it was the third time in five games that Martinez complicated things for himself by being unable to start an inning-ending double play. In a one-run loss to the Padres on Aug. 24, it cost him two runs. Six days later, against Milwaukee, it cost him three in another one-run defeat.
This one unraveled even further. Martinez finished his outing with a career-high seven runs allowed.
"I think it's lack of confidence," Matheny said of the series of misplays. "This will be something that will be gone and something where he'll end up making great athletic plays on the field again. But for right now, it's just a little bit of doubt."
Jenifer Langosch has covered the Cardinals for MLB.com since 2012, and previously covered the Pirates from 2007-11. Follow her on Twitter and Facebook. This story was not subject to the approval of Major League Baseball or its clubs.