Game-by-game breakdown of Tribe's streak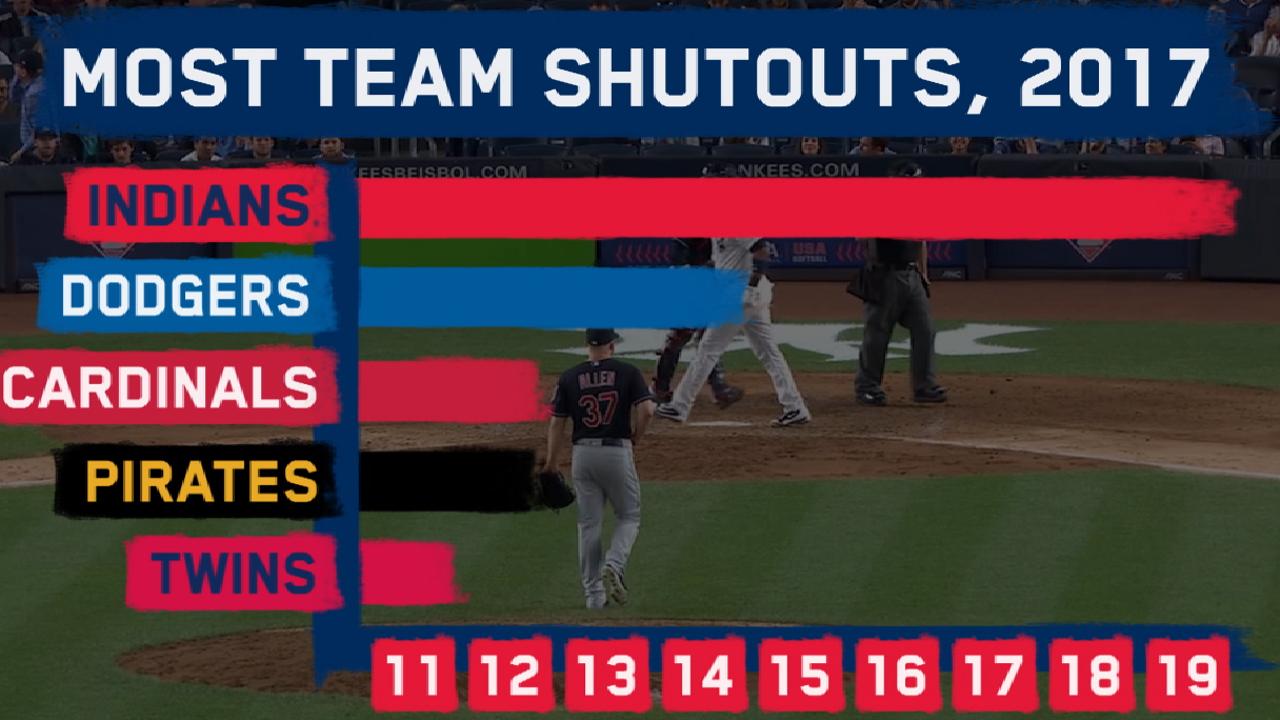 The Indians have taken the baseball world by storm over the past three weeks, reeling off an epic streak of 22 consecutive victories, the longest such stretch in more than 100 years.
Only the 1916 New York Giants, who notched 26 straight wins, have prevailed more times in a row.
The run is nearly unfathomable, but seeing is believing. In case you missed out on any part of Cleveland's magic, MLB.com is here to take you through it one game at a time.
Here is a game-by-game breakdown of The Streak:
Aug. 24: Indians 13, Red Sox 6
The first game of the streak was a doozy, as Cleveland tagged Boston ace Chris Sale for seven runs. The bottom third of the Tribe's order -- Yandy Diaz, Roberto Perez and Giovanny Urshela -- combined to go 9-for-13 with eight RBIs. Recap >
Aug. 25: Indians 4, Royals 0
The Indians opened Players Weekend with a shutout as Ryan Merritt turned in a career-high 6 2/3 innings and Francisco Lindor -- aka "Mr. Smile" -- smashed a two-run blast. Recap >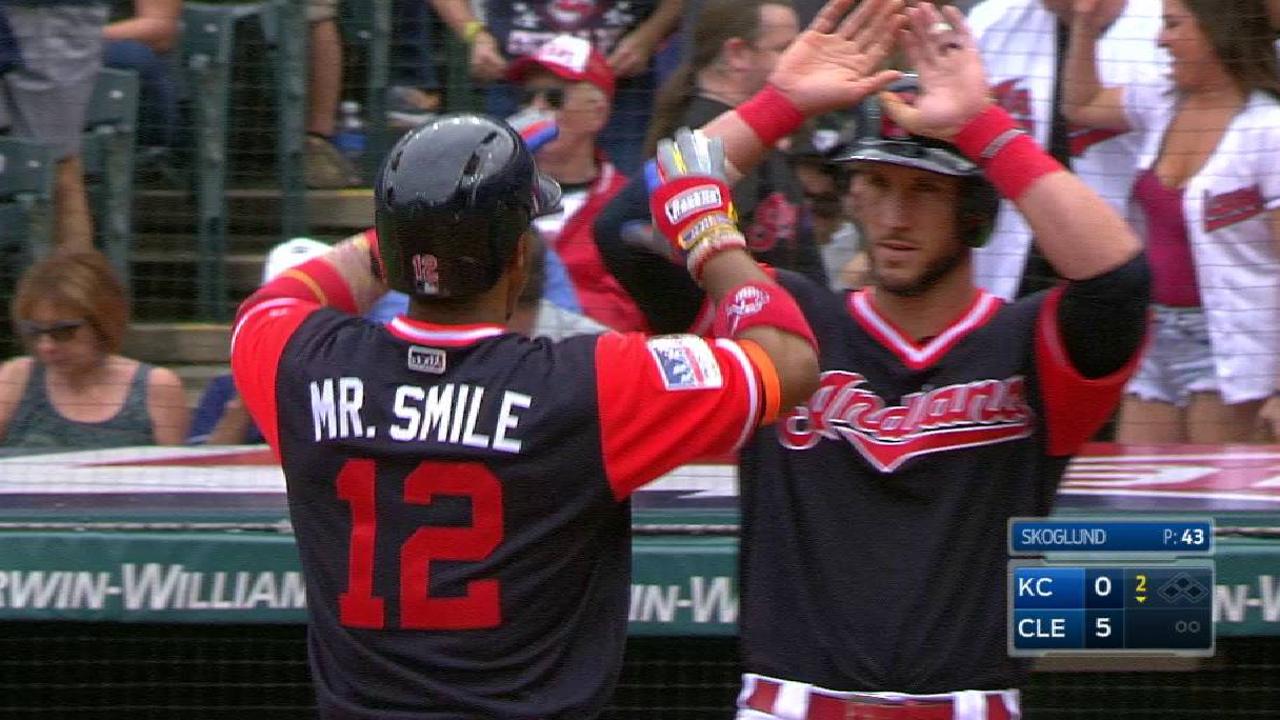 Aug. 26: Indians 4, Royals 0
Mike Clevinger, the man they call "Sunshine," struck out a career-high nine batters over six scoreless frames. Perez -- aka "Bebo" -- drilled the first of three home runs before Cleveland's bullpen finished off a four-hit shutout. Recap >
Aug. 27: Indians 12, Royals 0
Yan "Gomer" Gomes contributed a grand slam to cap off a nine-run second inning as the Tribe strolled to a series sweep. "Mr. Smile" and Carlos Santana, or "Slamtana" as they call him, also went deep for Cleveland in the rout. Recap >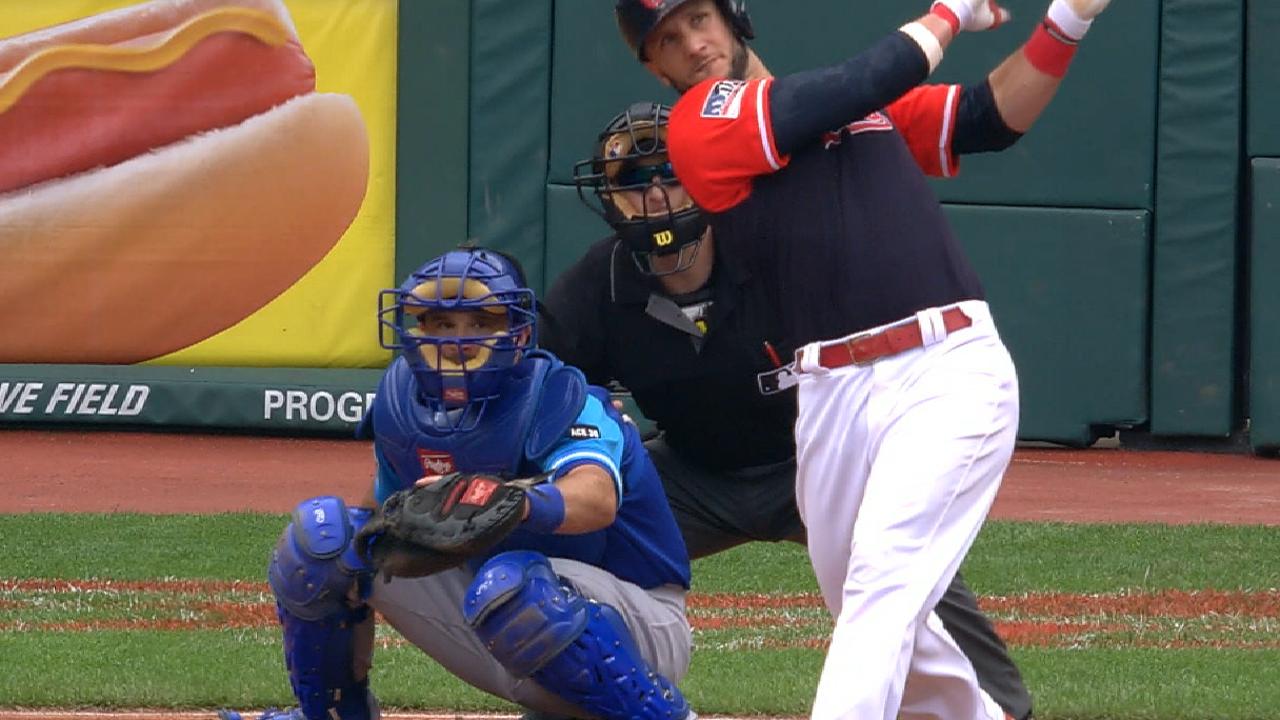 Aug. 28: Indians 6, Yankees 2
Jose Ramirez became the first player to homer twice off 98-plus-mph pitches in the same game since tracking began, and Santana blasted a go-ahead blast off Luis Severino in the seventh. Corey Kluber held the Yankees to two runs over eight innings. Recap >
Aug. 30: Indians 2, Yankees 1 (Game 1)
A pair of runs in the top of the first was all the Indians needed in support of Trevor Bauer, who hurled six sharp frames. Lindor scored on a passed ball, and Diaz delivered an RBI single to push Cleveland to a Game 1 victory. Recap >
Aug. 30: Indians 9, Yankees 4 (Game 2)
The Tribe jumped on Yanks starter Jordan Montgomery with a four-run first inning to take the nightcap and secure a series sweep over New York. Encarnacion, Lindor and Gomes all went deep to back Merritt's solid start. Recap >
Sept. 1: Indians 3, Tigers 2 (Game 1)
Jay Bruce tripled and scored the go-ahead run on Lindor's single in the ninth, and Edwin Encarnacion hit his 32nd homer to help Cleveland edge Detroit in the first game of a day-night doubleheader. Recap >
Sept. 1: Indians 10, Tigers 0 (Game 2)
Perez drove in three runs and homered to ignite a five-run sixth inning, while Clevinger spun six sparkling frames as Cleveland cruised to victory in the nightcap. Recap >
Sept. 2: Indians 5, Tigers 2
Kluber twirled eight stellar frames and Abraham Almonte knocked in three runs to propel the Indians to their 10th straight win. Recap >
Sept. 3: Indians 11, Tigers 1
Ramirez tied a Major League record with five extra-base hits, including an assisted home run from both sides of the dish, as Cleveland capped off a four-game sweep in Detroit. Recap >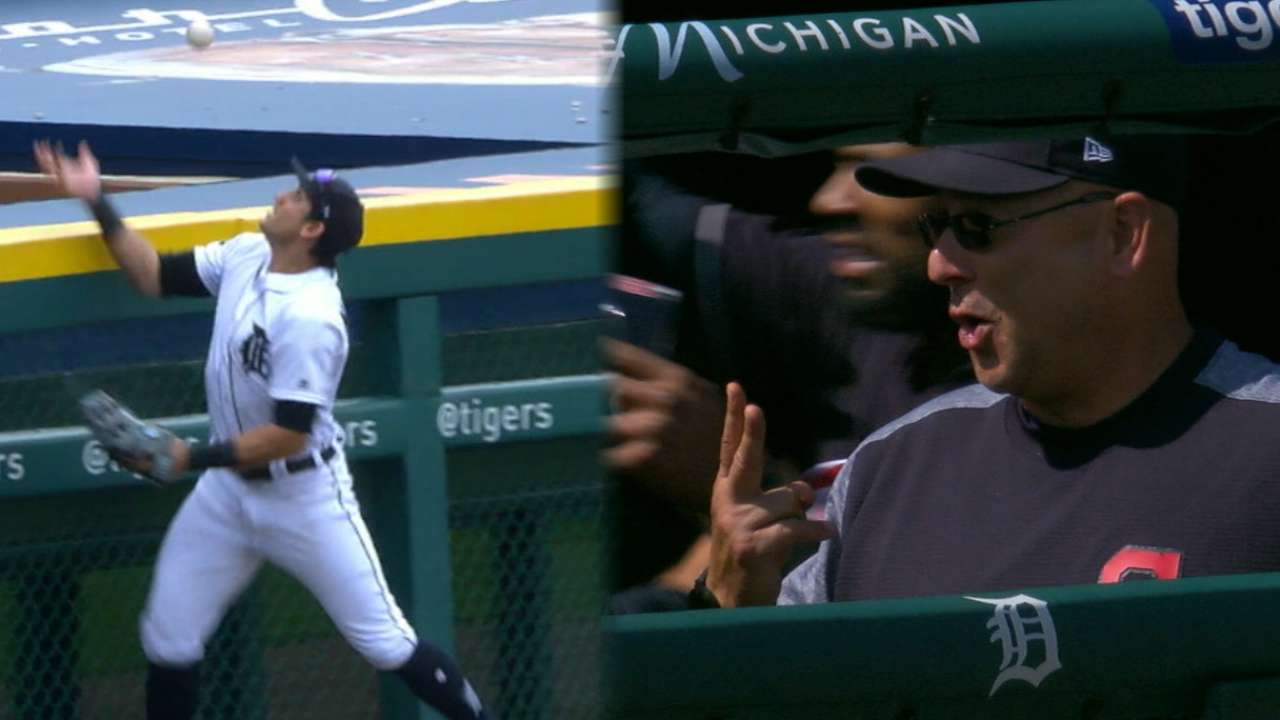 Sept. 4: Indians 5, White Sox 3
Top prospect Francisco Mejia recorded his first big league hit and RBI, sandwiched between Santana's homer in the second and Ramirez's in the eighth. Bauer stymied the Sox with 6 1/3 innings of two-run ball. Recap >
Sept. 5: Indians 9, White Sox 4
Ramirez slugged two of the Indians' four home runs, and Greg Allen gave his team the lead for good with a two-run double in the third. Seven relievers combined for 8 1/3 scoreless frames following Danny Salazar's early exit. Recap >
Sept. 6: Indians 5, White Sox 1
Carlos Carrasco took a perfect game into the fifth inning, finishing with a three-hit complete game. The Tribe tacked on four runs in the final two innings to ice it. Recap >
Sept. 7: Indians 11, White Sox 2
The Indians hit for the cycle in a four-run first as Kluber racked up 13 strikeouts over seven frames to earn his 15th win. Five home runs helped the club earn its franchise-record 15 straight victory. Recap >
Sept. 8: Indians 5, Orioles 0
Encarnacion crushed a three-run homer in the first, while Clevinger dazzled through the first six innings of Cleveland's four-hit shutout. It was the club's fifth time holding its opponent scoreless during the streak. Recap >
Sept. 9: Indians 4, Orioles 2
The Tribe trailed by a run entering the bottom of the third before scoring a run in each of the next three frames. Lindor's homer in the seventh put the game away as Cody Allen locked down his 25th save. Recap >
Sept. 10: Indians 3, Orioles 2
Powered by back-to-back jacks from Perez and Lindor in the sixth and another strong outing from Bauer, the Indians swept the O's to pass the Astros for the best record in the American League. Recap >
Sept. 11: Indians 11, Tigers 0
Cleveland pounced on Tigers rookie hurler Myles Jaye for five runs in the second inning, and Ramirez cranked a two-run shot in the fourth as the Indians rolled to an easy win. Carrasco spun six scoreless innings. Recap >
Sept. 12: Indians 2, Tigers 0
Kluber dominated the Tigers' lineup with just five hits allowed in a shutout, while Lindor clubbed a leadoff homer, his 30th home run of the season, to put the Tribe in a tie with the 2002 A's for the longest winning streaking in AL history. Recap >
Sept. 13: Indians 5, Tigers 3
Bruce dialed long distance with a three-run blast in the bottom of the first, and Perez added some insurance with a solo dinger in the seventh as the Indians surpassed Oakland's seemingly insurmountable feat. Recap >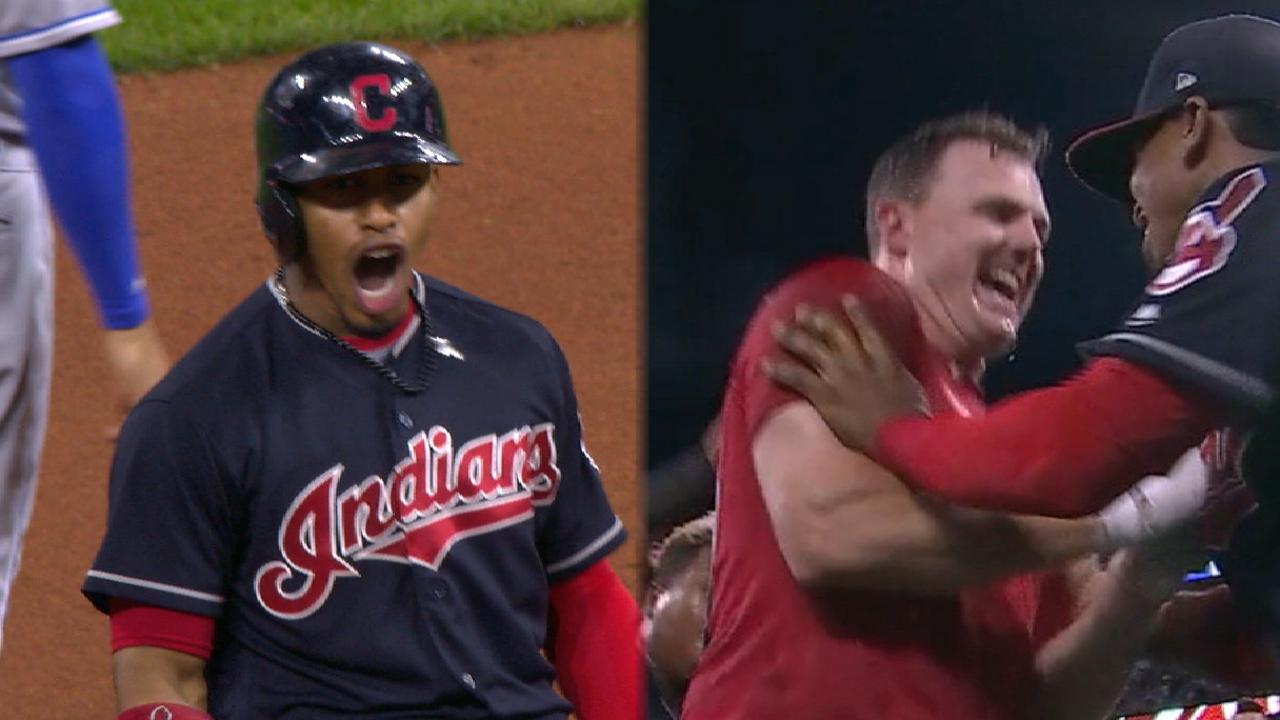 Sept. 14: Indians 3, Royals 2 (10 innings)
Trailing by one going into the bottom of the ninth, Lindor, down to his final strike, smacked a double off the wall in left field to tie the score. One inning later, after Ramirez's hustle double, Bruce got his chance, pulling a liner down the right-field line to give Cleveland the longest winning streak in MLB in more than 100 years. Recap >
Oliver Macklin is a reporter for MLB.com based in Washington, D.C. Follow him on Twitter at @OMacklinMLB. This story was not subject to the approval of Major League Baseball or its clubs.