MLB.com Columnist
Phil Rogers
It's gut-check time as Cubs face stiff test
CHICAGO -- They've been tested before, of course. You don't end a 108-year championship drought without playing well when it matters the most.
But things are different for the Cubs this season. They're trying to hang on to a lead in the National League Central. They're facing their best regular-season test in the Joe Maddon era, and it's not really a mystery why.
The Cardinals -- the Cubs' opponent today at 1:20 p.m. CT, when a big weekend of playoff-race action begins at Wrigley Field -- had a similar experience in 2015-16. As St. Louis did over those two seasons, the Cubs have taken a huge step backward in run prevention. That was probably inevitable given the extremely high level of play from the Cubs' starting pitchers and fielders last season, but who thought they'd give up a full run more this season than they did last year?
Well, Mike Matheny, maybe. His Cards allowed only 3.2 runs per game two seasons ago, the biggest reason they were able to win 100 games. They allowed 4.4 runs per game last season and won only 86 times, missing a playoff for a Wild Card spot by one victory.
This season, the Cubs have seen their average of runs allowed grow from 3.4 to 4.4, and they find themselves in an unenviable position.
As they try to preserve their lead in the NL Central, they're faced with finding ways to give up fewer runs. With Addison Russell and Jake Arrieta sidelined, the fifth-starter's spot in flux and the bullpen in front of Wade Davis sputtering, the Cubs have allowed 69 runs in the past 12 games, none against teams that rank in the top half of the NL in scoring.
Rookie Jen-Ho Tseng was thrown into the fire on Thursday night against the Mets, making his Major League debut so that Mike Montgomery could move to the bullpen. His nerves showed, but the Cubs whacked the ball around to complete a sweep with a 14-6 victory. They won the way they've been winning, but it's fair to wonder how many more games they'll win allowing six runs or more.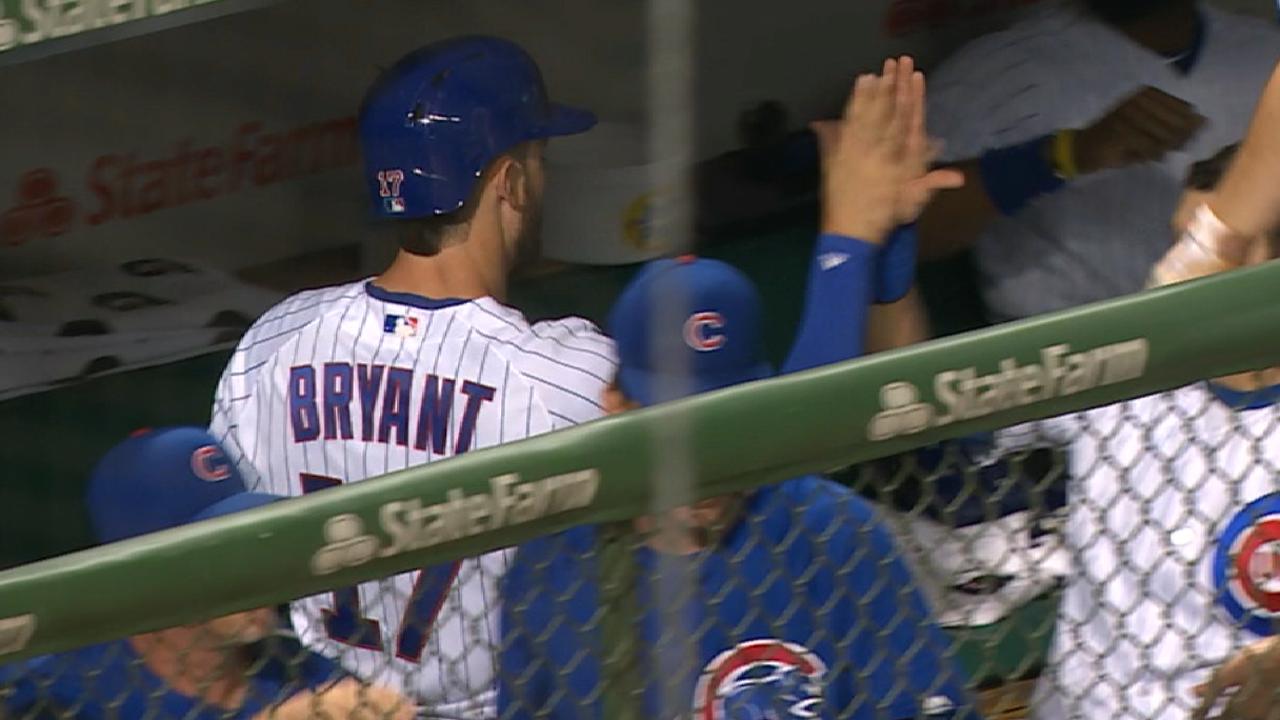 Survival -- along with shelf life in October -- depends on consistently holding the opposition to two or three runs a game, as they did last season. With the Cardinals and Brewers in pursuit, nothing is going to come easy for the team that won the NL Central by 17 1/2 games a year ago.
We shouldn't be surprised that the Cubs are being pushed. This is Major League Baseball, not manifest destiny. But the Cubs spoil us by making it look easy when they're at their best.
There was little heat on them when they surged over the past two months to pass the Giants and Nationals to claim the NL's second Wild Card spot in 2015. There were nine games left when they clinched. But the storyline this season is completely different.
The Cards and Brewers can get right in their faces, with head-to-head games against the pursuers accounting for 11 of the Cubs' last 16 games.
The Cubs (80-66) lead the Cardinals (77-69) and Brewers (77-69) by three games apiece entering a three-game weekend series at Wrigley Field vs. St. Louis. They're due to travel to St. Petersburg for two games next week, then play four-game series in Milwaukee and St. Louis before returning home to finish the season against the Reds.
"It's up to us to maintain what we've earned up to this point," Maddon said. "We're very capable of doing that. The Cards have done it for many years, in terms of winning championships, the level they've played at. I think it's interesting, entertaining, great. I love being part of it."
Maddon also loves that Russell and Arrieta are getting close to returning to action.
The Cubs have played their best the past three seasons when they've had the low-key Russell at shortstop -- a .599 winning percentage in his starts vs. a .558 winning percentage with Javier Baez or someone else at short. Arrieta was on a roll when he strained his hamstring on Sept. 4, and joins Jon Lester in giving Maddon two starters with great records in October.
Davis has been pretty tough in October, too. He was a workhorse as a setup man for the Royals in 2014 and got the final out in the '15 World Series after moving into the closer's role.
Look for Davis to play an expanded role in the series ahead.
Maddon has shown discipline by not asking Davis to throw more than one inning in any of his 51 appearances, in which he has gone 29-for-29 in save chances and compiled a 2.19 ERA. He's worked less this season than five setup men on the Cubs' roster, and Maddon says he will now extend him when he's worried about the workload or effectiveness of Carl Edwards Jr., Pedro Strop and Brian Duensing.
Maddon knows how his bullpen performs the rest of the season will go a long way in determining if the Cubs can use their postseason track record to advance deep into October again and pose a serious threat to the Dodgers and Nationals.
"That's such a big part of this time of the year, such a big part of the playoffs," Maddon said. "Everybody talks about it. We've been talking about it for several years. The threat is that if you don't [have] enough viable arms, you are going to wear somebody out. You try not to wear somebody out. If you wear them out now, it would be very detrimental."
That's why the Cubs moved Montgomery back into the bullpen role he was in last October, when he got the final out in Game 7 of the World Series against the Indians. He was the winning pitcher in relief of Tseng on Thursday, throwing two scoreless innings that showcased his value down the stretch.
When the Brewers came to Wrigley last weekend they felt they had to sweep, and they did. The Cardinals will feel good if they get two out of three, cutting the gap. It's going to be a blast watching them turn their young energy on the Cubs, who not so long ago were in their place.
Phil Rogers is a columnist for MLB.com. This story was not subject to the approval of Major League Baseball or its clubs.