Quick decision in left doesn't go Royals' way
Gordon goes for catch at the wall, but ball -- and game -- eludes Herrera and Co.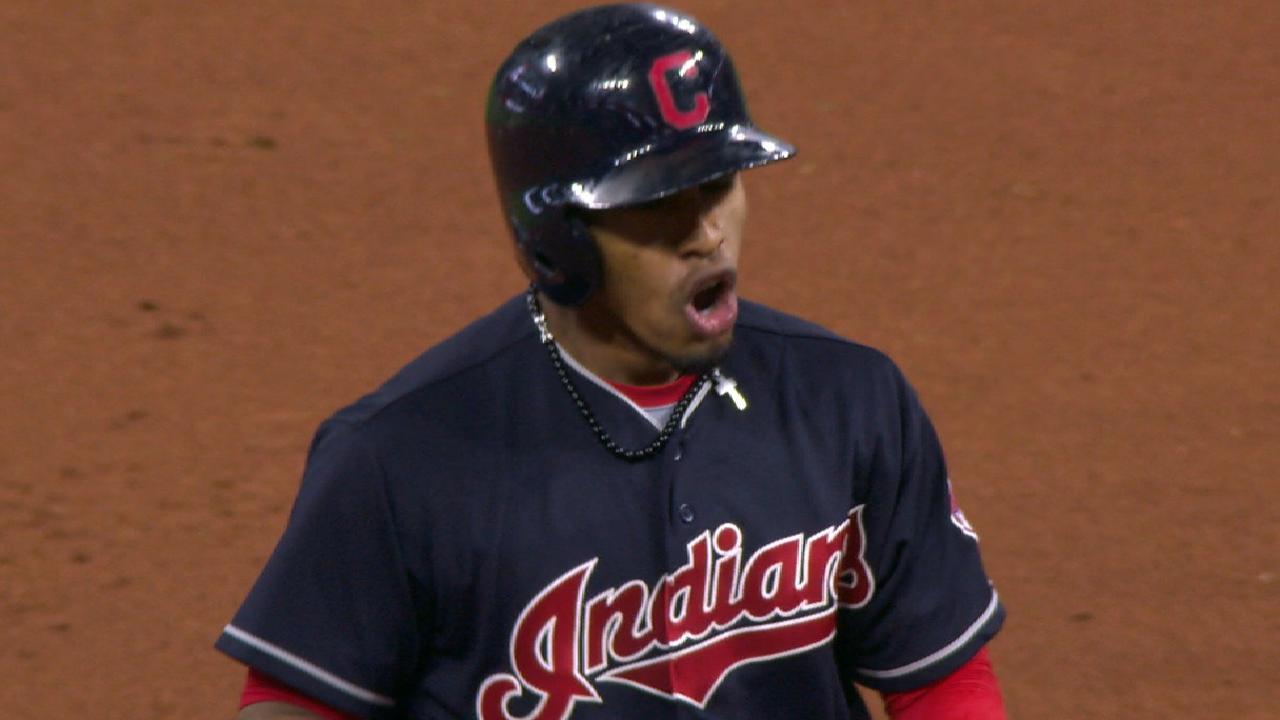 CLEVELAND -- Royals closer Kelvin Herrera was within one strike of ending the Indians' winning streak at 21 games Thursday night at Progressive Field.
But a 2-2 pitch to Francisco Lindor with two outs and pinch-runner Erik Gonzalez on first was about two inches lower than he wanted it. Herrera wanted to go up and away, but the two-seamer sank back down where Lindor could reach it, and he shot a fly ball toward the left-field corner.
That's where Alex Gordon, a four-time Gold Glove Award-winning left fielder, had to make a bang-bang decision: Go for the catch to end the game, or play conservatively and perhaps hold the speedy Gonzalez at third base.
Gordon went for the catch, and he missed by an inch or two. The ball caromed away and Gonzalez scored easily, tying the score at 2. The Indians then won it in the 10th, 3-2, for their 22nd straight win.
"It hit off the top of my glove," Gordon said. "We were playing no-doubles [deep], and it just kind of hit in that perfect spot where I had to make a decision to go for it or play it off the wall. But it was pretty close. Unfortunately, I didn't get it."
Lindor, too, thought it would come down to inches.
Royals manager Ned Yost said he had no issues with Gordon going for the catch.
"It was that close," Yost said. "You go for it."
Gordon said there wasn't much of a decision to make, considering Gonzalez was off and running on contact with two outs.
"I was playing over there a little bit," Gordon said. "But he hit it right in that corner. I think if I play it off the wall he scores anyway, so I had to go for it. It was just off the tip of my glove. That's the way it goes.
"Give them credit. They're on a little hot streak now and finding ways to win. Lindor came up with the big hit there."
For Herrera, it was his fifth blown save in what has become a nightmarish season. Herrera recently was demoted from the closer's role, but Yost had to use him Thursday because of a depleted bullpen.
"Bad year. Bad year," Herrera said. "When you have that kind of year, everything is kind of like going to the wrong side. It's just part of this game."
Jeffrey Flanagan has covered the Royals since 1991, and for MLB.com since 2015. Follow him on Twitter @FlannyMLB. This story was not subject to the approval of Major League Baseball or its clubs.