Mets to hold hurricane relief drive at Citi Field
Club will accept donations for those affected by Harvey, Irma on Sept. 19-21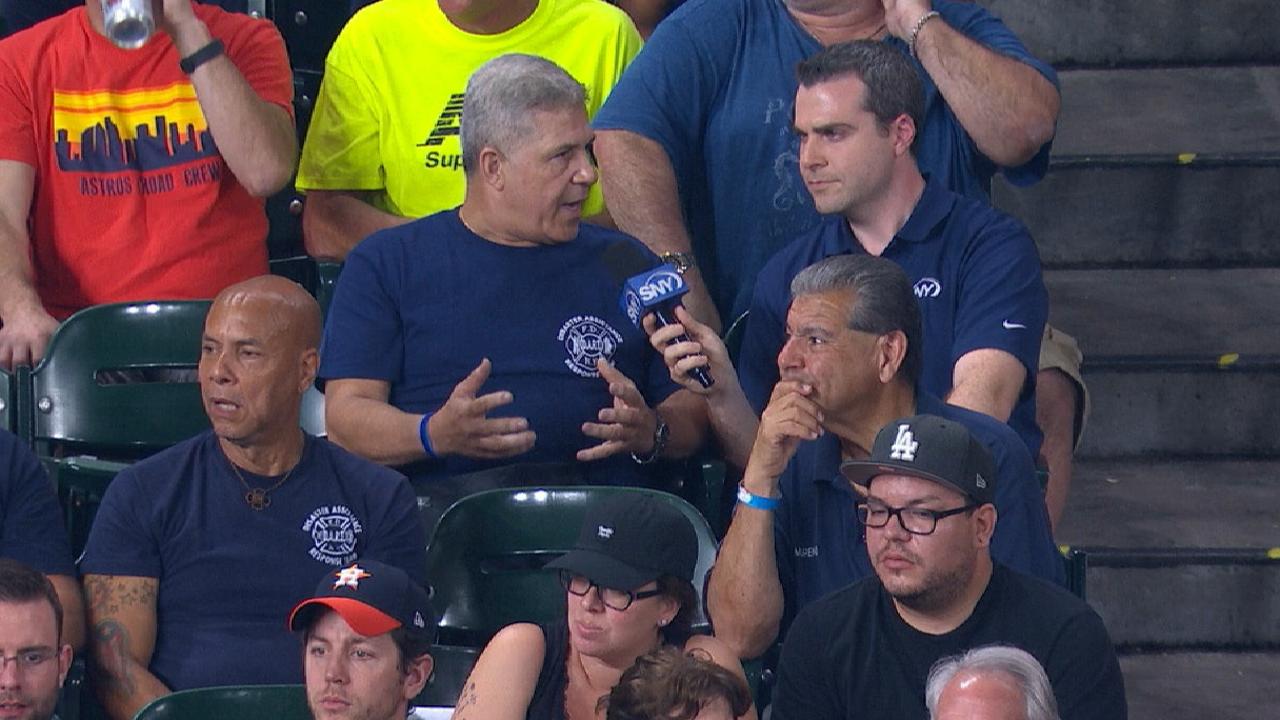 CHICAGO -- The Mets were the first visiting team to play in Houston following Hurricane Harvey, spending their off-day there helping community members in need. Next week, they will become the first visiting team to play in Miami following Hurricane Irma.
Their contributions to disaster relief will not end there. The Mets announced that they will hold a hurricane relief drive next week at Citi Field to help those affected in Houston and Florida, in conjunction with Queens borough president Melinda Katz.
"Mets fans and all New Yorkers want to help the Hurricane victims in Texas and Florida just like the rest of the country helped us pull through Superstorm Sandy," Mets chief operating officer Jeff Wilpon said in a statement, referring to the storm that wreaked havoc on the tristate area in 2012.
"Mets fans and people throughout Queens and the entire New York metropolitan area have not forgotten how the rest of the country supported us in the wake of Sandy," Katz said in a statement. "That's why we want to give back to those who have suffered due to Harvey and Irma. This hurricane relief donation drive we are hosting with the Mets at Citi Field will be a great opportunity for New Yorkers to help our fellow Americans who are in need."
The Mets will accept donations at Citi Field on Sept. 19-21 (Tuesday through Thursday) from 10 a.m. to 7 p.m. ET, in front of the Jackie Robinson Rotunda. They have asked specifically for the following items:
• Ready-to-eat items in vacuum sealed pouches or cans with pull tops, such as vegetables, fruit, tuna, beef stew, chili and canned chicken
• Snacks including granola bars, breakfast bars and peanut butter
• Water
• Toiletries including soap, shampoo, toothbrushes, washcloths, feminine products, combs, picks and brushes
• Paper goods including toilet paper, paper towels and napkins
• Diapers in all sizes
• Cleaning supplies including wipes, mops, mop buckets, brooms, bleach wipes, bleach, garbage bags and bug spray
Only new items will be accepted. The Mets will not accept clothing, household items or any other items not listed above.
Fans driving to the ballpark can enter via the Official Lot G on 126th Street, and proceed straight to the fire lane in front of the Rotunda. Mets staff will be on hand to unload items from vehicles.
Donations will be delivered to the Houston Food Bank, which provides 800,000 meals a year in Southeast Texas, and Mustard Seed, a community outreach organization serving Fort Pierce, Fla.
Anthony DiComo has covered the Mets for MLB.com since 2008. Follow him on Twitter @AnthonyDiComo and Facebook. This story was not subject to the approval of Major League Baseball or its clubs.