Sano frustrated by lack of progress with injury
Twins third baseman still feels pain in left shin when running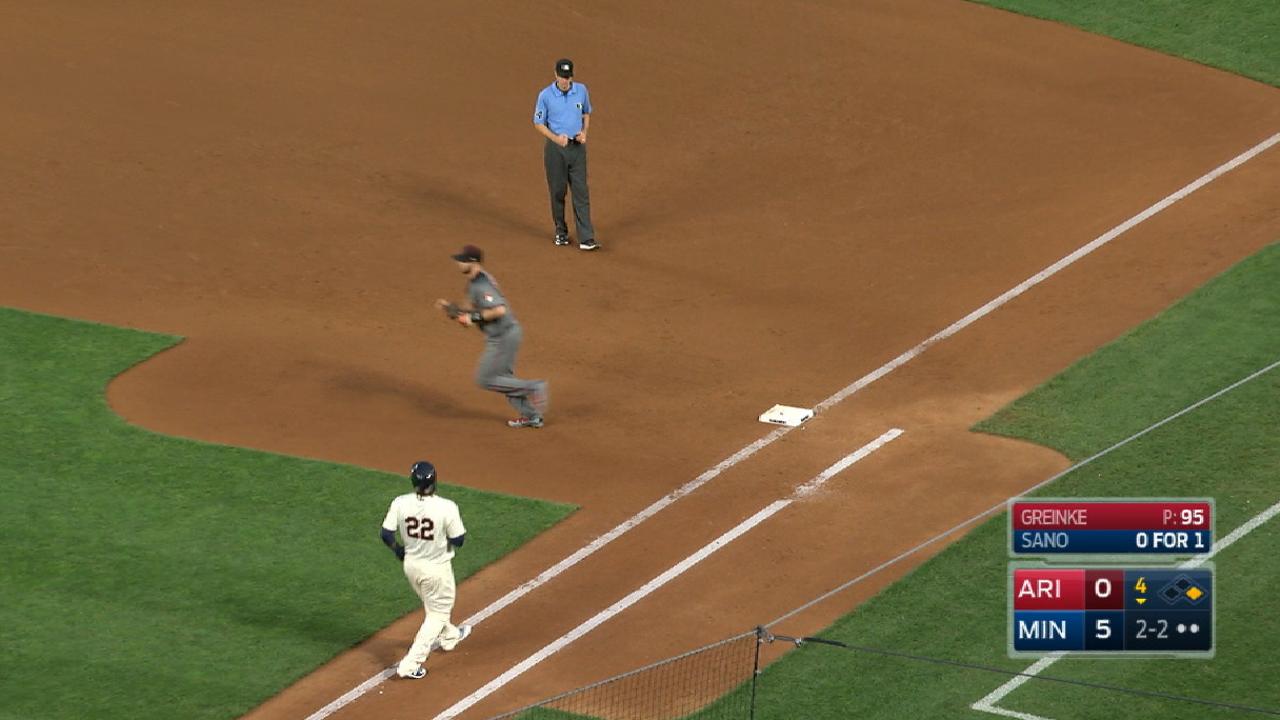 MINNEAPOLIS -- Twins third baseman Miguel Sano said he's been frustrated by his lack of progress with his left shin, but isn't ruling out a return before the end of the regular season.
Sano, who suffered a stress reaction when he hit a foul ball off his shin on Aug. 18, has been participating in running drills and taking batting practice at Target Field for the last week, but running remains an issue for him. He took a rest day Thursday, rehabbing his shin, but not hitting or running.
"We're working to get back on the field, but it obviously still bothers me and still hurts," Sano said through a translator. "When I hit it's not as much, it's more of the running. But once I'm done hitting and relax a little bit, it swells up and hurts."
Eduardo Escobar has filled in capably in Sano's absence at third, while the offense has remained hot, but Sano admitted it's been tough to be on the sidelines as the Twins look to make the postseason for the first time since 2010.
"Obviously, it's frustrating," Sano said. "I was on the field every day, but now I'm hurt and the team is winning and having fun. I want to be part of that, so it's frustrating. We're still working with the trainer to get back as soon as possible. But we don't know at what point right now."
Twins manager Paul Molitor said Sano is likely to participate in simulated games against Twins relievers once he's ready, because the Minor League season is over and the instructional league was pushed back to late next week in Florida because of Hurricane Irma. But he said he can't pinpoint when Sano will be back.
"It's really unanswerable," Molitor said. "We see changes that are good and not so good. He hasn't really had a day to back off. So they're just going to treat the leg today as opposed to going out there and doing anything. I'm going to keep hoping something turns this thing in the right direction at a little faster speed. But obviously the days are dwindling here."
Sano has been running at about 75 percent effort, he estimated, and has yet to run the bases, mostly running in the outfield, aside from one drill in which he hit and ran to first. He's been careful not to push it too much because it could lead to a stress fracture.
"Ideally, I want to get to a point where I'm healthy and I know I won't have any problems," Sano said. "I don't want to go out there and then get hurt and miss the rest of the season and then come next year not healthy because I made it worse."
Worth noting
• The Twins, in partnership with the Red Sox, announced that each club will donate $100,000 to the Southwest Florida Community Foundation to assist with hurricane relief efforts throughout Southwest Florida. Both clubs train in Fort Myers, Fla.
• The Twins lost shortstop Engelb Vielma via waivers to the Giants after he was designated for assignment Tuesday to make room for reliever Gabriel Moya on the 40-man roster. Vielma is regarded as a top defender, but hit .206/.233/.260 at Triple-A this season.
Rhett Bollinger has covered the Twins for MLB.com since 2011. Follow him on Twitter @RhettBollinger and Facebook. This story was not subject to the approval of Major League Baseball or its clubs.