Confidence, 'Lizard' key to Benintendi's tear
With new Lizard Skin tape on bat, left fielder goes 3-for-4 with 3 RBIs in finale vs. Oakland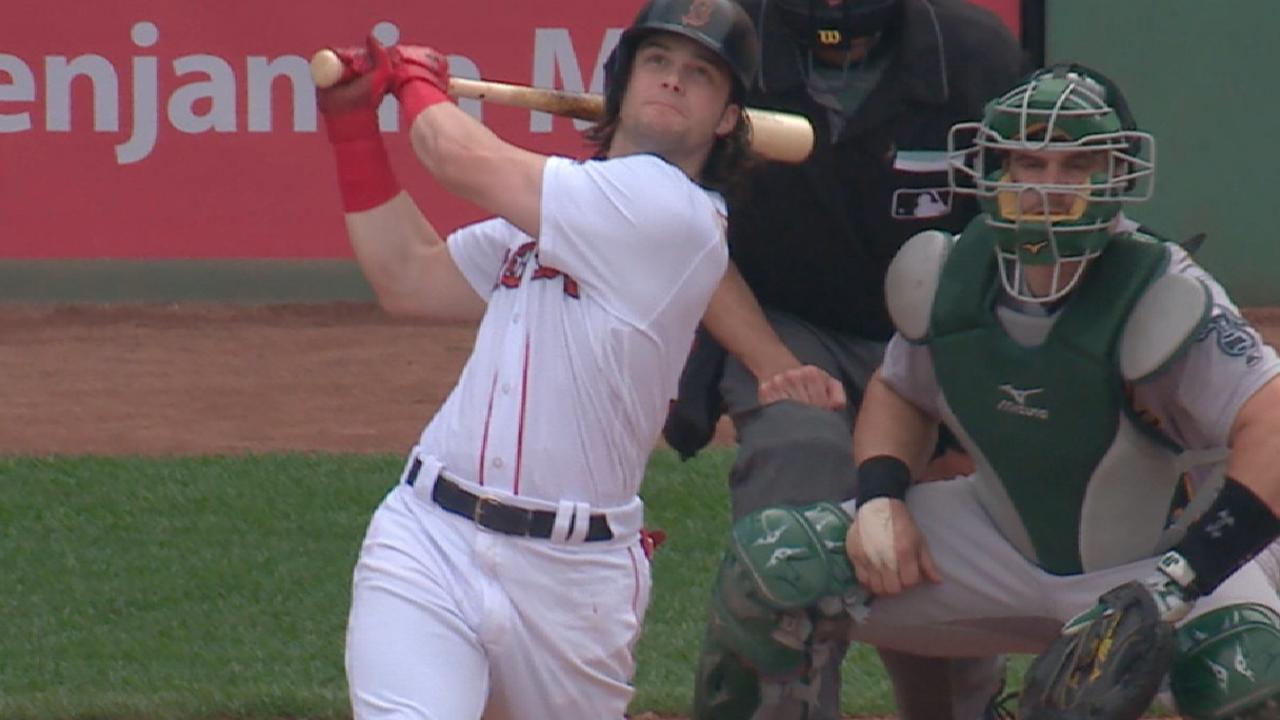 BOSTON -- Andrew Benintendi's summer tear had taken a mini-hiatus when he went 0-for-18 from Sept. 3-6. But this rut wasn't mechanical. It turns out it was just a matter of some equipment maintenance.
Benintendi's closest friend on the team, utility man Brock Holt, spotted the problem.
And once it was fixed, Benintendi resumed raking, continuing with Thursday's impressive performance (3-for-4, 2 doubles, 3 RBIs) that helped lead the Red Sox to a 6-2 win over the A's.
"Brock Holt taped my bottom handle of my bat with some Lizard Skin," said Benintendi. "My hand slips off the bat sometimes. When he does that, it tends to stay on, so you can give credit to Brock Holt."
Since the Holt tape job, Benintendi is 11-for-22 with six doubles and eight RBIs.
"The way he wraps the bat, the direction it goes, it fits a left-handed swing," said Benintendi of Holt's work.
"His bottom hand kept flying off, so I taped it up for him. And that's why he's having so much success right now," quipped Holt.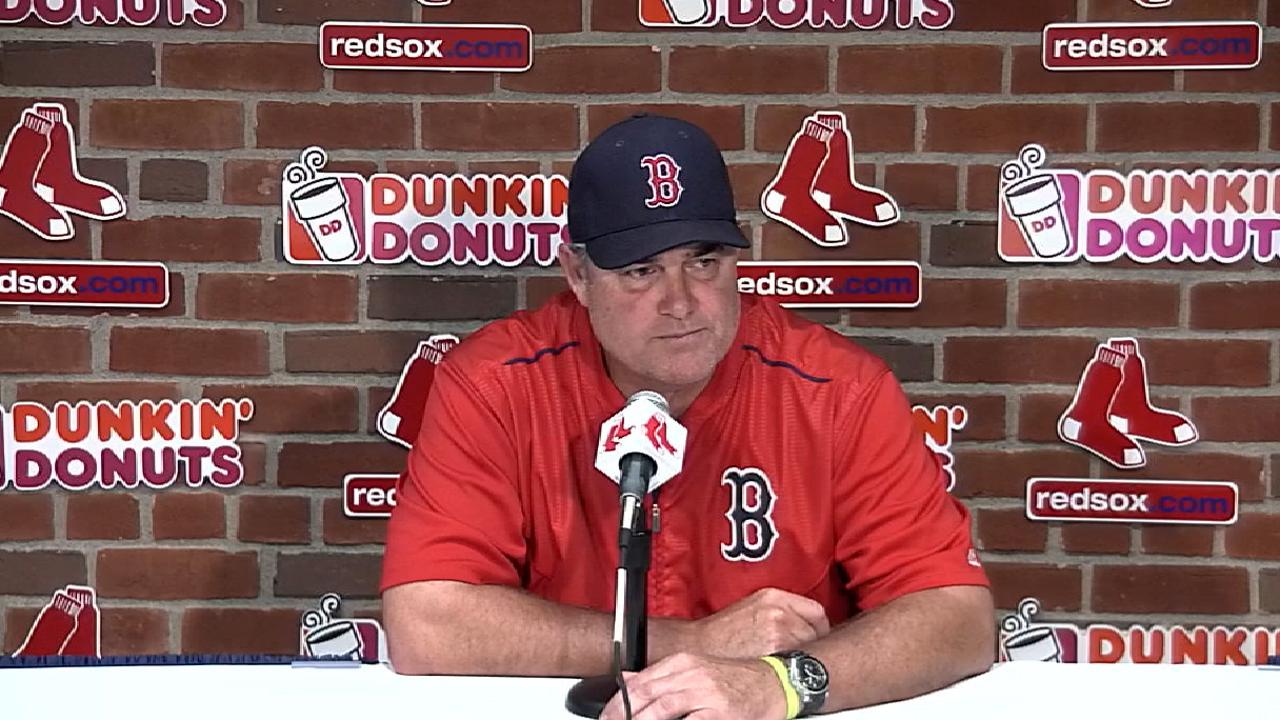 As Holt would be the first to admit, Benintendi's sweet swing and hand-eye coordination probably has more to do with the line drives he's spraying from gap to gap than the tape. But if Holt's tape job has helped Benintendi strengthen the grip on his strong rookie season, all the better.
The left fielder is slashing .280/.360/.443 with 19 homers and 83 RBIs. At the age of 23, he has become a centerpiece in Boston's batting order.
Benintendi had prolonged slumps in May and July but bounced back in a big way, and now he looks ready to be a key contributor entering crunch time.
"You get here and you're going to go through struggles and things like that, and there are other times you're going to play well," said Benintendi. "You've just got to stay even-keeled through it all. Every time I go up to the plate, I think I'm going to get a hit. That confidence never leaves. It's that mindset I think that will keep you from going in those big slumps."
The fact that Benintendi hit third for the 30th time this season on Thursday is a demonstration of the confidence the Red Sox have in him.
"But on this homestand, for the better part of a month and a half, Benny has been in a great spot with all-field approach, extra-base power," said Red Sox manager John Farrell. "He's come up with some key base hits at opportune times."
Benintendi was in the middle of the two rallies that broke the game open for the Red Sox on Thursday. In the sixth, he smashed an RBI double to left-center to score Dustin Pedroia. And in the seventh, he belted a two-run single up the middle.
Since Aug. 1, Benintendi is hitting .322 with 11 doubles, seven homers and 29 RBIs.
Benintendi will now take his act on the road with a three-city trip to St. Petersburg, Baltimore and his hometown of Cincinnati. The Red Sox lead the Yankees by three games in the American League East.
"It's big," said Benintendi. "Going on our last road trip, 10 days, to leave on a high note is big."
Ian Browne has covered the Red Sox for MLB.com since 2002. Follow him on Twitter @IanMBrowne and Facebook. This story was not subject to the approval of Major League Baseball or its clubs.