Candelario taking advantage of opportunity
Tigers' No. 4 prospect hits first homer with Detroit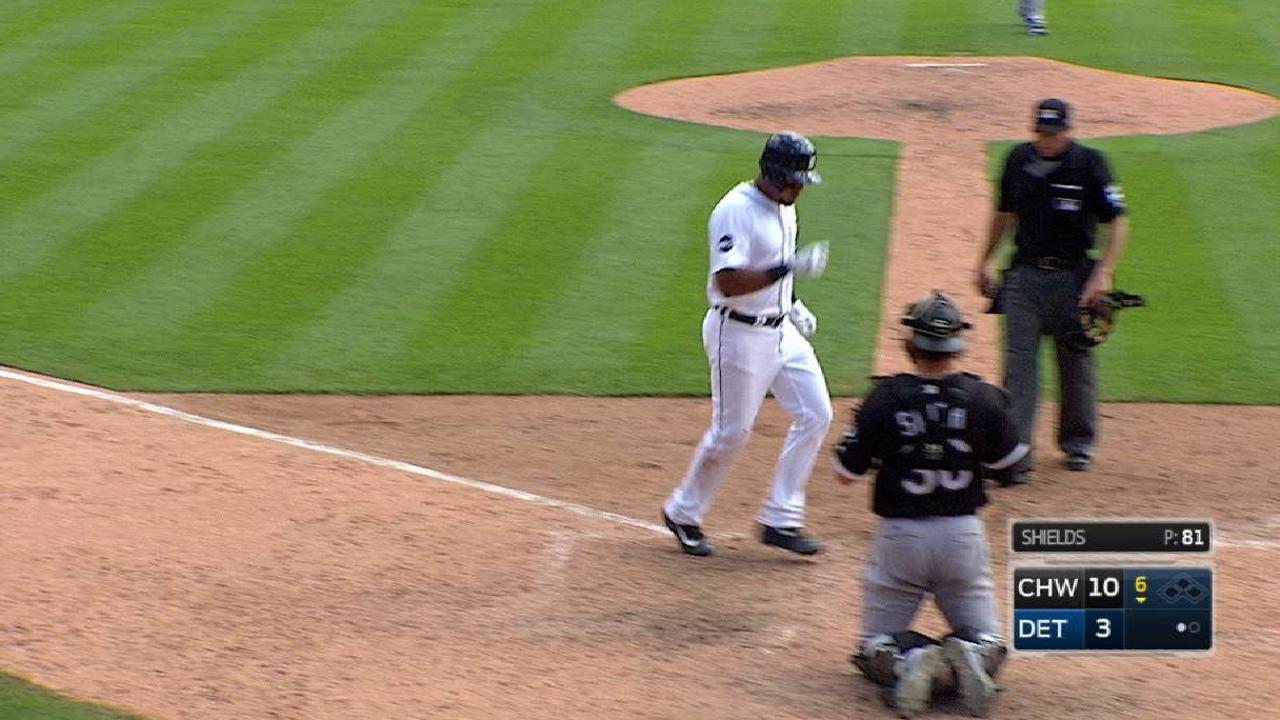 DETROIT -- Jeimer Candelario looked at Avisail Garcia's massive frame and figured he had time. So as Garcia's bouncer approached his spot at third base, Candelario waited for the extra hop before throwing to first.
Those who have seen Garcia, certainly those who watched him in the Tigers' organization years ago, know he moves better than his size suggests. But Candelario had never played against him until Thursday. By the time Candelario's throw neared Miguel Cabrera at first base, Garcia was easily safe.
"I didn't know he can run. For a big guy, he can run a little bit," Candelario said. "It's not going to happen again. I'm going to be ready the next time."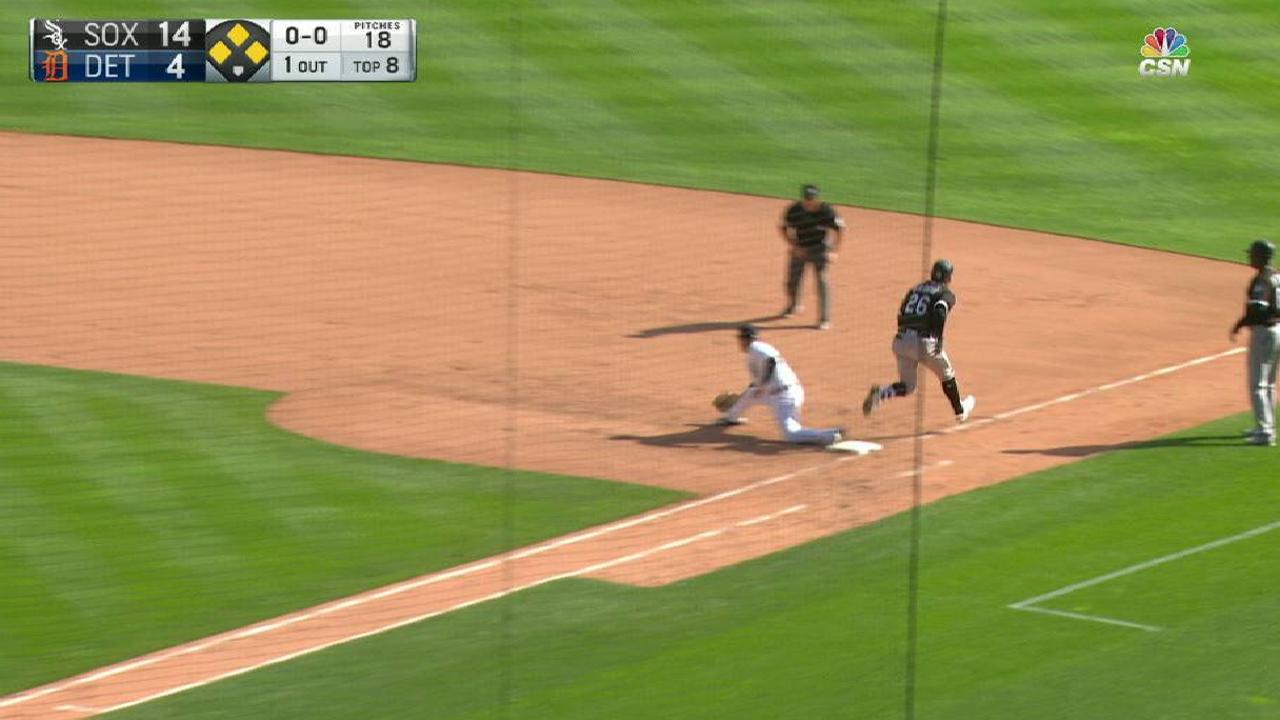 It was one of 25 White Sox hits and one run of many in a 17-7 Tigers loss Thursday at Comerica Park. But it was a learning experience for Candelario.
"You learn from your mistakes," he said. "If you take it in a positive way, you're going to learn and you're going to get better."
Candelario was ready for James Shields after the wily right-hander struck him out swinging at back-to-back changeups in the third inning, having set him up with a cutter inside. Shields went back to the changeup following back-to-back cutters in the sixth inning, but Candelario sent it into the right-field seats for his first home run as a Tiger.
"Shields kind of toyed with him earlier when he got him, a lot of junk, ended up striking him out on an offspeed pitch," Tigers manager Brad Ausmus said. "But Candy doesn't get rattled. He seems to be a very intuitive hitter for the most part."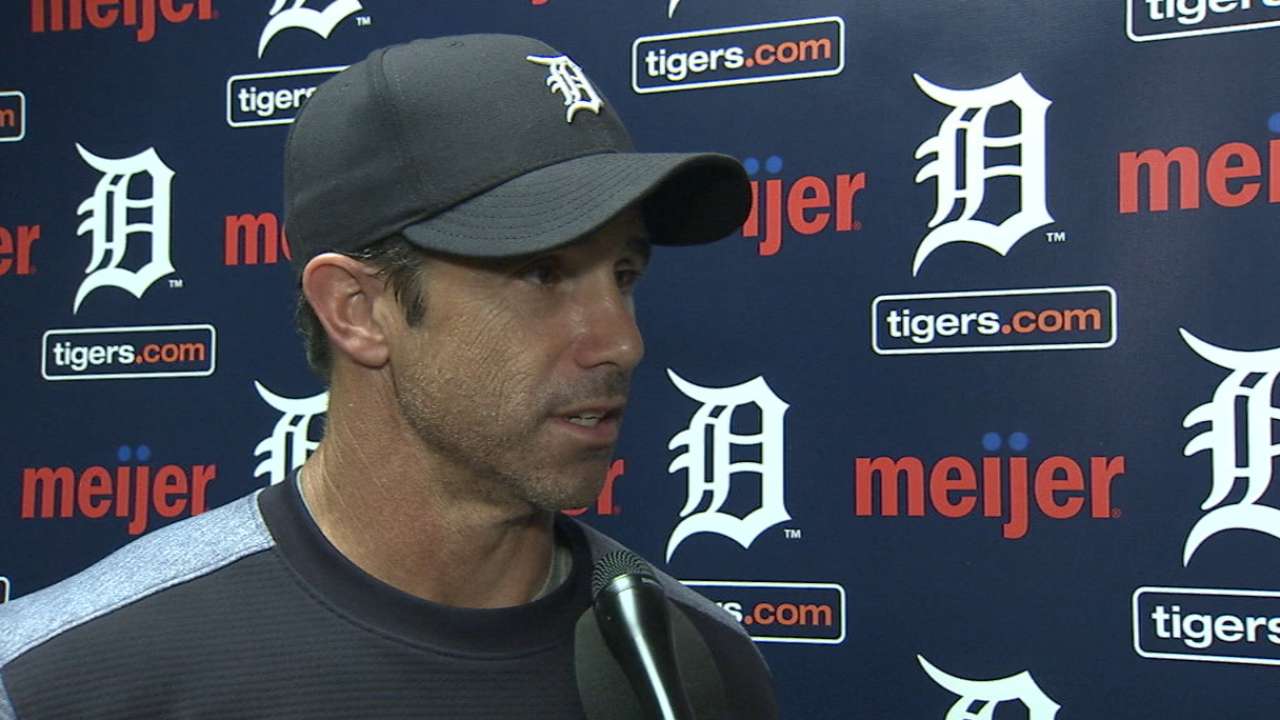 Candelario is emerging as the bright spot in a miserable September for the Tigers, who are now separated by only one game from the White Sox in the standings. But this is the opportunity Candelario has waited for.
He was a prized prospect in a championship Cubs organization, a switch-hitting corner infielder with power, but he was blocked from the big leagues by Kris Bryant and Anthony Rizzo. He was dealt to the other end of the standings at the end of July, part of the Justin Wilson and Alex Avila trade, but to a place with an opening.
With the Tigers now full-on rebuilding, this is Candelario's chance. His answer to nearly every question regarding why he has played so well down the stretch inevitably comes to playing time.
"When you play every day, you're going to adjust," said Candelario, the Tigers' No. 4 prospect according to MLBPipeline.com. "This is a game of adjustments. You have to adjust every day. I've been adjusting every day, every detail. Right now, I'm seeing videos for every pitcher we've got."
After going 6-for-44 over parts of two seasons with the Cubs, Candelario is 16-for-45 with six extra-base hits and a .953 OPS for the Tigers. He not only has an everyday spot at third now that Nicholas Castellanos has moved to right field, but he also has the fifth spot in Detroit's batting order, balancing out a righty-heavy lineup.
So far, Candelario has impressed.
"Most [switch-hitters] usually seem to have a weaker side," Ausmus siad. "I don't know that I can say one side's weaker than the other, because he's looked equally strong from both sides."
Said Candelario: "I have to work harder because I'm a switch-hitter. I have to perfect both sides of the plate, because you never know. I might get up in the ninth with a man on third and one out."
Candelario will not get outworked. He also will not get downtrodden.
"When you're playing every day, you're going to be all right if you know you can do it and you have faith," he said. "Right now, I'm ready to go, and I'm taking advantage. This is a big opportunity for me. I'm feeling right now that I'm just seeing the ball and hitting it."
Jason Beck has covered the Tigers for MLB.com since 2002. Read Beck's Blog, follow him on Twitter @beckjason and Facebook. This story was not subject to the approval of Major League Baseball or its clubs.