MLB.com Columnist
Richard Justice
Race for 2nd AL Wild Card spot heating up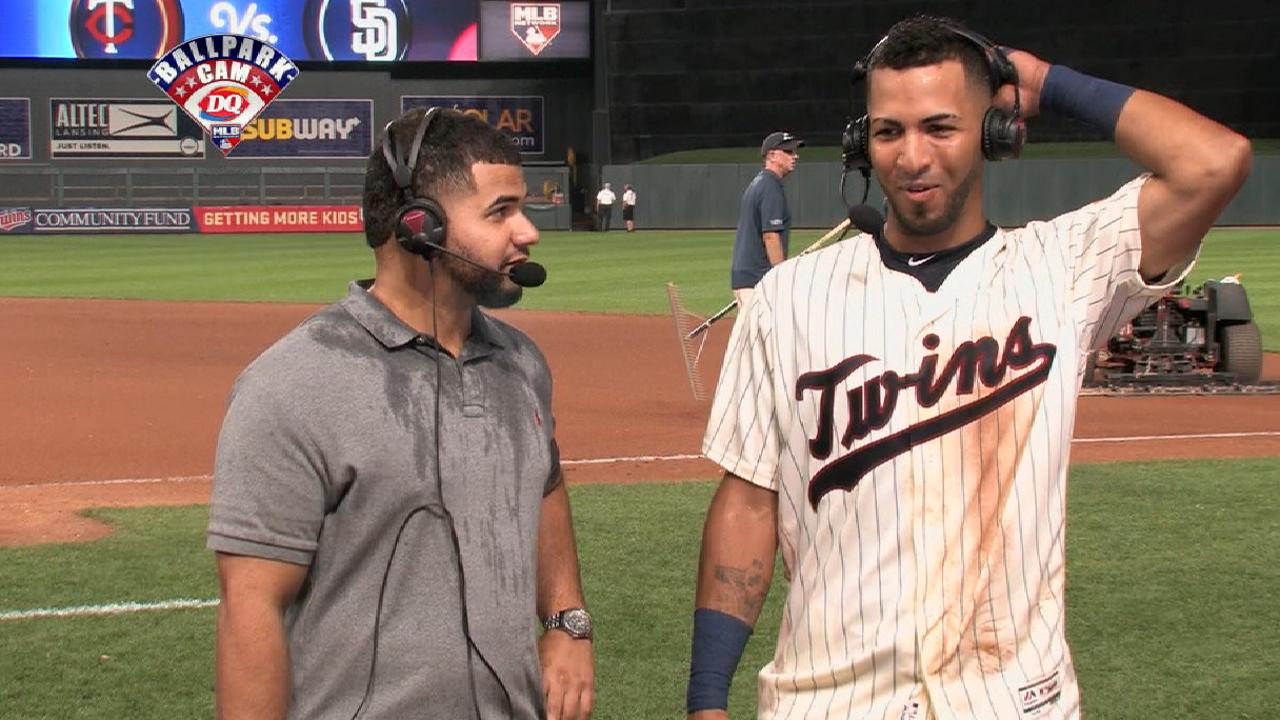 The Twins and Angels have shadowed one another for the past 35 days, each taking turns ahead of the other, neither opening up more than a two-game advantage. Isn't that the definition of a great playoff chase?
At the moment, there's your race for the second American League Wild Card berth entering Thursday. The Mariners, Royals and Rangers are still in the mix, all within four games. But if they feel like an entire season of work is riding on every inning, that's because it could be.
As for the Orioles and Rays, who are 4 1/2 and five games out, here's some free advice: Don't bother looking at the standings. The numbers are intimidating. Instead, play the string out and see what happens.
In this era when playoff berths sometimes aren't decided until the final hour of a season -- or later -- crazier things have happened.
The Yankees are in a commanding position to grab the top AL Wild Card spot -- leading the Twins by three games and the Angels by five -- while the AL East remains within their grasp. After that, seven clubs are separated by five games with 18 days remaining in the regular season.
But for seven weeks, it has been the Angels and Twins. Minnesota has led Los Angeles for 25 days, the Halos have led the Twins for seven and for three days -- Aug. 18-20 -- the two teams were tied.
Minnesota's two-game margin is the largest in the race since the Royals led the Mariners and Rays by 2 1/2 games on July 31. But with time growing short, a two-game lead has a different feel. Here's a snapshot of the contenders:
1. Twins (76-69)
Eddie Rosario's walk-off home run against the Padres on Wednesday felt like some kind of punctuation mark for one of the most interesting, confusing seasons any team has had. Here's what matters: The Twins are scoring runs in bunches. Only the Indians have crossed home plate more this month.
Joe Mauer is hitting .409 in September. Eduardo Escobar has six home runs, Brian Dozier four. Byron Buxton has cooled off, but he still impacts games in all sorts of ways.
Minnesota hasn't been to the playoffs since 2010 and has been pushed to the edge a couple of times, so much so that chief baseball officer Derek Falvey traded his closer (Brandon Kintzler) and a starting pitcher (Jaime Garcia) at the non-waiver Trade Deadline. From there, something extraordinary has emerged with kids dotted up and down the lineup. The Twins play the Tigers seven times in their remaining 17 games, but they also have six road games against the Yankees and Indians.
Now, about the pitching. Manager Paul Molitor has given the closer's role to veteran Matt Belisle. Kyle Gibson has allowed a total of two earned runs in three starts this month. If the Twins get into the AL Wild Card Game, Molitor probably will hand the ball to veteran Ervin Santana, and who wouldn't like their chances?
2. Angels (74-71)
In the past two nights, Tyler Skaggs and Garrett Richards have allowed one earned run in 12 innings. To get both of them back for the stretch run is the equivalent of two impact Deadline acquistions.
Albert Pujols is hitting .425 this month, and the bullpen has been solid enough. After overcoming so much and defying all kinds of odds, one of Mike Scioscia's great managing jobs has put the Halos into position to get back to the postseason for the first time in three years.
The Angels have a home series against the Indians next week and four road games against the White Sox. Otherwise, they finish playing the rest of the season inside the AL West.
3. Mariners (73-73)
The Mariners pushed ahead of the Rangers with back-to-back wins in Arlington the past two nights, and they play again on Thursday. In a season when manager Scott Servais has had to patch together his rotation week by week, he'll have Felix Hernandez back on Thursday and James Paxton on Friday in Houston. Seattle finishes the regular season with three games in Anaheim.
4. Royals (72-73)
The Royals begin a four-city, 10-game trip with a stop at Progressive Field on Thursday. If that sounds like a season-defining series, they have been playing those for a while and are still in contention. Kansas City's rotation has a 6.11 ERA this month.
5. Rangers (72-73)
The Rangers have lost four out of five at home and find themselves on the brink. But they can make up ground fast this weekend with three games in Anaheim, followed by three in Seattle. Only the Indians, Twins and A's have scored more runs than the Rangers in September, but Texas' rotation has a 5.90 ERA.
6. Orioles (72-74)
The O's snapped a six-game losing streak on Wednesday to keep a glimmer of hope alive. Now they play seven in a row against the Yankees and Red Sox in a stretch that should decide whether they're in or out. Baltimore has scored the fewest runs in the Majors (31) this month, and its rotation is 1-7 with a 4.98 ERA.
7. Rays (72-75)
The Rays play eight of 15 against the Yankees, Red Sox and Cubs. Their offense continues to be a problem, with only the Orioles having scored fewer runs in September. Tampa Bay's bullpen has been solid this month, though, with a 2.18 ERA despite a heavy workload (53 2/3 innings, fifth-highest total in Majors).
Richard Justice has been a reporter for MLB.com since 2011. Read his columns and follow him on Twitter at @RichardJustice. This story was not subject to the approval of Major League Baseball or its clubs.