Scherzer stays in, sticks to plan to build stamina
Ace looked out of gas in the 7th, but wasn't removed until allowing 5 straight to reach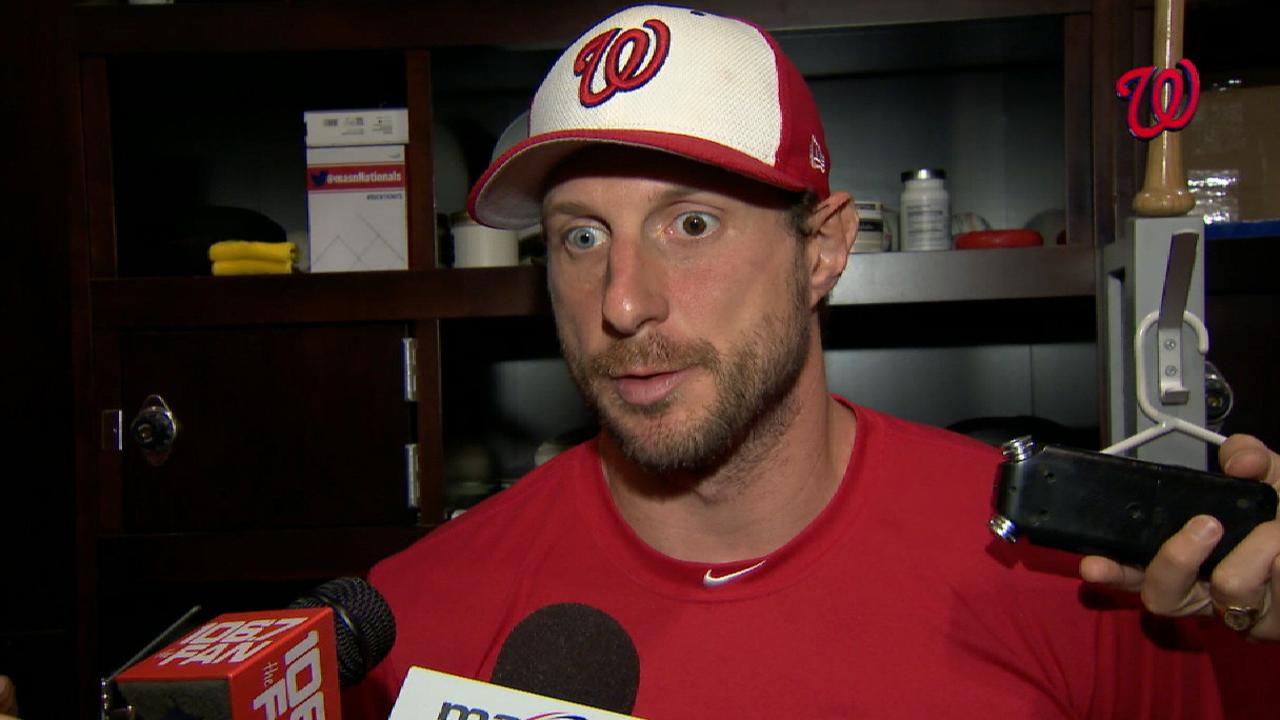 WASHINGTON -- With an upcoming off-day giving him an extra day of rest before his next start, Nationals ace Max Scherzer devised a game plan along with pitching coach Mike Maddux and manager Dusty Baker to extend his pitch count to help build stamina Wednesday night.
So it was with an eye toward the postseason that Scherzer pitched into the seventh inning and threw 116 pitches in an 8-2 loss to the Braves, even though he acknowledged he showed some rust toward the end of the outing.
Entering the seventh, Scherzer had given up two runs in six innings on 97 pitches while the game was tied at 2. But he did not record an out in his final frame, issuing three consecutive walks to load the bases before giving up a two-run single to Dansby Swanson and then walking Freddie Freeman intentionally. That was the end of the night for Scherzer, who issued six walks and was charged with seven runs, both season highs.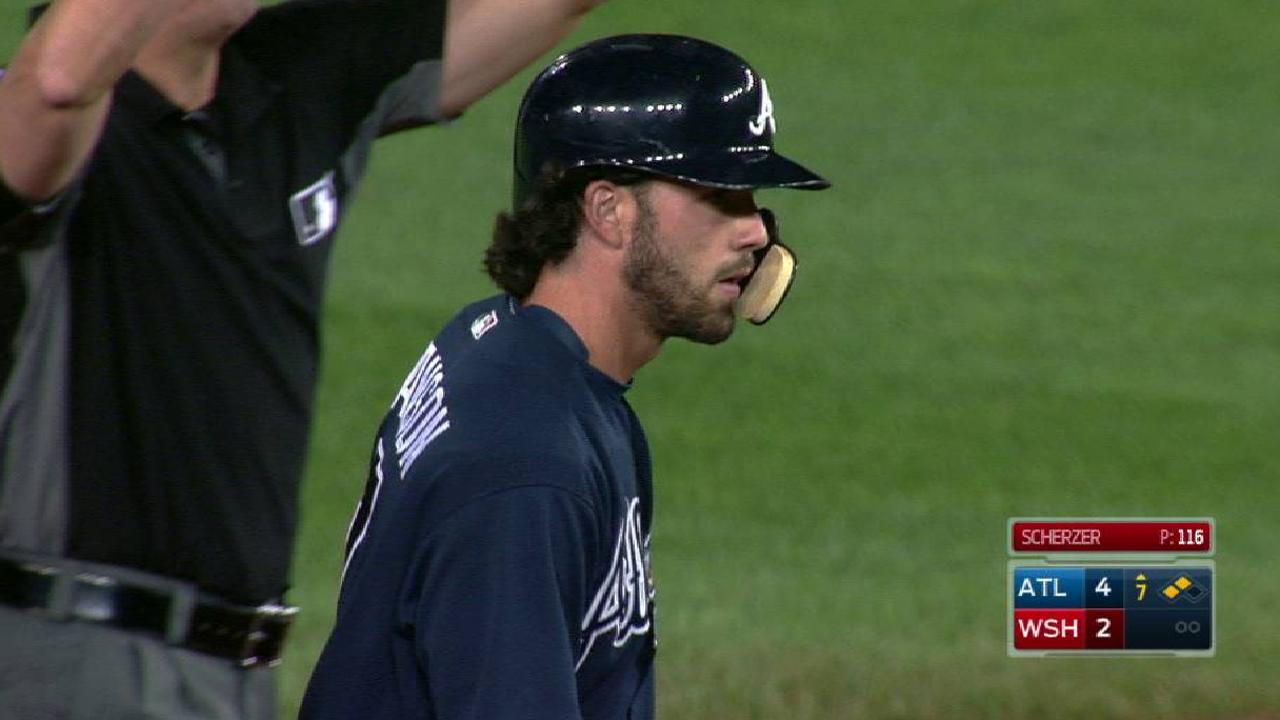 "For the first 100 pitches, I felt like I was executing pitches the way I wanted to tonight," Scherzer said. "Then after pitch 100, that's when the wheels fell off and I was searching for everything. Sometimes that happens. You can just learn from this.
"I don't think anything's broken. My arm feels fine. There's nothing wrong here. This is why I needed to pitch that deep into the game, so I can shake off some of that rust."
A combination of calf and neck injuries that shortened one start and forced him to miss a turn through the rotation has limited Scherzer recently. He had not thrown more than 110 pitches since Aug. 7, when he threw 114 against the Marlins.
Scherzer knows his arm and body perhaps better than any other Nationals player. Baker and Maddux both trust him, so they believe the ace when he says his arm feels unusually fresh for September and wanted to push his pitch count.
"That was the game plan before the night started," Baker said. "I know it looked ugly. It looked ugly to you. It looked ugly to us and the fans and everybody else. But if you have a game plan, you want to stick with it as much and as long as you can."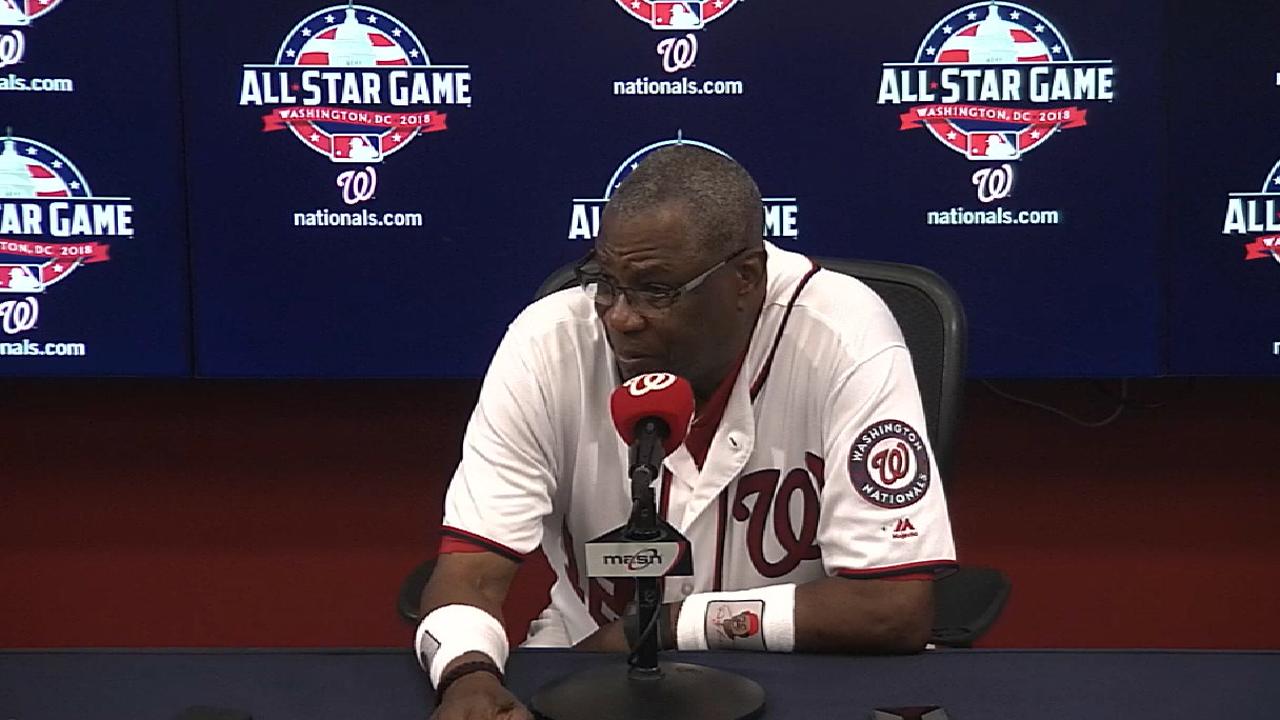 They struck to the game plan as Scherzer issued a leadoff walk to Lane Adams to begin the seventh. And still when Jace Peterson drew a seven-pitch walk. Then, Scherzer walked Ozzie Albers on five pitches to load the bases. It became apparent he had run out of gas.
"Yeah, but I also have the belief I can get guys out," Scherzer said. "I think that's when [Maddux] came out to talk to me. I was honest and saying, 'Hey, I feel strong right now.' I felt like I could execute pitches and get guys out."
It is rare to see a pitcher stretch himself out in September. Especially on a team that clinched the NL East this past Sunday and has aspirations for a deep run in October. And with expanded rosters in September, the Nationals had no shortage of relievers to get through the game. However, Scherzer believed extending himself in this game would help him in the long run.
"I've always said you learn more about yourself after pitch 100 than you do in the first 100," he said. "Well, this is the time to learn."
Jamal Collier covers the Nationals for MLB.com. Follow him on Twitter at @jamalcollier. This story was not subject to the approval of Major League Baseball or its clubs.