Ramirez has a partial tear of UCL
Righty has had stem-cell injection to promote healing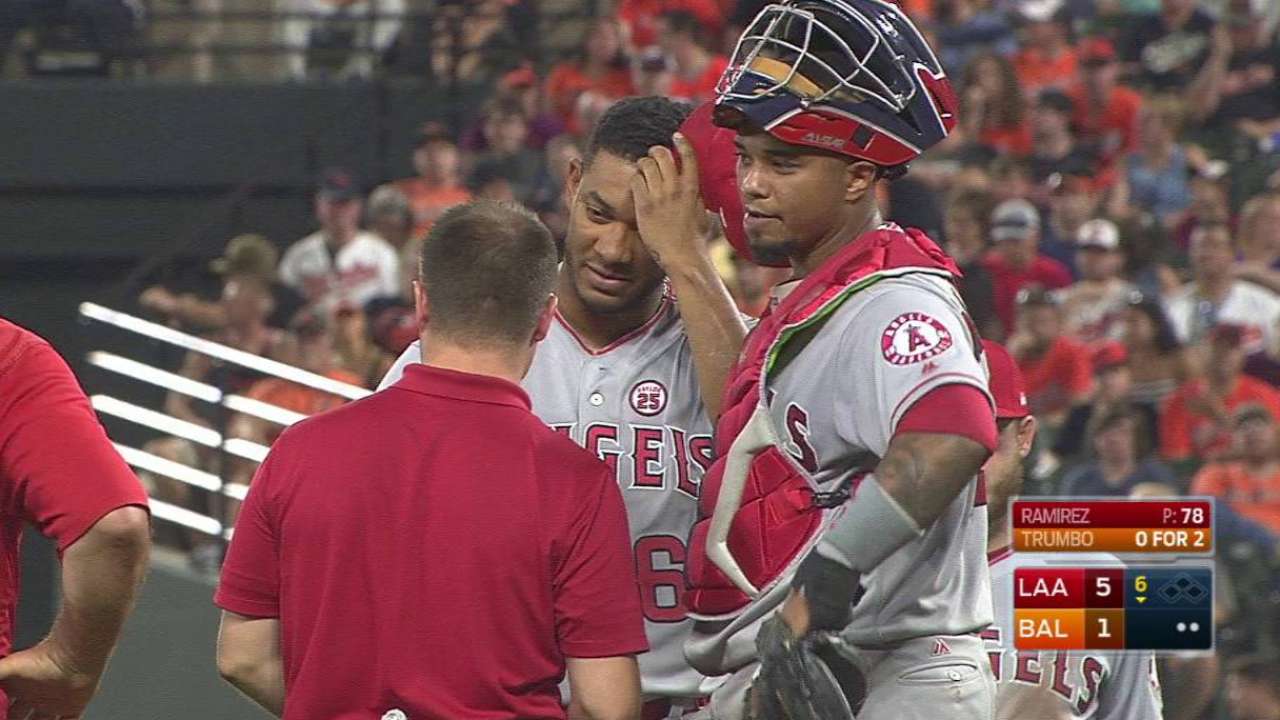 ANAHEIM -- Angels right-hander JC Ramirez said Wednesday that he has a partial tear of the ulnar collateral ligament in his throwing elbow and has received an injection of his own stem cells to promote healing, the same procedure that helped fellow starter Garrett Richards avoid Tommy John surgery last year.
Ramirez was transferred to the 60-day disabled list earlier this month with what the Angels called a right elbow strain, but he said an MRI later revealed a UCL tear. Ramirez said his symptoms were consistent with Richards' -- both only experienced discomfort when they released the ball -- prompting doctors to recommend that he also receive a stem-cell injection.
"There was a small tear," Ramirez said in Spanish. "That's why we did the injection, because they saw that it wasn't too serious. It was serious, but not too serious. The injection can heal the ligament."
Ramirez received the injection on Aug. 24 and said he will wait six weeks before returning for a checkup. He said Tommy John surgery has not yet been presented as an option, and he is hopeful that he will be able to resume throwing in November.
Richards and left-hander Andrew Heaney both received stem-cell injections after suffering UCL tears last year, but the procedure only worked for Richards. Heaney did not see sufficient progress in his elbow, forcing him to opt for Tommy John surgery, which sidelined him for more than 13 months.
Before the elbow injury, Ramirez had logged a 4.15 ERA over 147 1/3 innings across 27 appearances for the Angels in his first full season as a starter. The 29-year-old had worked exclusively out of the bullpen in his first three years in the Majors, but the Angels brought him to Spring Training as a starter and inserted him into their rotation in April.
Ramirez pitched nearly double the innings that he did last year, far exceeding his previous career high of 78 2/3 innings, but he said he didn't think the increased workload necessarily led to his UCL tear.
"Honestly, I don't think so," Ramirez said. "The doctor said that it's something that could have maybe been happening over the course of the last two or three years. Last year I threw a lot of innings as a reliever, and this year I doubled what I threw last year. It could have had something to do with it, but I can't say that for sure."
Maria Guardado covers the Angels for MLB.com. This story was not subject to the approval of Major League Baseball or its clubs.