Resilient Stroman shakes off tough-luck loss
Righty gives up no earned runs over six innings while dealing with tight forearm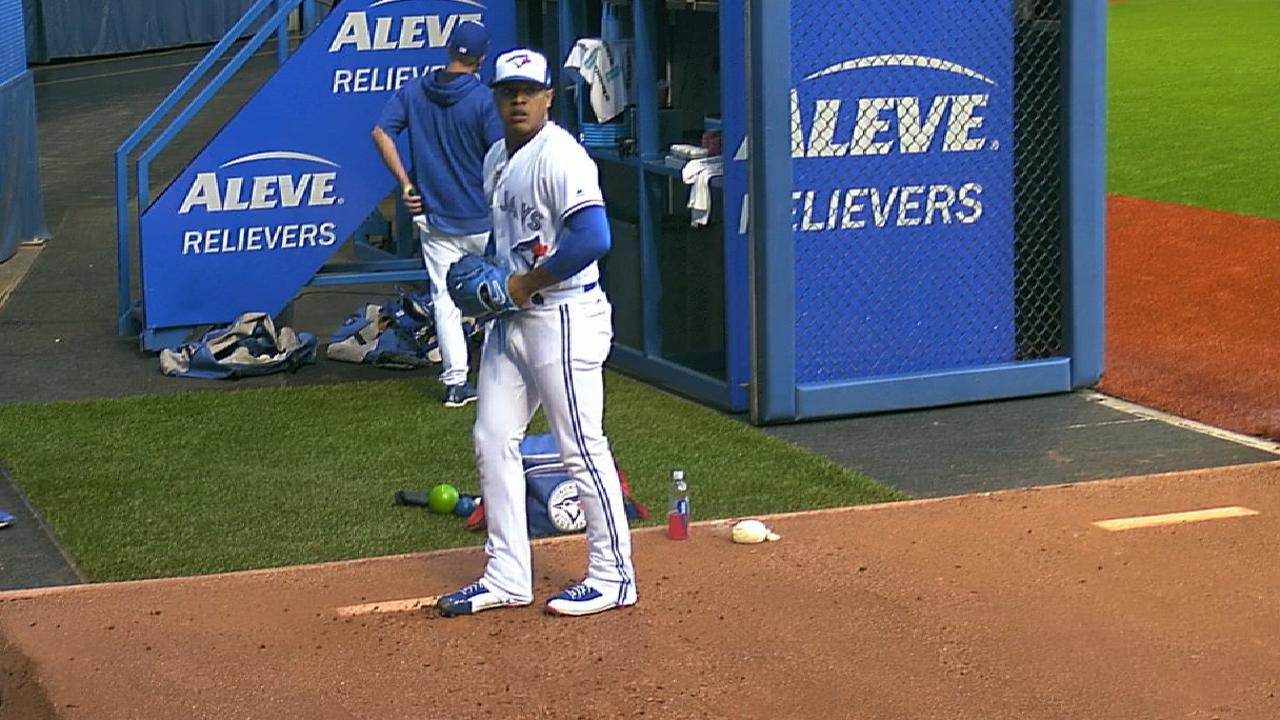 TORONTO -- Marcus Stroman still isn't completely over a right arm injury that plagued him earlier this month, but it's not going to impact his quest for 200 innings.
Stroman was bothered by tightness in his right forearm during a 2-1 loss to the Orioles on Wednesday night at Rogers Centre. He was visited on the mound by trainer George Poulis and manager John Gibbons in the sixth inning but remained in the game and finished strong.
Forearm injuries are usually a scary experience for any pitcher because it can sometimes be an indicator that there's an issue with a ulnar collateral ligament. In Stroman's case it's an annoyance more than anything else, because it stems directly from being struck by a line drive from Orioles designated hitter Mark Trumbo on Sept. 2.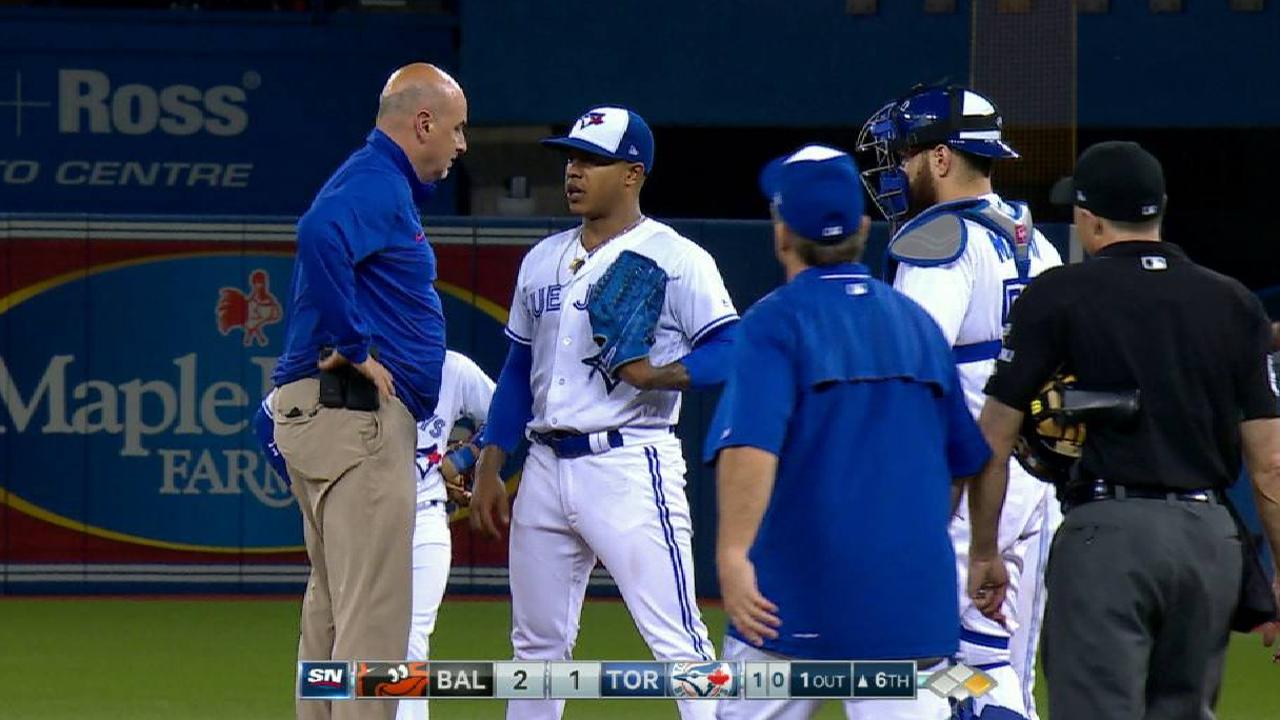 "Just a little bit," Stroman said when asked if he was dealing with forearm tightness following the club's medical update. "People forgot I got hit on a missile by Trumbo two starts ago so I'm still dealing with that. And I threw six days after that so I'm still battling. Nothing I'm worried about, just felt a little tightness on one particular pitch but I felt fine the pitch after."
Stroman dealt with swelling in his right elbow area following the liner by Trumbo but he avoided any structural damage. The fact that he also didn't have to miss a start means his quest for 200 innings remains within reach. He allowed two unearned runs over six innings on Wednesday night, which increased his season total to 184 1/3.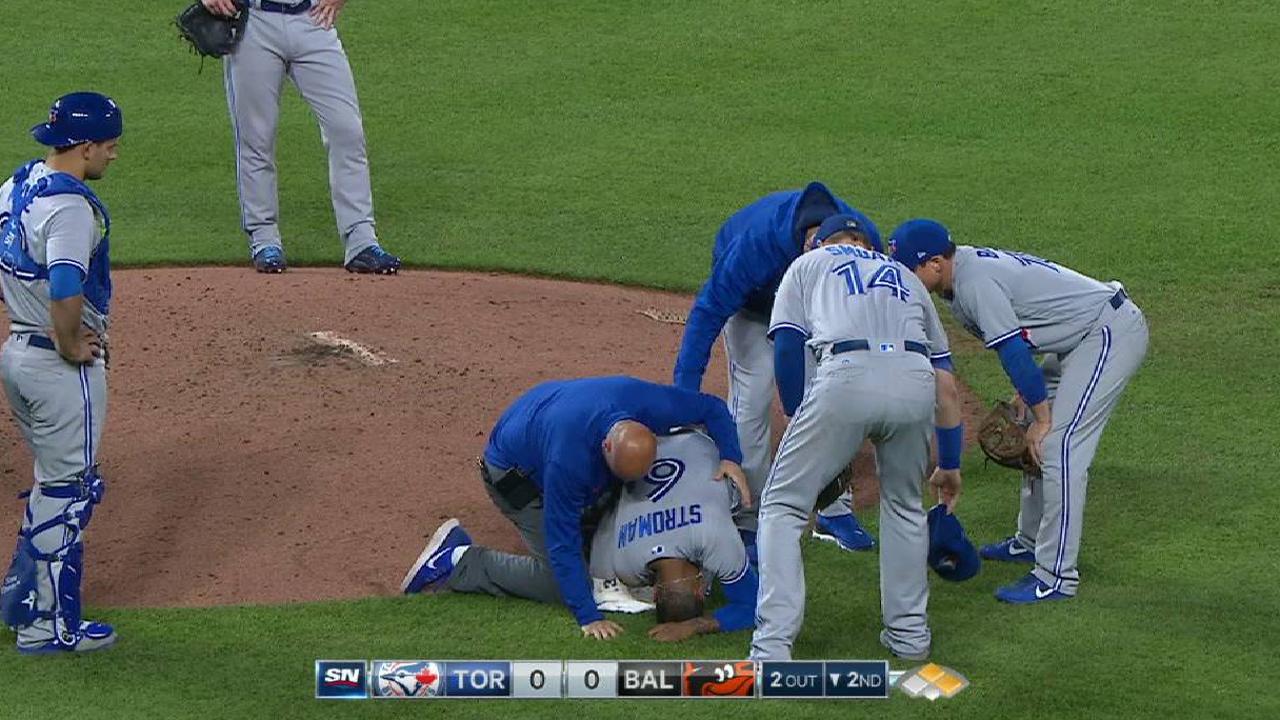 The 26-year-old will likely have three starts remaining to pick up those final 15 2/3 innings. Stroman reached 200 last year and it's been an openly stated goal of his to reach that mark again. It's a point of pride, and he's the only one in the Blue Jays' rotation who is even remotely close to getting there. Marco Estrada is second with 168 2/3 innings.
"That's a huge goal of mine," Stroman said. "That's always something I pride myself on. So getting to 200 is something that I really want to do and something that I'll do everything in my power to do these next three starts.
"I think that's part of being an ace is being able to go out there, give your team 200-plus innings every year. It's getting harder and harder to do with all the analytics and statistics these days. So trying to do everything I can to get there. That's something I pride myself on, I want to get to that number."
Stroman was nearly flawless in the series finale. He allowed two unearned runs in the first inning thanks to an error by Josh Donaldson, and he loaded the bases in the fourth with nobody out but escaped the jam after striking out Seth Smith and inducing a ground-ball double play off the bat of Caleb Joseph.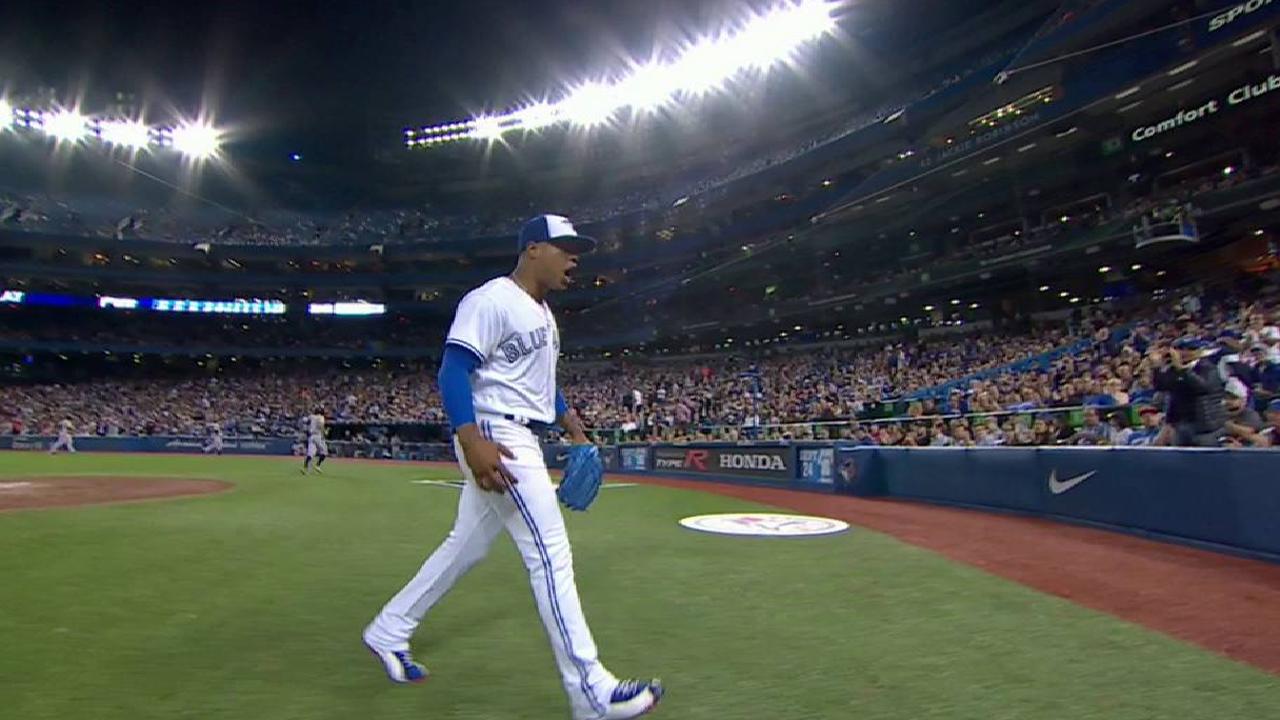 The native of New York now has 31 ground-ball double plays, which is the most in the Major Leagues this season. It's also tied for the second most by a Toronto pitcher in one year. Dave Stieb holds the record with 35 in 1980.
"[Stroman] has had a good, solid year," Gibbons said. "He'll get [to 200 innings]. It makes a huge difference on a pitching staff. You count on them, rely on them, they'll save the bullpen, all that good stuff. Generally [if] they're in the game long enough, they'll get a decision and a lot of times it's a good one. Guys who throw 200 innings usually win their share of games. ... I imagine he'll do that for a few years."
Gregor Chisholm has covered the Blue Jays for MLB.com since 2011. Follow him on Twitter @gregorMLB and Facebook, and listen to his podcast. This story was not subject to the approval of Major League Baseball or its clubs.