MLB.com Columnist
Barry M. Bloom
Rockies are hoping CarGo remains CarGo
Slugger finding his groove after rough first half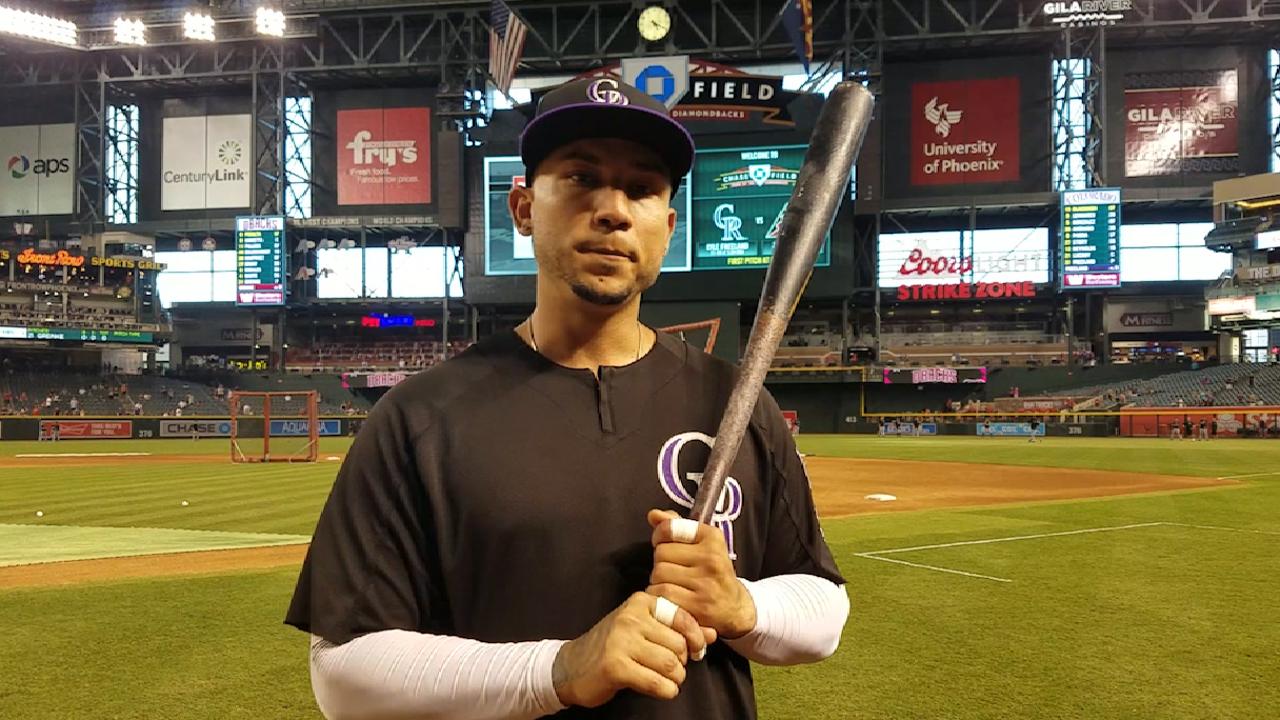 PHOENIX -- The Rockies have been waiting all season for Carlos Gonzalez to re-emerge. And the veteran right fielder got it going at precisely the right time.
Personally, Gonzalez is a free agent at the end of the World Series, so an offseason of intense negotiations looms ahead of him. As far as the team is concerned, its success in the race for a National League Wild Card berth and beyond depends on a productive CarGo in the middle of the lineup.
"All along we thought our best team was Carlos Gonzalez being Carlos Gonzalez," said Bud Black, who's finishing his first season managing the left-handed hitter and the club. "Hitting in the middle of the lineup with Nolan Arenado three-four, whatever that combination is."
That combination has worked to perfection for the Rockies, who have won the first two games of a key four-game series against the D-backs at Chase Field this week in the race for the NL's top Wild Card spot. The winner hosts the NL Wild Card Game on Oct. 4.
On Monday night, Arenado's three-run eighth-inning homer proved to be the difference in a 5-4 win. On Tuesday, CarGo hit a pair of two-run shots, the second coming in the seventh inning, snapping a 2-2 tie and giving Colorado a 4-2 win.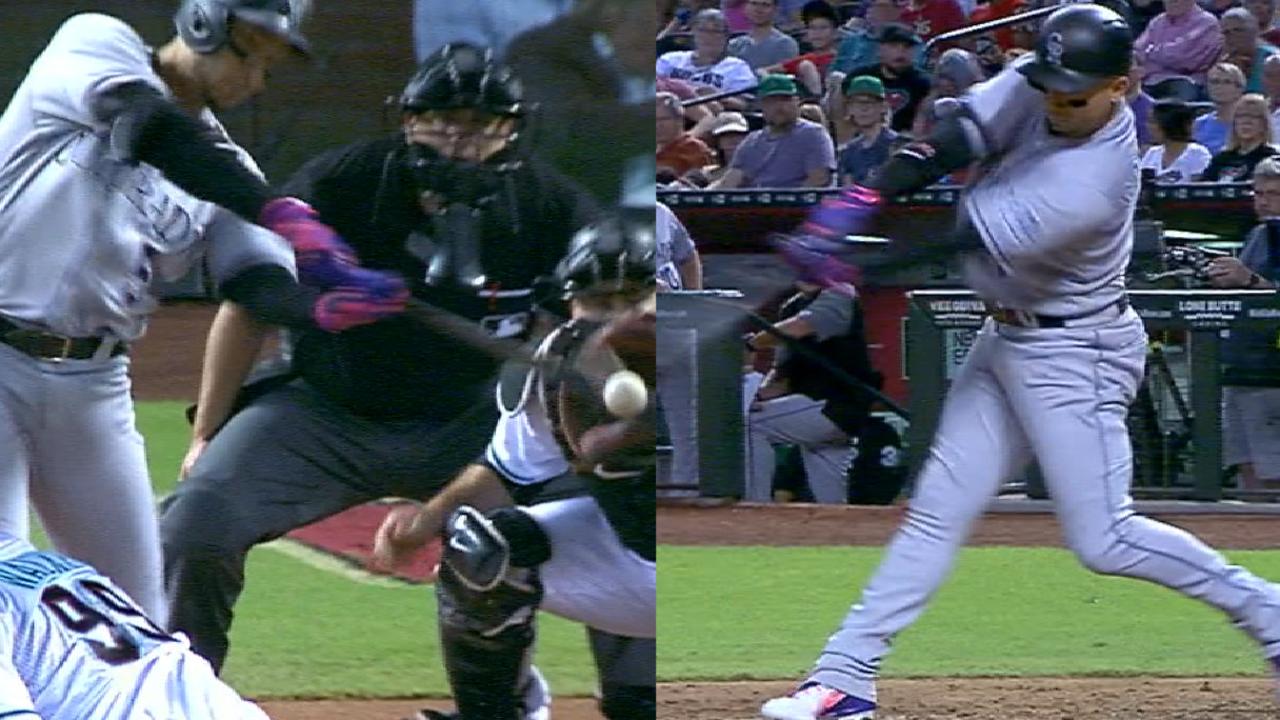 Gonzalez, who will turn 32 on Oct. 17, had been hitting .239 through August. Now he's roaring at .438 with four of his 12 homers and 11 of his 52 RBIs in September's first 10 games.
Nothing more illustrates the depth of Gonzalez's early problems than this comparative stat: He had a .637 OPS the first half of the season and .902 mark since. CarGo's overall figure has ballooned to .738 because of a 1.603 mark since the dawn of September.
"I'm just trying to swing at a good pitch. If they give me a good pitch I'm trying not to miss it," said Gonzalez, when asked to compare what's going on now with the recent past. "I'm trying not to do too much and just hit the ball hard. That's what I've been doing lately, and it's finally paying off. It just feels good to contribute and drive in some runs for the team."
Black said it's more than that. He said there's a stark difference in the player who's competing now as opposed to the one who batted .216 for the month of April and .172 for the month of June.
Black said Gonzalez looked lost at the plate and needed to retool his normally potent swing and approach at the plate.
"There wasn't one specific thing, there was a collection of things," Black said. "He got off to a slow start. And in his haste to play catchup, he was expanding the zone, trying to get hits. His swing got big trying to hit for power. And that sort of compounded itself. He really couldn't dig himself out."
The pressure can get to anyone, pending free agency in the midst of a walk year.
"It's possible," Black said. "That's the kind of thing that can happen to a player."
Why does Gonzalez think he struggled?
"I struggled because I'm a human being," CarGo said. "Even the great players sometimes don't look good out there. The stronger ones are the ones who always stay positive and play for each other."
In essence, Gonzalez is the only one who knows for sure how much the pressure to produce in his 10th big league season affected him.
Certainly, there was little team pressure. The Rockies are one of Major League Baseball's feel-good stories this season along with the D-backs, Brewers, Twins and Angels. None of them were expected to contend, but all five are vying for either division titles or Wild Card spots.
Under Black, Colorado went from last year's 75-87 to 80-65 entering Wednesday. The Rockies haven't been to the playoffs since 2009, but they are right on the brink of making it to the postseason for only the fourth time in the 25-year history of the franchise.
Gonzalez has been with Colorado for nine of his 10 seasons, and it's where he now calls home. Does his uncertain future bother him?
"No, the only thing I care about is having the opportunity to play," he said. "I come from a different place. I always dreamed about being [in the Major Leagues] so I'm already winning. I have 10 years in the big leagues. That's the one thing I'm most proud of. I just want to keep playing ball, get the opportunity to put a uniform on and fight for my teammates."
That's CarGo being CarGo. The Rockies can only hope that he remains in that mode for the remainder of the season.
Barry M. Bloom is a national reporter for MLB.com and writes an MLBlog, Boomskie on Baseball. Follow @boomskie on Twitter. This story was not subject to the approval of Major League Baseball or its clubs.