Oberg returns to form at the right time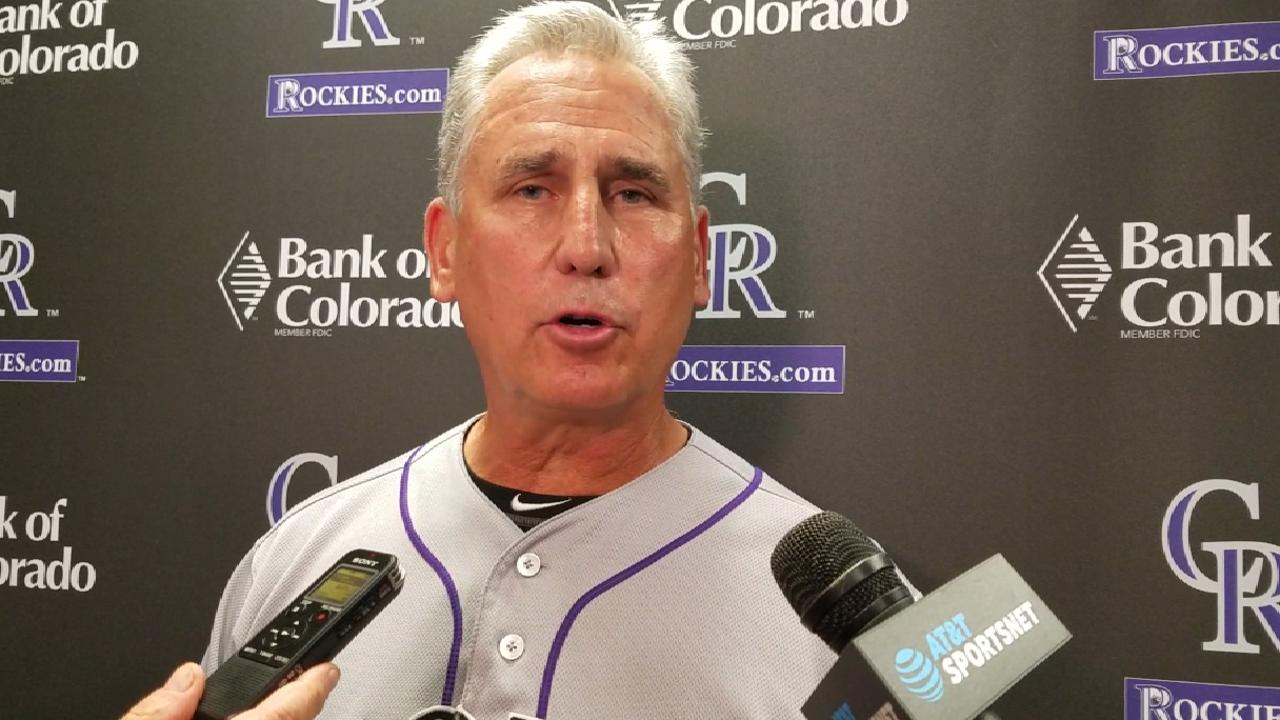 PHOENIX -- Rockies righty reliever Scott Oberg has had plenty of rough performances -- enough that he was sent down to Triple-A Albuquerque for two weeks in August. But interestingly, the last difficult game was the catalyst for his current hot streak.
Oberg is back with the Rockies, and the 27-year-old has found his form at the most important time. His last seven outings have been scoreless, and two of his last three outings have come in close Rockies wins. He went 1 1/3 innings -- the eighth and the first out of the ninth -- in Tuesday night's 4-2 victory over the D-backs.
However, Oberg points to Aug. 20, when he gave up two runs on two hits in a 6-2 loss to the Tigers at Coors Field, as the game that let him know he was headed in the right direction.
The Rockies sent Oberg down on Aug. 5, partly because they noticed him putting pressure on himself. But they also gave him a specific instruction -- make sure his slider, which can be formidable, dives to the dirt with two strikes. During that game against the Tigers -- his second back in the Majors -- he had the right idea.
"I actually didn't get a couple of sliders to the dirt, and ended up giving up two hits that scored," Oberg said. "But I left the game believing my thought process was in a good spot. I was in a good place. I didn't put any added pressure on myself or any negative thoughts in my head, like [I did] a few weeks prior. I just didn't execute the pitch the way I wanted to."
The lesson was don't apply pressure, simply think of executing the pitch. Sometimes it doesn't work. Every time since that game against the Tigers, it has.
"Before I got sent down, I think things had gotten to the point where they were starting to speed up a little bit, so the timing of it was good," Oberg said. "And it helped to have specific instructions. Now it's like I have a plan. I can formulate it, figure out what I need to do physically and mentally to be able to attain those goals. So by the time I came up I was able to say, 'I've been given a specific task, and I executed that task.'"
Oberg's improved command means manager Bud Black can give primary right-handed setup man Pat Neshek a break if necessary. Neshek (and closer Greg Holland) had pitched in three of the four game before Tuesday. With the Rockies in the midst of 17 games in as many days, it helps for Black to trust other relievers. Righties Adam Ottavino and Carlos Estevez, both of whom have had ups and downs this year, also figure to be called upon.
It's a strong statement for Oberg, who underwent right shoulder surgery in 2014, but he returned to the Majors the next year for 64 appearances because the bullpen was that thin. Oberg had a 5.12 ERA in 88 Major League appearances from 2014-15.
This year his overall ERA is at 4.99, but he's pitching much better than that during a playoff chase.
"He's been pretty crisp, thrown the ball really well," Black said. "There's been a growing confidence. When you throw the ball well, get results, your mindset becomes more aggressive. The ability to pound the strike zone becomes a little bit more of a pattern."
Thomas Harding has covered the Rockies since 2000, and for MLB.com since 2002. Follow him on Twitter @harding_at_mlb and like his Facebook page. This story was not subject to the approval of Major League Baseball or its clubs.