Bruce big part of Tribe's historic streak
RF, acquired from Mets in August, hits key homer in Cleveland's 21st straight win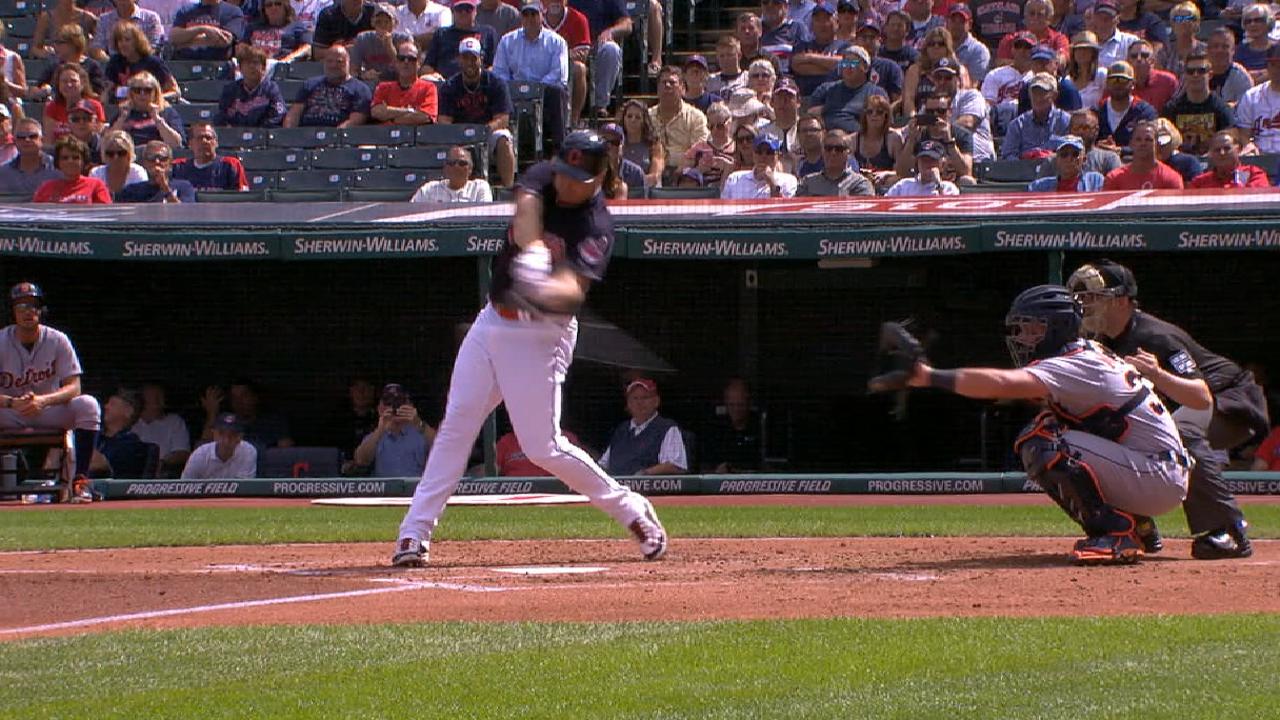 CLEVELAND -- When the "Moneyball" Athletics won their 20th consecutive game on Sept. 4, 2002, it was Scott Hatteberg's walk-off solo homer at the Coliseum that gave Oakland the longest winning streak in American League history. In the Indians' 5-3 win over the Tigers on Wednesday at Progressive Field, it was Jay Bruce's go-ahead, three-run homer in the bottom of the first that helped the Tribe break the A's record by extending its winning streak to 21.
After the game, Bruce said he and Hatteberg -- whom he played with in Spring Training for the Reds from 2006-08 -- exchanged texts on Tuesday night after the Indians tied the 2002 Athletics' 20-game winning streak.
"I just said, 'Who would've thought?'" Bruce said. "And he said, 'Good luck, get another one and win a ring.'"
Detroit took the early lead in the first when third baseman Jeimer Candelario ripped an RBI double to center off Cleveland starter Mike Clevinger. It marked the second time in their past 21 games that the Indians did not score first in a ballgame. That rare deficit did not last long, though, as Bruce's blast quickly gave Cleveland a lead that it would never lose.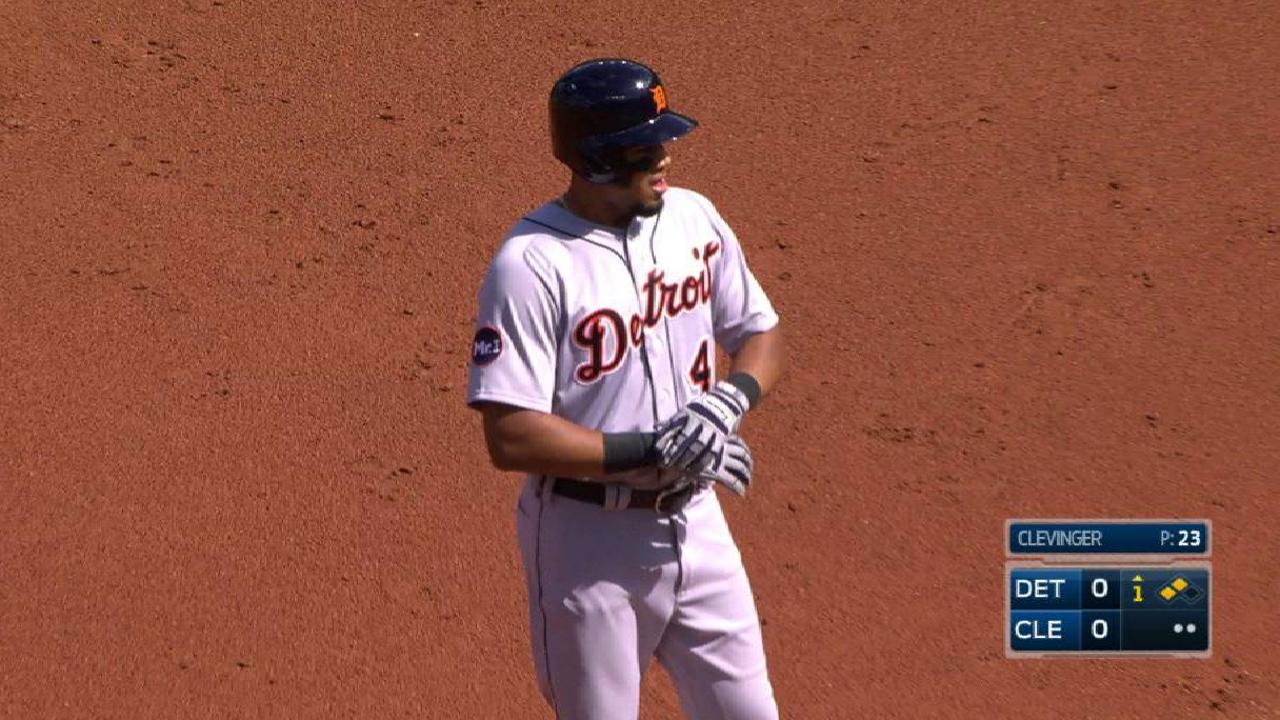 "Expected, I would say by now," Clevinger said of the Indians regaining the lead. "That was huge, especially after having that kind of -- I wouldn't say lackadaisical first inning -- but just didn't make some of the pitches I wanted to. And then for [Bruce] to come up and hit the three-run homer, it was a big cushion."
Bruce's opposite-field shot to the bleachers in left-- which stood after a crew-chief review -- was his fifth since he was acquired by the Indians on Aug. 9 from the Mets and his 34th long ball overall on the season, tying his career high.
"I feel like I do add something positive to this team," Bruce said. "This team, I feel like, has added something to me as well. It gives you a little boost. ... It's not about every day you have to get this many hits or drive in this many runs. You just want to do whatever it takes to help these guys win, and that's the honest truth."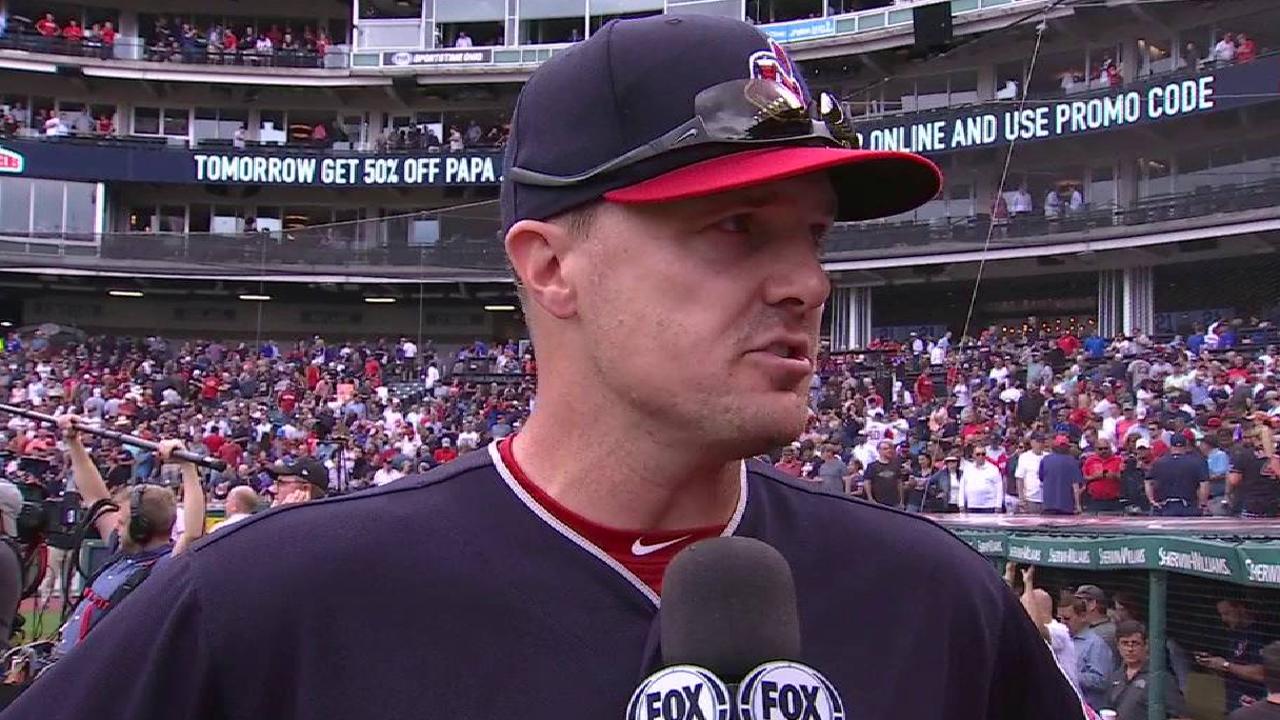 Per Statcast™, Bruce's big fly traveled a projected 380 feet and had an exit velocity of 99.6 mph.
"[Bruce] brings that RBI-productive bat that sits behind Edwin [Encarnacion] and around Carlos [Santana]," Indians manager Terry Francona said. "You make a mistake, and he knows what to do with it."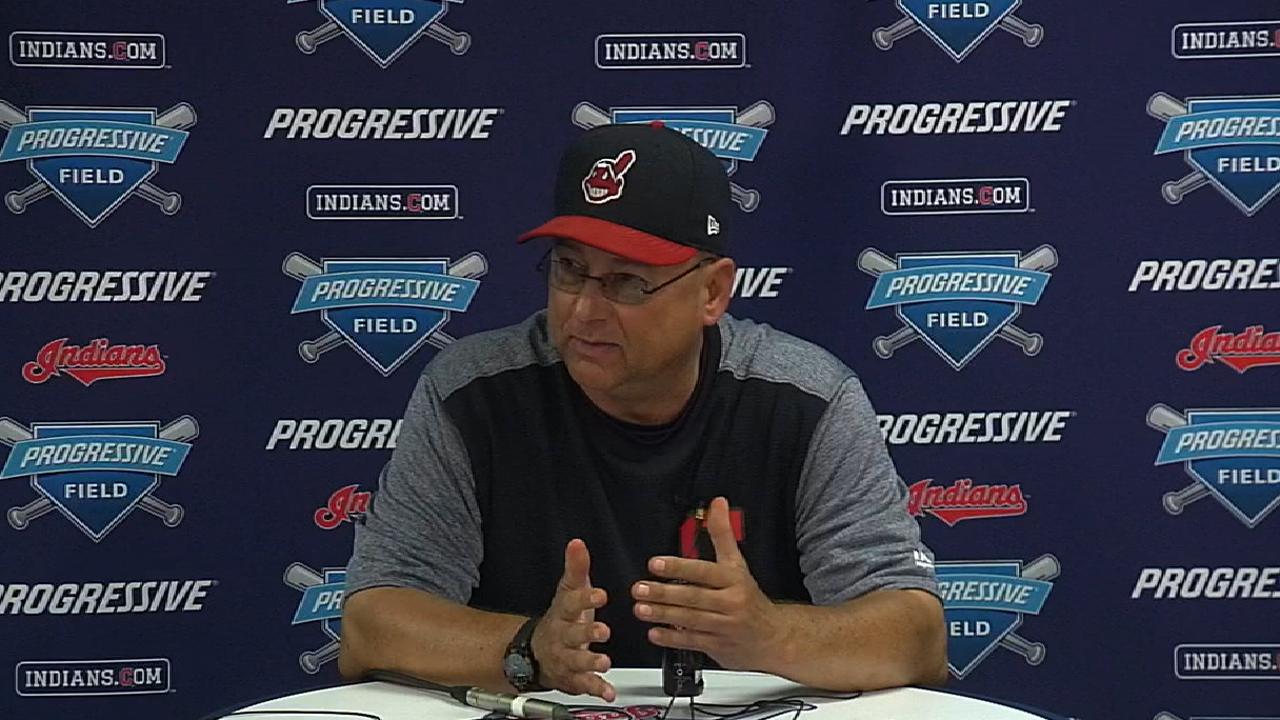 Bruce's homer and Encarnacion's RBI single in the third continued a theme during the winning streak, as Cleveland has now outscored its opponents, 68-13, in the first three innings in its past 21 games. The Tribe has only trailed at the end of four of the 189 full innings in its 21-game win streak.
• Indians are chasing history and 1916 Giants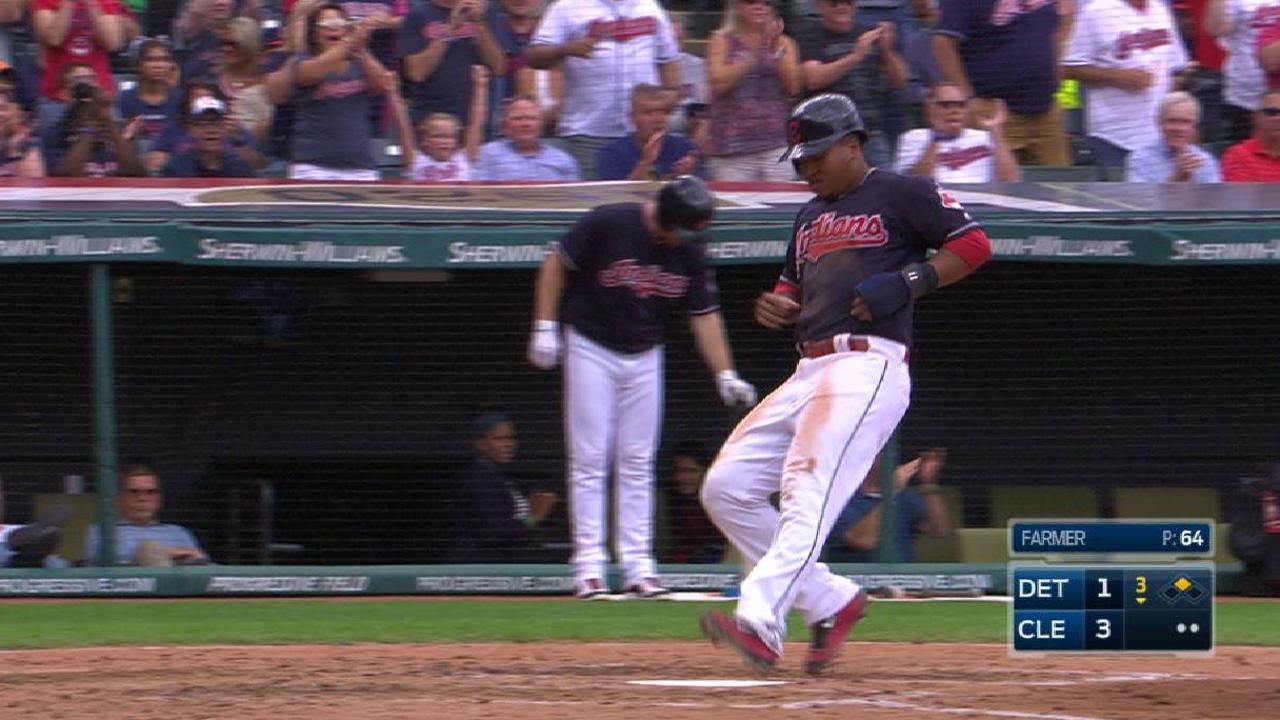 The early run for the Tigers marked the first time they had a lead over the Indians at any point since July 9, when Michael Fulmer pitched Detroit to a 5-3 victory in Cleveland. In addition, Candelario's RBI knock plated the first run for the Tigers in this three-game series.
Although Bruce wasn't with the Indians when they won 14 straight games in their pennant-winning 2016 season, he has been a key cog in this year's squad since joining it. Bruce has fit in with the Indians seamlessly, as they have gone 30-5 since his first game in a Cleveland uniform on Aug. 10. In 27 games, Bruce has hit .253 with five homers, five doubles and 18 RBIs with the Indians.
"… To have the opportunity to come to a team like this is something that doesn't happen very often," Bruce said. "I'm very, very fortunate to be in this situation.
"Like I said when I came here, I just want to help. I just want to be a part of something that is bigger than myself, personally. I think everyone in that locker room feels the same exact way. So it is easy for me, the transition has been seamless and these guys have welcomed me with open arms. It's been easy, man. It's been like I've been here all year."
William Kosileski is a reporter for MLB.com based in Cleveland. This story was not subject to the approval of Major League Baseball or its clubs.