Tribe plans to activate Miller from DL Thursday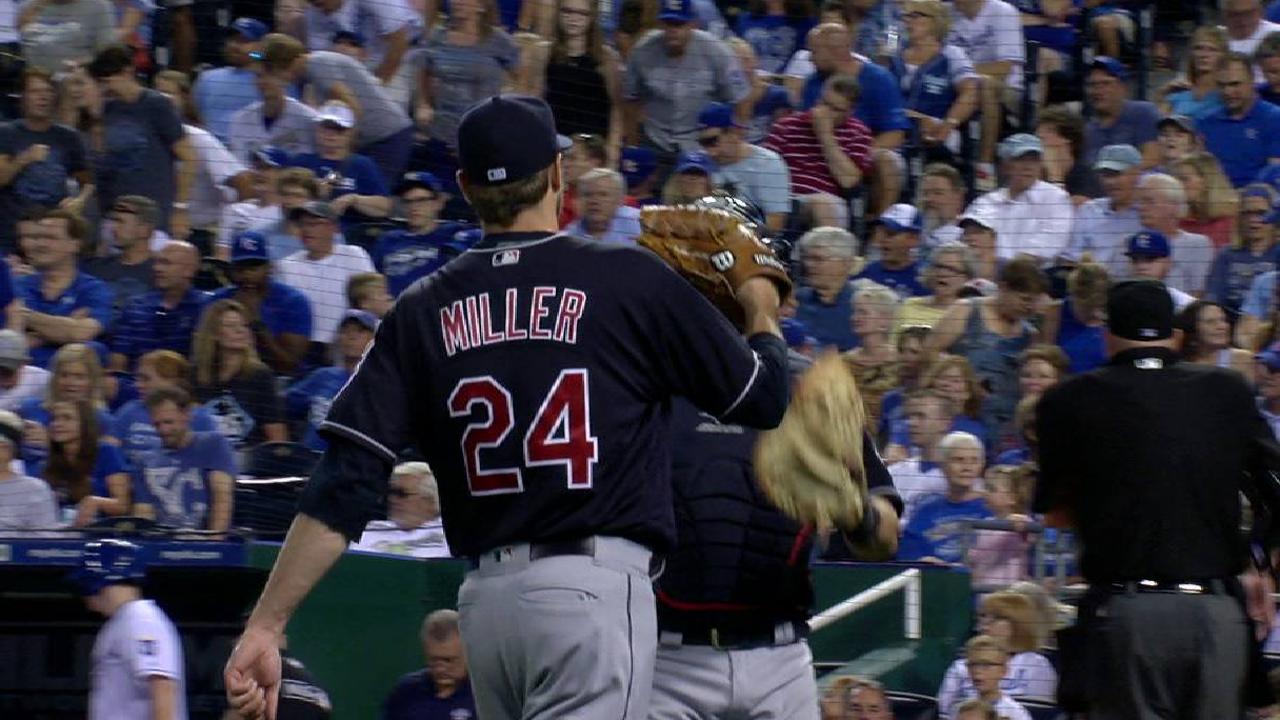 CLEVELAND -- The Indians' pitching staff has been on one of the most dominant runs in recent memory, and it has remarkably done so with Andrew Miller on the shelf. Cleveland is about to get its leverage weapon back.
Prior to Wednesday's game against the Tigers, Indians pitching coach Mickey Callaway noted that the team plans to activate Miller from the disabled list on Thursday, and it plans to get him into that night's game against the Royals. Down the stretch, Cleveland will monitor Miller's usage with the goal of having him primed for another pile of impact innings in October.
"In a playoff game, you're going to pitch your best guys. That's just how it goes," Callaway said. "We trust everybody in the bullpen, but when the game is on the line, I think you're going to see Andrew Miller in there pitching most of the time."
That was certainly the case last season, when Miller helped carry Cleveland's injury-depleted pitching staff to the World Series. The left-hander set Major League relief records for innings (19 1/3), strikeouts (30) and multi-inning outings (10) in a single postseason. Miller might not handle that extreme level of work this year, but the Tribe hopes to have him positioned to do so, if necessary.
Callaway noted that Miller's first few outings would follow some guidelines mapped out my the team's medical staff. If Miller gets into Thursday's game, for example, the pitching coach said it would likely be a low-leverage situation and maybe for only a batter or two. The goal then would be to work the lefty into a game again before Monday's team off-day. After that, Callaway said the Indians will be able to "play around with his usage" in the regular season's final weeks, barring any setbacks.
In 48 games for the Indians this year, Miller has a 1.65 ERA with 79 strikeouts against 17 walks in 54 2/3 innings.
Miller is coming back from a right knee issue (patella tendinitis) that limited him to three appearances in August and resulted in two stints on the 10-day DL. Miller tried to pitch through the injury for a few weeks before the problem flared up in an Aug. 1 outing in Boston. The relief ace returned to game action on Aug. 18 and 21, but he was shelved again. In those three appearances, Miller's average fastball velocity was 94.6 mph, 92.1 mph and 90.1 mph, respectively.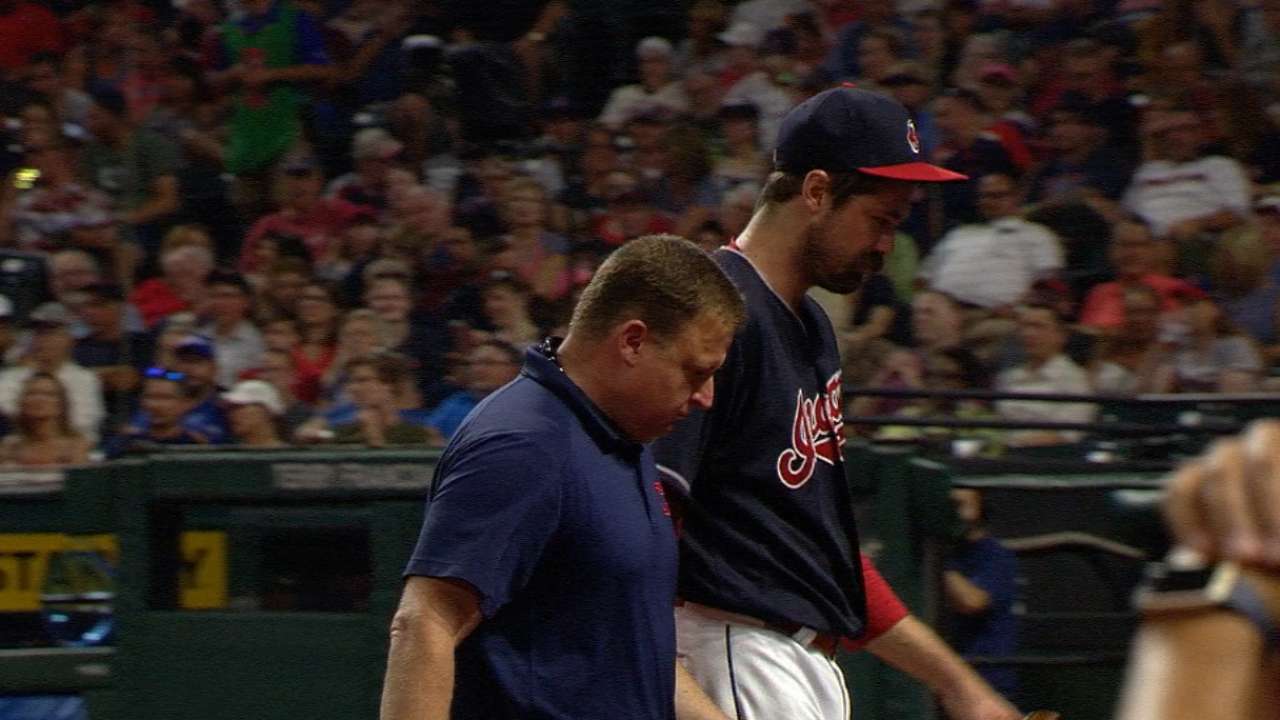 Callaway said Miller's mechanics and pitch readings (spin rate, velocity, etc.) were much improved in his recent mound sessions.
"He feels great," Callaway said. "The mechanics of it, the way he's bracing himself when he's throwing his slider -- which was the real issue when his knee was bothering him -- are all really good. We've been keeping track of the numbers ... during his sim games and the spin, the velocity, the break, all those things are well in line with what he does during the season. So we're very encouraged with everything so far."
The Tribe was also encouraged by the bullpen's performance in Miller's absence.
During the 20-game winning streak that Cleveland carried into Wednesday's game against Detroit, the relief corps combined for a 1.34 ERA with 54 strikeouts against 11 walks in 53 2/3 innings. Relievers Dan Otero (2.77 ERA through 48 games) and Joe Smith (2.63 ERA in 14 games since being acquired by the Tribe) have helped pick up some higher-leverage innings, while lefty Tyler Olson (no earned runs allowed through 20 outings this year) has stepped up, too.
"Otero's pitched more meaningful innings than probably he had before Andrew went out," Callaway said. "Olson has been unbelievable for us and will give us that second lefty that we're going to need at some point to take even some pressure off Andrew at times. So it really helped us prepare for our ultimate goal [of winning the World Series]."
Jordan Bastian has covered the Indians for MLB.com since 2011, and previously covered the Blue Jays from 2006-10. Read his blog, Major League Bastian, follow him on Twitter @MLBastian and Facebook. This story was not subject to the approval of Major League Baseball or its clubs.