Angels 'thrilled' with Richards' home return
Righty delivers 5 1-run innings in first Anaheim start since April 2016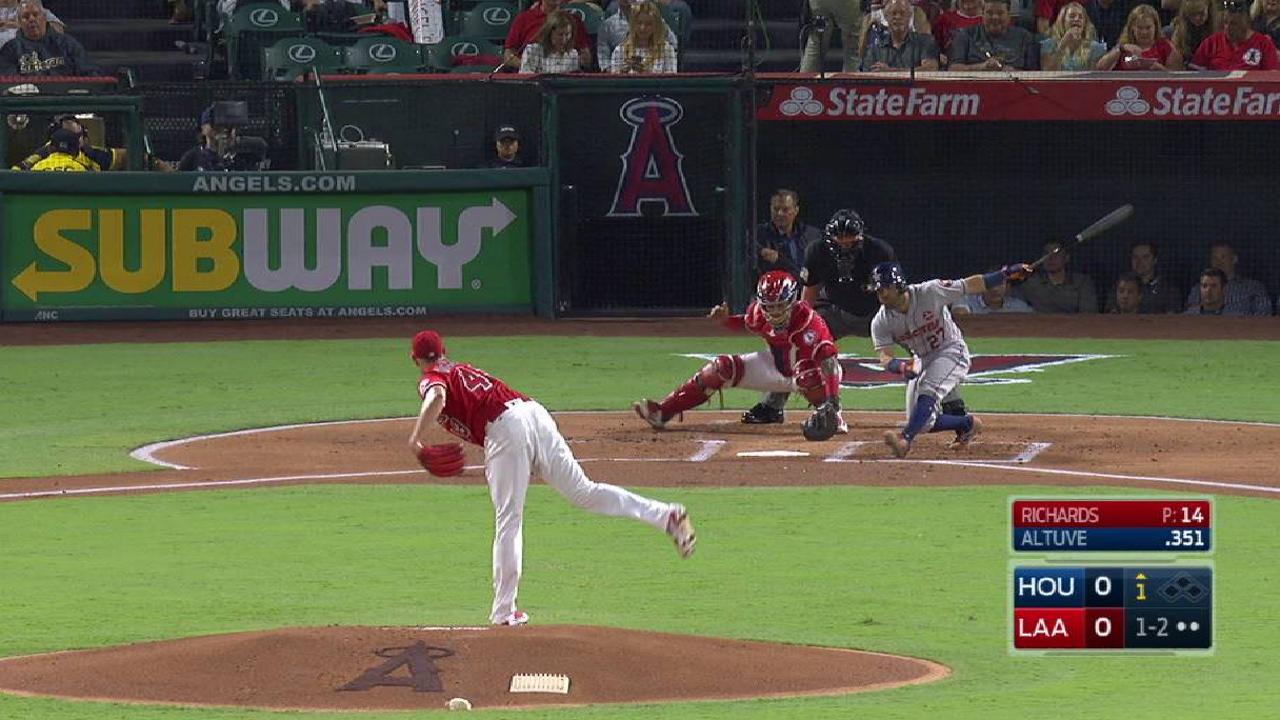 ANAHEIM -- It had been 17 months since Garrett Richards had taken the mound at Angel Stadium, but he enjoyed a homecoming of sorts on Tuesday night, tossing five innings of one-run ball in the Angels' 1-0 series-opening loss to the Astros.
In his second start since returning from the disabled list, Richards gave up four singles, walked none, struck out four and threw 63 pitches as he continued to build up his arm following a five-month absence caused by an irritated nerve in his right biceps.
"I just tried to go out and throw competitive pitches, get ahead in the count and try and use my 65-70 pitches as efficiently as I could," Richards said.
Richards had not started for the Angels at home since April 25, 2016, after missing most of last season with a torn ulnar collateral ligament in his right elbow and dealing with the biceps issue this year. But he looked like his old self on Tuesday, firing 95-97 mph fastballs and yielding only an RBI single to Yuli Gurriel in the second inning.
"Garrett just had really good command of everything," Angels manager Mike Scioscia said. "He was very pitch efficient, used all his pitches, pitched on both sides of the plate, had good movement on his fastball with obviously good velocity. We were thrilled he could get us through five innings."
Richards has been on a strict pitch limit since returning to the Majors, but the idea is to stretch him out over the final weeks of the season so that he might ready to throw 100 pitches in the playoffs, should the Angels get that far. After being held to one hit over eight innings by Houston right-hander Justin Verlander, the Angels fell two games behind the Twins for the second American League Wild Card spot with 18 games left to play.
While Richards' impact over his first two outings has been limited by his pitch counts, the 29-year-old right-hander said those restrictions have also forced him to become more pitch efficient, which he believes will be beneficial for him in the long run.
"I think it's a blessing in disguise," Richards said. "I have to take a step back. I know that I can't just go out there and throw 100 pitches as hard as I can. Having this pitch limit has made me take a step back and just kind of think about what I want to do before I do it. Even if I miss with a pitch, I'm already thinking about what I want to throw next. Just trying to put sequences together, keep guys off balance and obviously let my natural stuff play."
Maria Guardado covers the Angels for MLB.com. This story was not subject to the approval of Major League Baseball or its clubs.