MLB.com Columnist
Barry M. Bloom
Hot (corner) topic: Arenado or Machado?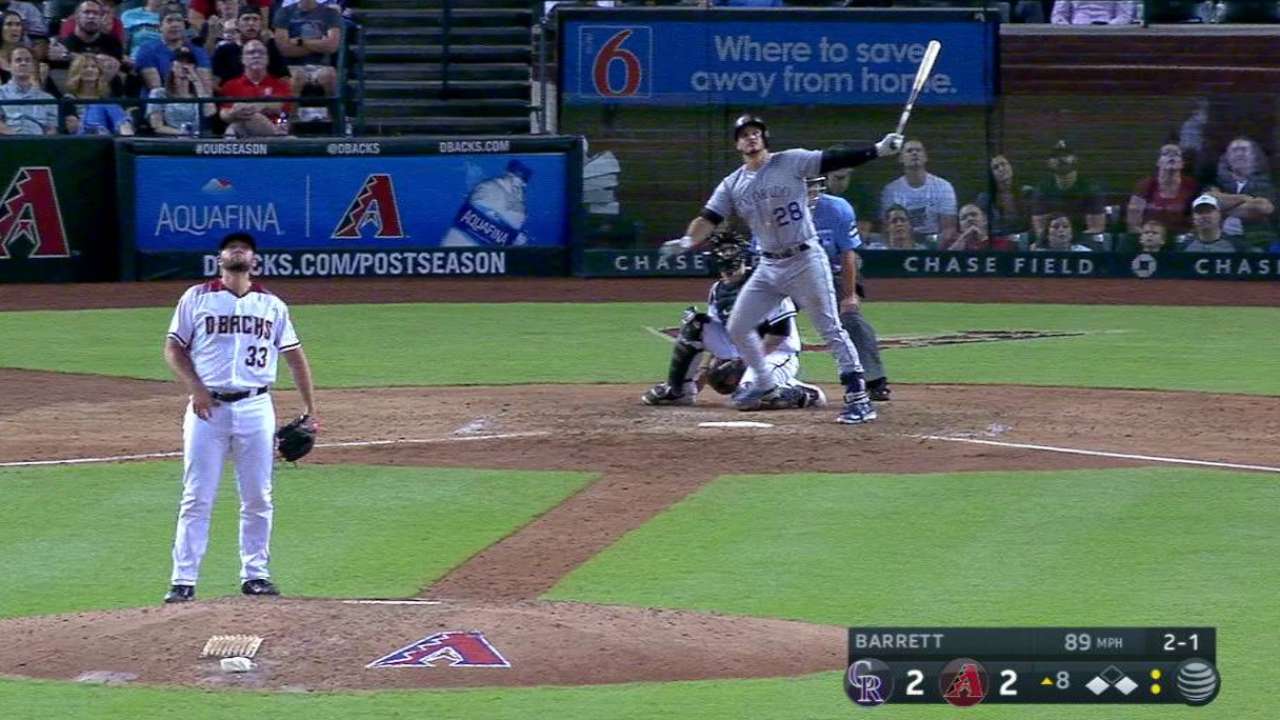 PHOENIX -- Now that D-backs right fielder J.D. Martinez and manager Torey Lovullo have worked in both leagues, they have seen third basemen Nolan Arenado of the Rockies and Manny Machado of the Orioles up close and personal.
And that begs the question, which young star do they prefer: Arenado or Machado?
"It's like comparing an apple to an apple," said Martinez, who's taking his first look at Arenado after three-plus years of playing in the American League for Detroit. "Both of them are red. Both of them are shiny. Both of them taste good. To me, they're pretty much the same."
Lovullo was John Farrell's bench coach for six seasons, two in Toronto and four in Boston. And now he's seen Arenado and the Rockies 17 times this season.
In a game of chess, Lovullo tried for just the right pitching matchup in the eighth inning Monday night. Arenado won that duel, hitting a three-run homer off Jake Barrett that was the difference in a 5-4 Colorado win.
The National League West rivals are vying for the top Wild Card spot in the Senior Circuit, and they seem destined to meet in the NL Wild Card Game on Oct. 4.
At that point, Lovullo will have to deal again with Arenado, who's having an MVP-type season, batting .311 with 33 homers. He leads the Majors with 123 RBIs and the NL with 42 doubles. Machado this year is a more human .272 hitter with 32 homers and 91 RBIs.
Arenado leads all third basemen with a .963 OPS. Machado is 12th at .827.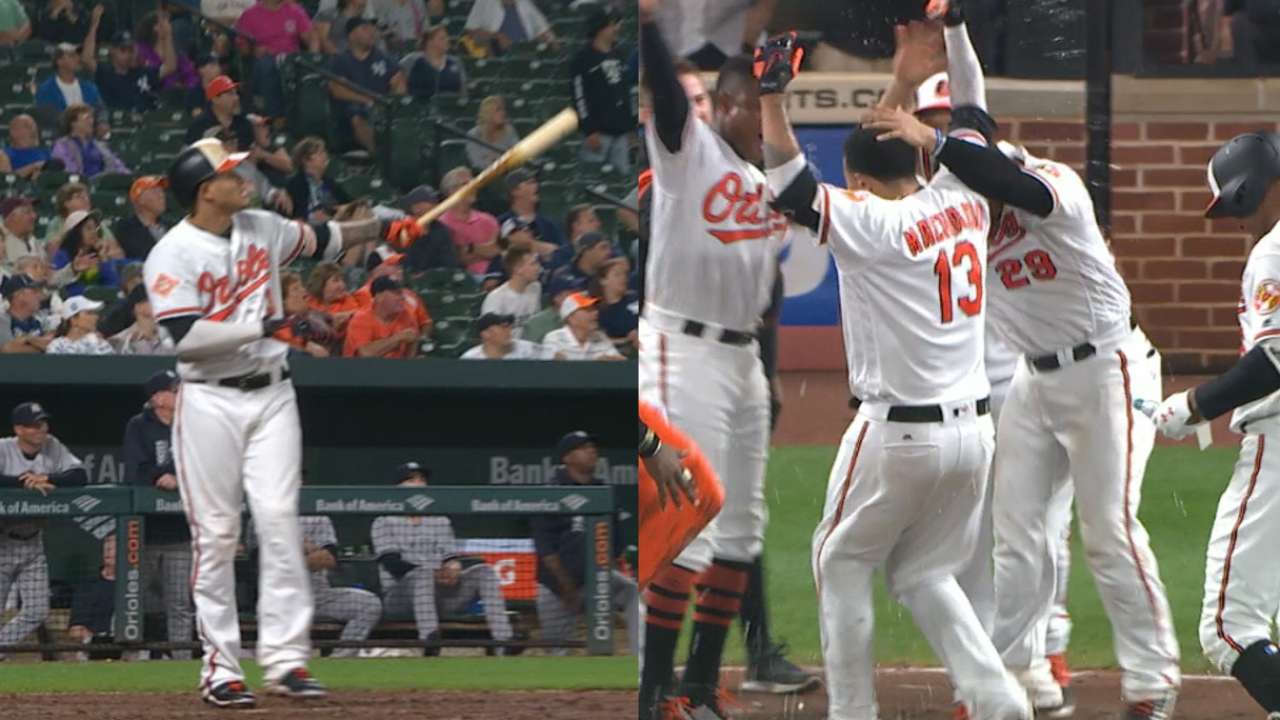 Asked which player he preferred, Lovullo didn't miss a beat:
"It wouldn't be fair to choose, they're both exciting players. But I'm going to choose Machado because I don't have to watch him for the next three days."
Arenado is 26 and Machado is 25. Arenado is one of the most mobile third basemen in history, redesigning the way the position is played. In the days of Hall of Famers Brooks Robinson and Mike Schmidt, third base was more of a reaction position where reflexes were king. Arenado works the position like a shortstop, moving easily toward and off the line from right to left. Machado is also pretty mobile, Martinez said.
"I've heard the comparisons, obviously," Arenado said. "I don't get to watch him much live, but I see all the highlights. I'm a big fan."
Machado has a lifetime slash line of .282/.332/.482 with 137 homers, 402 RBIs and an .814 OPS. He'll be a free agent after the 2018 season.
Arenado has a .290/.339/.535 slash line with 140 homers, 499 RBIs and an .874 OPS. He's under Colorado control through the 2019 season.
"They are very similar players," Lovullo said. "Elite defenders who want to step up to the plate with the game on the line. They have that championship mentality and are complete hitters. They both can beat you in an assortment of ways. They are very similar."
Perhaps the biggest difference is that Machado has already had separate surgeries to repair the medial patellofemoral ligament in both knees. He's been fine since 2014 and last year, Orioles manager Buck Showalter used him for 45 games at short in lieu of the injured J.J. Hardy.
Arenado has been durable, aside from missing 37 games in 2013 because of a fractured middle finger on his left hand courtesy of a headfirst slide into second base.
"I haven't seen Arenado that much," said Martinez, who joined the D-backs in a trade with the Tigers on July 18. "Machado can hit and he's got that range. He has an absolute cannon for an arm. I'd have to look at the numbers. Arenado has better numbers this year. I don't think Manny has ever hit 40 home runs."
Machado hasn't. Arenado led the NL with 42 homers and 130 RBIs in 2015, and he did it again last season with 41 homers and 133 RBIs. He won't lead the league in homers this season with Miami's Giancarlo Stanton already having amassed 54.
But Arenado's certainly in the NL MVP Award conversation.
"He has to be in the top three, don't you think?" said Bud Black, who's managing Arenado for the first time.
Sure, along with Stanton and Arizona's Paul Goldschmidt, who's batting .310 with 34 homers and 112 RBIs. Dodgers third baseman Justin Turner is going to get some votes, too.
Lovullo, as you might expect, is decidedly in the Goldschmidt camp. But he discovered how Arenado can easily burn the D-backs if Lovullo doesn't make the right pitching decision. On Monday night, he decided to go with the right-handed Barrett, who's way down on the bullpen depth chart, rather than Archie Bradley, his stud reliever, who was warmed up and ready.
Arenado was previously 0-for-4 against Barrett, who had just walked Carlos Gonzalez on four pitches. Arenado made Lovullo pay.
"Well, you live and learn," Lovullo said on Tuesday. "Those are things that I've got to sleep with at night. I felt comfortable with that matchup. But I may not feel the same way about it tonight as I did last night. He's a quality hitter. A potential MVP. We know that."
Machado or Arenado? You be the judge.
Barry M. Bloom is a national reporter for MLB.com and writes an MLBlog, Boomskie on Baseball. Follow @boomskie on Twitter. This story was not subject to the approval of Major League Baseball or its clubs.