Rizzo wants Cubs to keep positive outlook
CHICAGO -- As far as Anthony Rizzo is concerned, the Cubs have the same goal on Sept. 12 that they did on April 1: Win games.
"We have to play, we have to win -- that's the bottom line," Rizzo said Tuesday.
The Cubs entered Tuesday's game against the Mets with a 34-21 record since the All-Star break, third best in baseball behind the Indians and Nationals. Chicago struggled offensively against the Brewers over the weekend, and a sweep reduced the Cubs' lead in the National League Central to two games.
"You can't hit every day, you can't hit every game," Rizzo said. "We're out there doing our best. You've got to give credit to the Brewers this past weekend. They outplayed us. The positive is we're coming off a long two years and we're in first place. I think every single person standing here now is overlooking that. Where we're at now is an unbelievable position that we can't take for granted."
Cubs manager Joe Maddon did not plan on a pregame motivational speech either.
"I don't believe in that method at all," Maddon said. "There's only one time to call a team meeting and that's if your best pitcher is pitching the next day against a really bad team. That's when you can look good. In our game, sitting there trying to rehash the obvious, there's no point to that."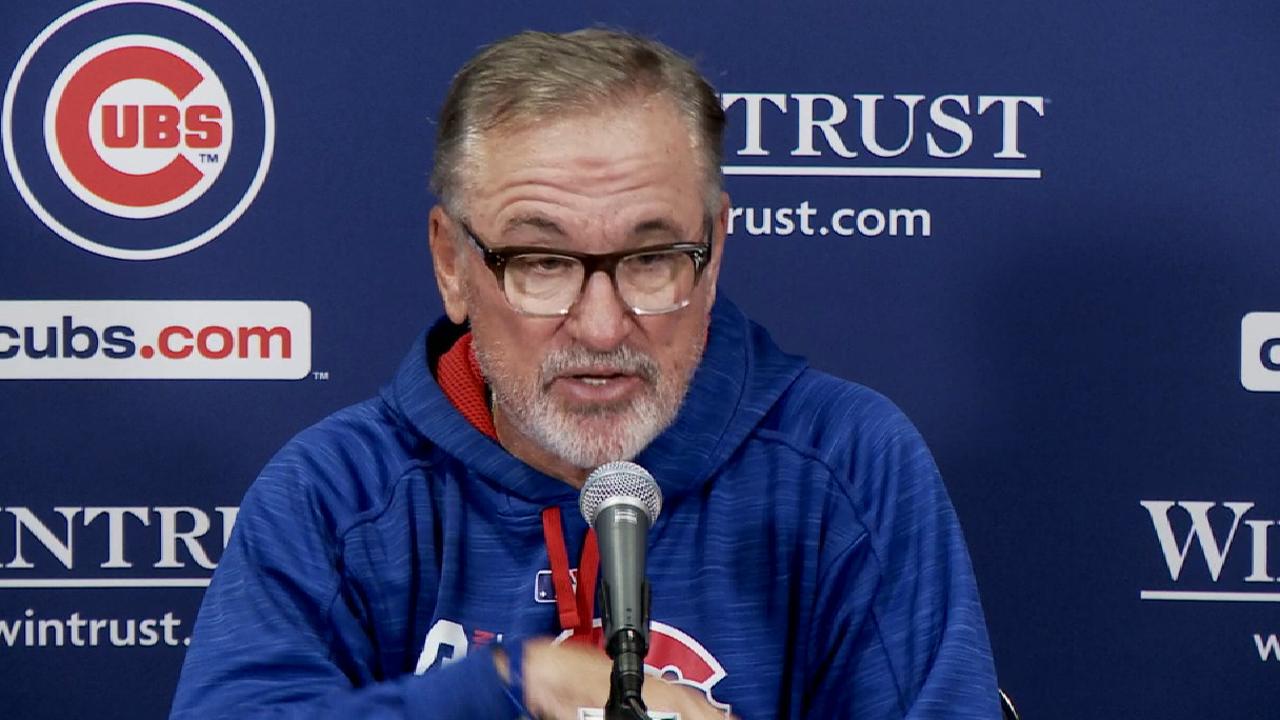 Maddon would prefer the players have their own meeting, which they've done over the course of the season.
"For the group that's looking for the inspirational speech, if it had any impact at all, it might last 10 minutes by the time they get out to the field," Maddon said. "If the other team's pitcher is better than yours that night, it's not going to work."
Rizzo is hoping for a positive vibe.
"We're coming off the greatest championship in sports history, we're in a position to win the division again," Rizzo said. "I think everyone needs to rally around us even more instead of panicking. This is the time we're going to get hot, over the next three weeks, and raise that banner again next year."
Arrieta's return TBD
Jake Arrieta played catch for the second time since he injured his right hamstring on Sept. 4, but the right-hander likely will not be ready to face the Cardinals this weekend. The Cubs have not scheduled a bullpen session for Arrieta yet.
"We're running out of time for this time [in the rotation]," Maddon said. "Maybe the next time through. I really don't know [when he'll return]. I'm just planning like he won't."
Arrieta also played catch Sunday. The Cubs have yet to announce the rotation for their weekend series against the Cardinals, which begins Friday.
Contreras back in lineup
Willson Contreras returned to the Cubs' lineup for the first time since Aug. 9 but he isn't expected to play the entire game. The plan is to have him catch a few innings, get a few at-bats, then be replaced to avoid aggravating his right hamstring, which he injured running the bases.
"We have to be patient, let him get into game flow again," Rizzo said of Contreras, who was the Cubs' hottest hitter after the All-Star break. "With him behind the plate and having him back, it's definitely a boost."
Tampa Bay watch
The Cubs are scheduled to play two games in St. Petersburg against the Rays next week, and as far as they know, the games will be played. Hurricane Irma did hit the area hard.
Maddon's home is in the Tampa Bay area and his wife, Jaye, was headed back after evacuating before the storm arrived.
"Everybody who has driven by the pad says it's still there, so that's the good thing," Maddon said. "It's really crazy stuff."
Cubs bench coach Dave Martinez's family did not evacuate, and he said they don't have any power but otherwise were OK.
A friend of Martinez's who lives in southern Illinois is loading a truck of supplies, such as water and basic necessities, to take and distribute in the Tampa Bay area.
"I just feel bad I wasn't there to help," Martinez said Tuesday.
Carrie Muskat has covered the Cubs since 1987, and for MLB.com since 2001. She writes a blog, Muskat Ramblings. You can follow her on Twitter @CarrieMuskat and listen to her podcast. This story was not subject to the approval of Major League Baseball or its clubs.