Beltre activated from DL, not ready to play yet
Third baseman takes BP while working way back from left hamstring strain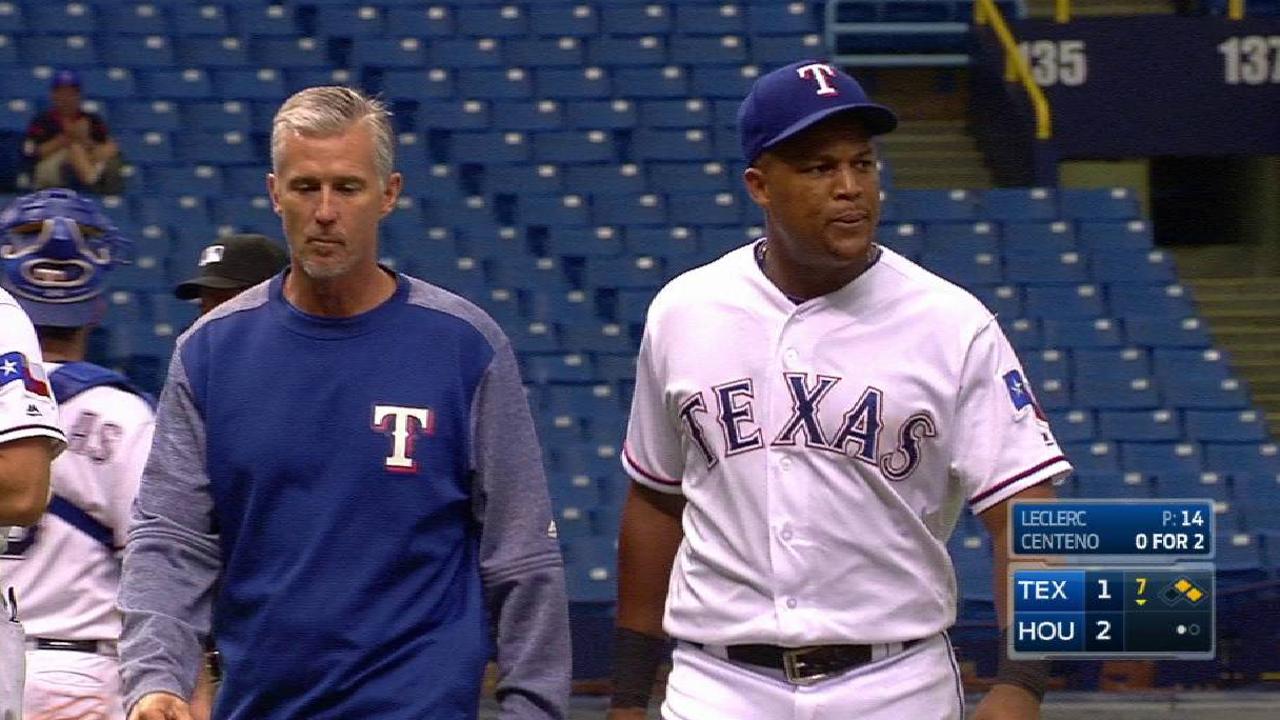 ARLINGTON -- Adrian Beltre was activated off the disabled list on Tuesday, but don't read into that too much. He's still injured.
Beltre was diagnosed with a Grade 2 strain of his left hamstring on Sept. 1, and he took batting practice on the field for the first time since then on Tuesday before the game against the Mariners.
"[It went] all right. Not great," Beltre said. "Not where I want it to be, but it's the first day, so I didn't expect anything better than that."
It's unlikely Beltre is available any time soon. The reason he went on the disabled list in the first place was so the Rangers could use a roster spot to recall Nick Gardewine. But now that there's no reason for Beltre to be on the disabled list, he's active.
It will be a few days before Beltre is able to pinch-hit in a game. He hasn't even begun running yet; the most work Beltre has done was power-walking on a treadmill.
Beltre hit a couple of times in the batting cages before Tuesday's BP, but the progress is there. How much farther before he's able to realistically play remains to be seen, though.
"There's been improvement, yeah," Beltre said. "Yesterday and today felt a little better than before. I was able to swing OK, not too comfortable, but it's a swing. I'm getting used to it, and knowing what my limitations are, the next step."
Napoli still out
Mike Napoli missed Monday's game with what Banister called "lower-body stiffness." It's unclear exactly what that meant, but Napoli was in the clubhouse with a taped right ankle, so it's likely because of that. He said he underwent tests to see what the diagnosis was, but results hadn't come back yet.
"Napoli, like everybody, is a little banged up," Banister said.
Napoli said he started feeling it last week while the Rangers were in Atlanta, and it had been bothering him since. He said he would play on Tuesday, though, even though his name wasn't in the starting lineup.
Rangers beat
• The Rangers released Tyson Ross on Tuesday. He was 3-3 with a 7.71 ERA in 12 games this year.
"Yeah, it's hard. That's for sure, and that's why we waited," Rangers general manager Jon Daniels said. "We designated some other players first. Our preference would be not to, but you get to a certain point, sometimes you have to make a challenging decision."
• Keone Kela was activated from the 10-day disabled list, where he had been with right shoulder soreness since Aug. 5.
• Jake Diekman has thrown five scoreless innings to start the season since being activated off the disabled list. He's the first reliever in club history to open a year with five consecutive outings of three-plus batters faced and no hits allowed.
• Joey Gallo said his left wrist was fine after tagging a Mariners runner at first base last night.
Sam Butler is a reporter for MLB.com based in Arlington. This story was not subject to the approval of Major League Baseball or its clubs.