MLB.com Columnist
Jim Callis
What to expect from Rangers' Calhoun in big leagues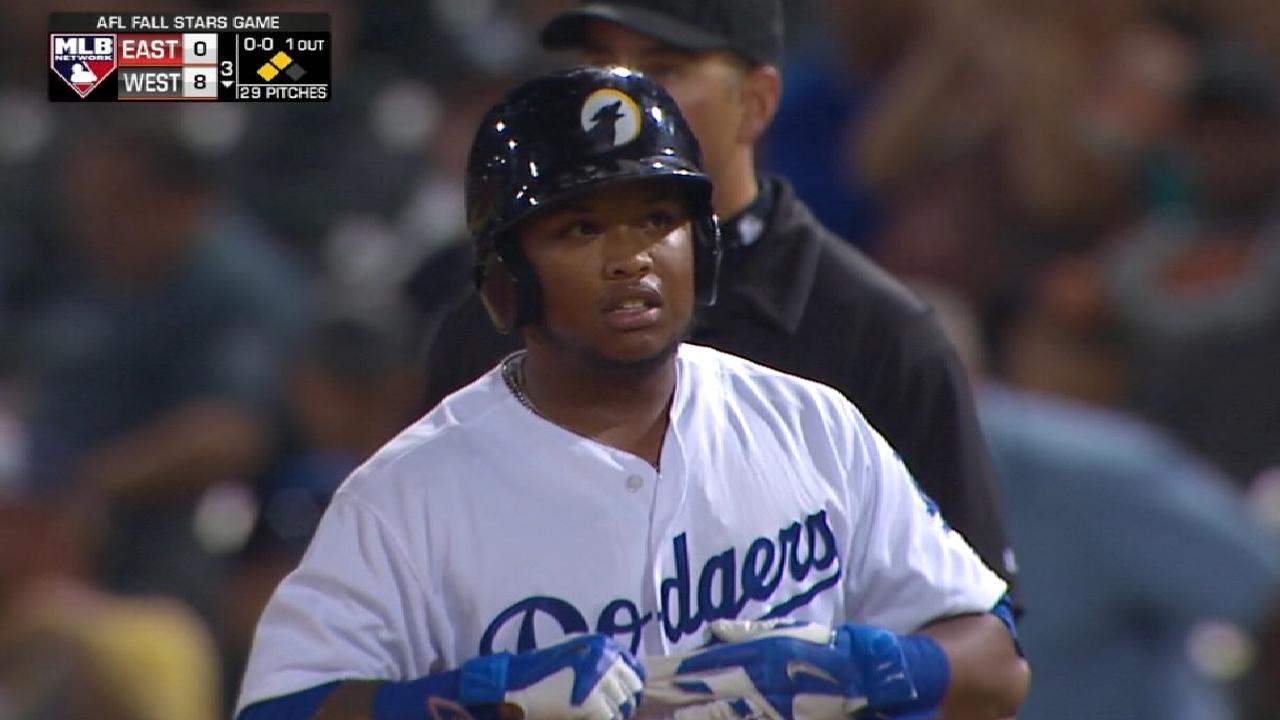 Calhoun combines power production and contact consistency better than most prospects. He tied for fifth in the Minors with 31 homers while striking out just 61 times in 534 plate appearances. The other 10 Minor Leaguers who hit at least 30 dingers this year averaged 133 whiffs.
Calhoun effortlessly barrels balls from the left side of the plate, packing plenty of strength and bat speed in his 5-foot-8, 187-pound frame. He may make contact a little too easily, as he doesn't walk much, but he's a career .286/.348/.520 hitter in the Minors despite being pushed aggressively. He batted .300/.355/.572 in Triple-A this year at age 22.
His career has taken off since Calhoun spent his freshman season in college at Arizona in 2014, when he went homerless in 46 games. He transferred to Yavapai (Ariz.) JC the following year and led all national junior college players with 31 homers, spurring Los Angeles to sign him for $347,500 as a fourth-rounder. He reached high Class A in his pro debut and led the Double-A Texas League in total bases (236) and RBIs (88) in his first full season.
Calhoun's pop and approach should allow him to contribute immediately in Texas, though it's unclear how much of a role he'll play. He could provide a boost in left field, where the Rangers have started six players who have combined for a .238/.341/.375 line for a .716 OPS that ranks 22nd among the 30 clubs at that position.
A third baseman and outfielder in college, Calhoun spent the majority of his time with the Dodgers at second base. Scouts doubted his ability to play there at the big league level, however, because his quickness, hands and arm all are subpar for the position. He has made 45 errors in 261 pro games at second.
After changing organizations, Calhoun made just three of his 29 starts at Round Rock at second base. He played 24 games in left field, the best-case scenario for him as a defender. He may never be more than adequate as a left fielder and some evaluators believe he's best suited to DH.
Though he offers little value beyond his bat, Calhoun's offensive ceiling makes him attractive. In his prime at Globe Life Park, he could develop into a .280 hitter with 25 homers per year. In the short term, he could give the Rangers a jolt as they try to return to the playoffs for the sixth time this decade.
Jim Callis is a reporter for MLB.com. Follow @jimcallisMLB on Twitter. Listen to him on the weekly Pipeline Podcast. This story was not subject to the approval of Major League Baseball or its clubs.