Brewers boast strong farm talent in 2017
MILWAUKEE -- When the Triple-A Colorado Springs SkySox dropped a decisive Game 5 to Memphis in the Triple-A playoffs on Sunday, the Brewers' Minor League season was in the books. The system produced 26 All-Stars, winning records for three of the four full-season teams and the first postseason berth for the SkySox since 1997.
Here's a look at some of the top individual performers:
• The Brewers have yet to announce their Robin Yount Performance Award winners, but the organization's pitcher of the year is an easy pick. Right-hander Corbin Burnes, Milwaukee's fourth-round pick in the 2016 Draft, went 8-3 with an organization-best 1.67 ERA in his first full Minor League season, blowing past Class A Advanced Carolina to reach Double-A Biloxi, where he slightly improved his strikeout and walk rates while logging a 2.10 ERA. The next-best ERA in the system among qualified starters was Freddy Peralta's 2.63.
Burnes is the organization's seventh-best overall prospect according to MLBPipeline.com.
• The Brewers' Minor League player of the year is a tougher pick. It could come down to a pair of outfielders who saw big league time, Lewis Brinson and Brett Phillips, who exceled at Triple-A. Phillips had a .944 OPS for Colorado Springs and finished third in the system with 19 home runs in a personal bounce-back year. Brinson posted a .962 OPS.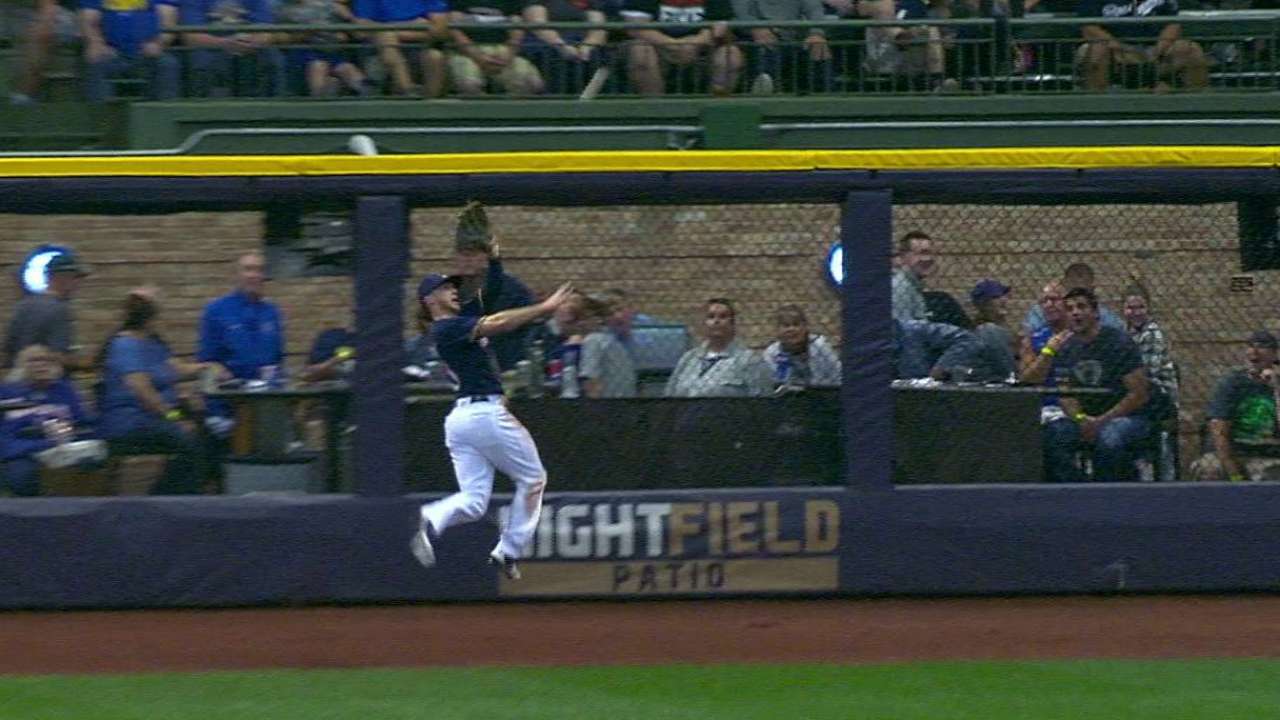 • Batting category leaders
(min. 200 PA and finished season in Brewers system)
Batting average: Ivan De Jesus, .345
On-base percentage: Kenny Corey, .496
Slugging percentage: Phillips, .567
OPS: KJ Harrison, .934
Doubles: Jake Gatewood, 40
Triples: Nathan Orf, 11
Home runs: Monte Harrison, 21
RBIs: Lucas Erceg, 83
Stolen bases: Johnny Davis, 52
Walks: Trent Clark, 98
Strikeouts: Gatewood, 161
• Pitching leaders
(min. 50 innings for rate stats)
ERA: Nick Ramirez, 1.36
Wins: Aaron Wilkerson, 11
Saves: Nate Griep, 30
Innings: Burnes, 145 2/3
Strikeouts: F. Peralta, 169
WHIP: Burnes, 0.95
K/9: F. Peralta, 12.7
BB/9: Gabe Friese, 0.84
So far, so good
An assessment of Marlins Park on Monday indicated the structure held up "extremely well" over the weekend against the effects of Hurricane Irma, Marlins president David Samson said in a statement. A plastic membrane on the roof will need replacing immediately following the season, Samson said, but the stadium suffered no flooding or water damage.
The Marlins were on the road for the storm and are scheduled to return home Friday for the start of a three-game series against the Brewers.
"All indications that we've gotten indicate that it's a go in Miami," Brewers manager Craig Counsell said. "I don't think anything is for sure yet, but every piece of news we're received has been positive. Like I said before, I'm hoping that it's a go. Right now it looks like it's on."
In the clubhouse, players with Florida ties expressed relief that their family members were OK.
"At least in our clubhouse, it seems like everybody escaped without serious harm," said Counsell, whose own parents and sister gathered in Fort Lauderdale to endure the storm. "We're all fortunate."
Still TBD
Counsell still wasn't ready to name a starting pitcher for Wednesday's series finale against the Pirates, the spot occupied by Jimmy Nelson before he suffered a season-ending shoulder injury. Minor League callups were still in play, Counsell indicated, despite the fact the Brewers made no immediate promotions Monday after Colorado Springs' season-ending loss.
Adam McCalvy has covered the Brewers for MLB.com since 2001. Follow him on Twitter @AdamMcCalvy and like him on Facebook. This story was not subject to the approval of Major League Baseball or its clubs.