Inbox: Will Bryce be ready for postseason?
Beat reporter Jamal Collier answers fans' questions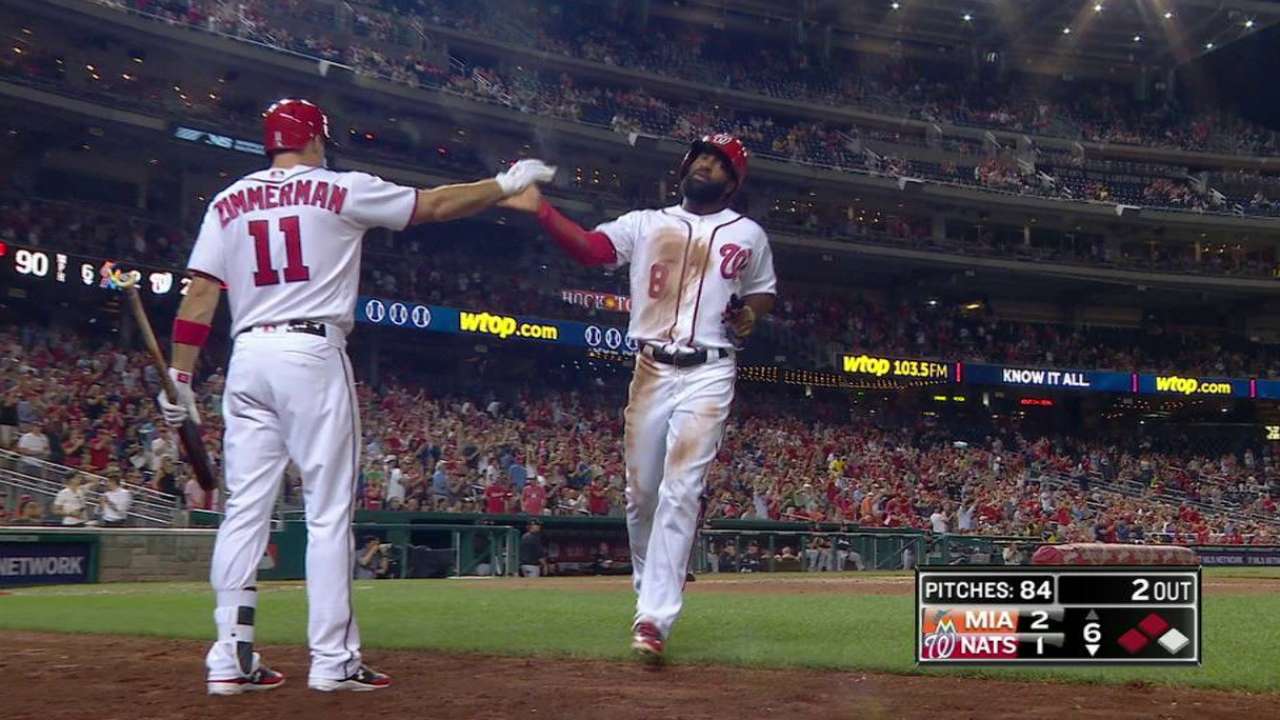 WASHINGTON -- The Nationals have wrapped up the National League East. They became the first team to secure a postseason berth in 2017 and will make consecutive postseason appearances for the first time in franchise history.
Now that the champagne has dried from the celebration, it's time for a Nationals Inbox as the march toward the postseason begins.
• Submit a question to the Nationals Inbox
What does your beat reporter's gut tell you about Bryce & October? If Werth can't get his timing either... OF is looking tough

— Jimmy G. (@LeonTrout) September 11, 2017
The health of Bryce Harper will be perhaps the biggest question surrounding the Nationals during the next few weeks heading into the postseason. Although he avoided the worst-case scenario during his violent knee injury at first base last month, he did walk away with a hyperextended left knee, a bone bruise and a calf strain. After a few weeks of inactivity, he is currently playing catch and doing some light jogging and exercises. With a little more than three weeks until the NL Division Series begins, the team still remains optimistic Harper will be ready in time for the playoffs.
• Shop Nationals postseason gear
My gut, which for the record is often wrong, tells me the same. I'd bet Harper will be on the field when the Nationals take the field for Game 1 of the NLDS at Nationals Park. There's still enough time for him to begin progressing, and he works too hard and wants to be in these moments so badly that if all goes smoothly, I would guess he will find a way to get healthy in time. The key for Washington is making sure he is 100 percent or somewhere close to it because Harper at full health changes the Nationals' lineup and makes this team that much more dangerous in October.
Right now, I have no faith Kelley won't give up hard hit balls whenever he comes in. Odds he makes the playoff roster???

— Isaiah Singletary (@bud_zay) September 10, 2017
I think it's about time to put this question to bed. The 2017 season for Shawn Kelley has not been good. In between stints on the disabled list, he has appeared in 30 games, posted a 7.99 ERA and given up 12 home runs in 23 2/3 innings. Those numbers are staggering. Kelley has been searching for answers all season and has not been able to find them. The Nationals have tried to put him in low-leverage situations recently where he can regain his confidence, and he has still struggled. Unless he turns it around and looks spectacular during the next three weeks, I can't find any real justification to put him on a postseason roster.
Will @EJ36 be on the postseason roster?

— The Nationals Post (@NatsPost) September 10, 2017
At this point, I think Edwin Jackson almost certainly finds his way onto the Nats' postseason roster. Considering Kelley's struggles and the fact that Koda Glover is highly unlikely to return this season, the team will need right-handed arms in its playoff bullpen. Only Ryan Madson, Brandon Kintzler and Matt Albers are locks for a playoff bullpen from the right side. The top four starters in the rotation are set, barring injury, bumping Jackson to the bullpen, where he has experience in the past.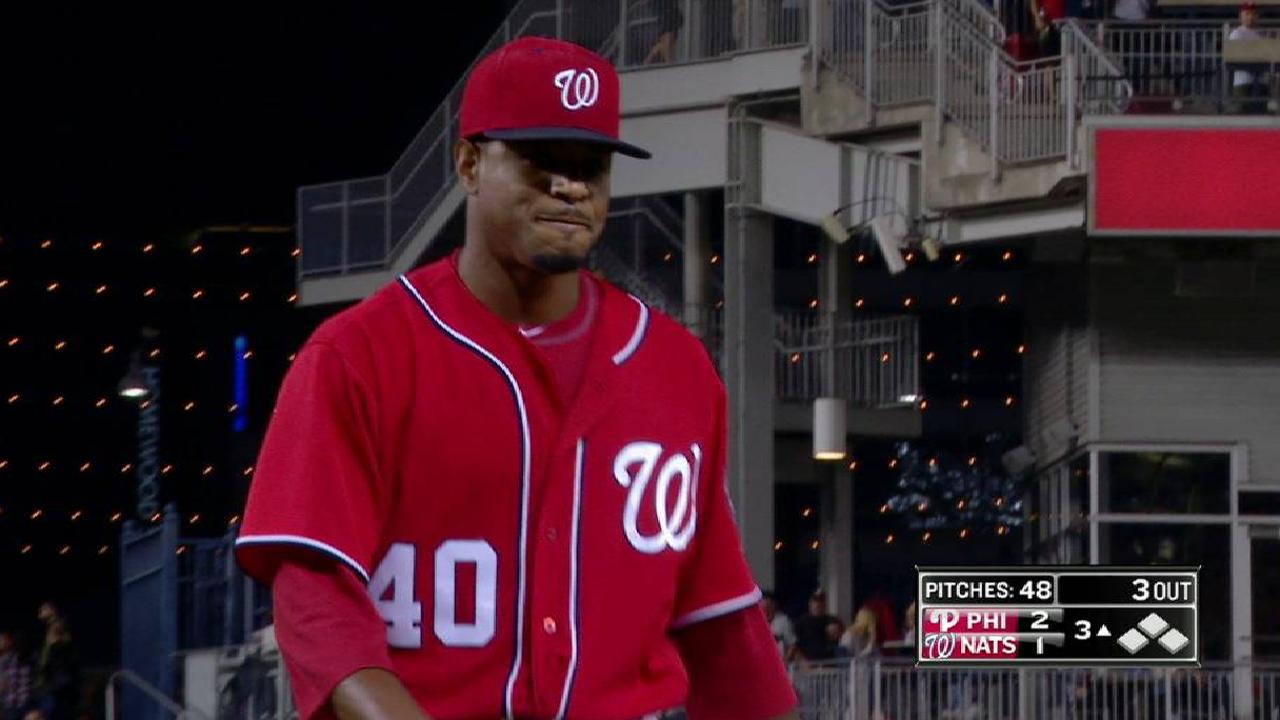 And Jackson has performed well since joining the Nationals' rotation. In 10 starts, he owns a 3.88 ERA and has become a reliable No. 5 starter. He has the ability to serve as a long reliever, but he can also dial up his fastball velocity for a short relief stint if called upon in the postseason. As long as he closes out the season strong, Jackson should find his way onto the postseason roster.
Based only on the Nats Park locations: what's better, Ben's or Mike Isabella's?

— Ian MacDonald (@iancmacdonald) September 11, 2017
I'm a huge fan of Mike Isabella's. I probably get an Italian hero once per homestand.
Will some of the vets who don't make the playoff roster still travel with the team?

— Marc Gerson (@SpudMarc) September 11, 2017
I think so. Manager Dusty Baker has made it a point to invite injured players such as Stephen Drew, Brian Goodwin and Ryan Raburn on the road with the team and has extended an invitation to Glover to be around the team through the stretch run and into the postseason. Some players who do not make it out of performance will stick around and work out so they can be ready in case of an injury, or if the Nationals decide to shake up their roster in between playoff rounds.
Since Goodwin looks like he is not returning, who do you think will be our backup CF for the playoffs?

— Dan Foobar (@The__grumbler) September 11, 2017
It will also be interesting to see how this plays out during the final month of the season. It appears Washington might have to carry an extra bench player for the postseason with so much uncertainty in its outfield. Harper's timeline remains unknown, Jayson Werth has not played in a week and had struggled because of a sore shoulder and the likely fourth outfielder, Brian Goodwin, seems to be done for the season. I'd bet on either Andrew Stevenson or Rafael Bautista -- rated the club's No. 7 and No. 13 prospects, respectively, by MLBPipeline.com -- as getting the final nod. They are both good defenders and have some speed, which could make them valuable on a playoff bench. However, Stevenson has more experience in the Majors, so he almost certainly will be the favorite to round out the Nats' group.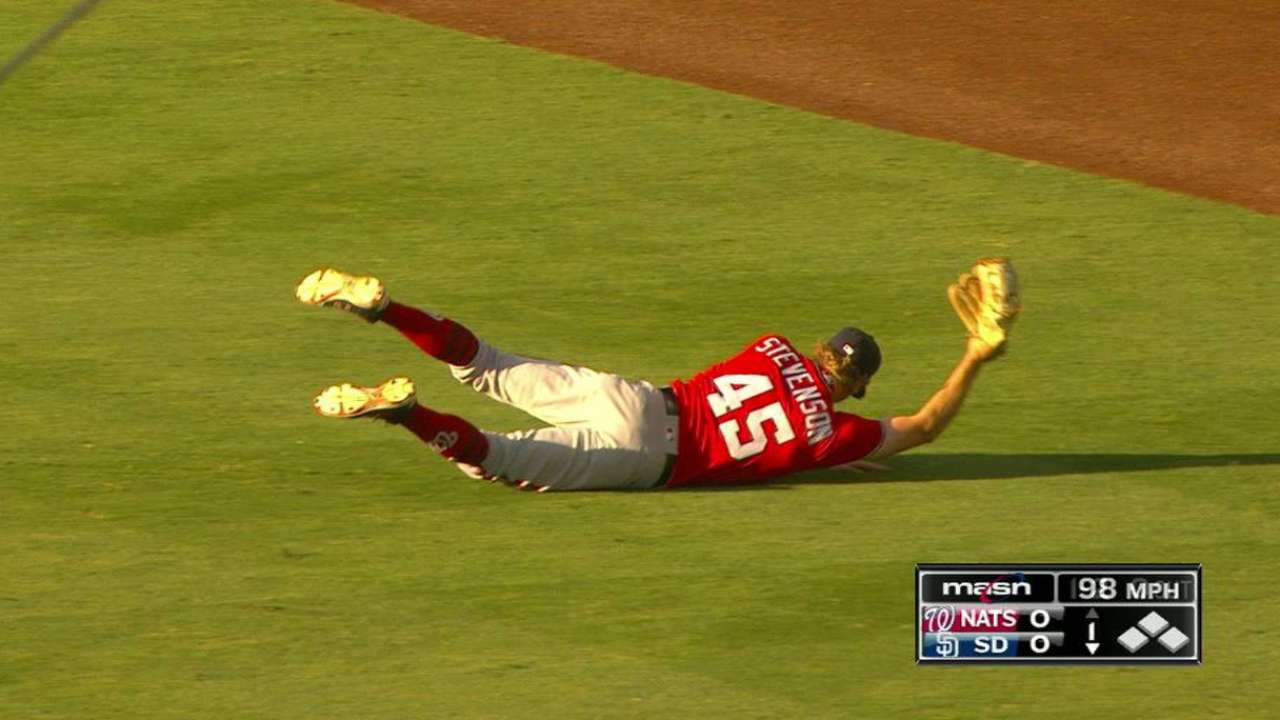 Jamal Collier covers the Nationals for MLB.com. Follow him on Twitter at @jamalcollier. This story was not subject to the approval of Major League Baseball or its clubs.