Inbox: How will Cards handle closer duties?
Beat reporter Jenifer Langosch answers questions from fans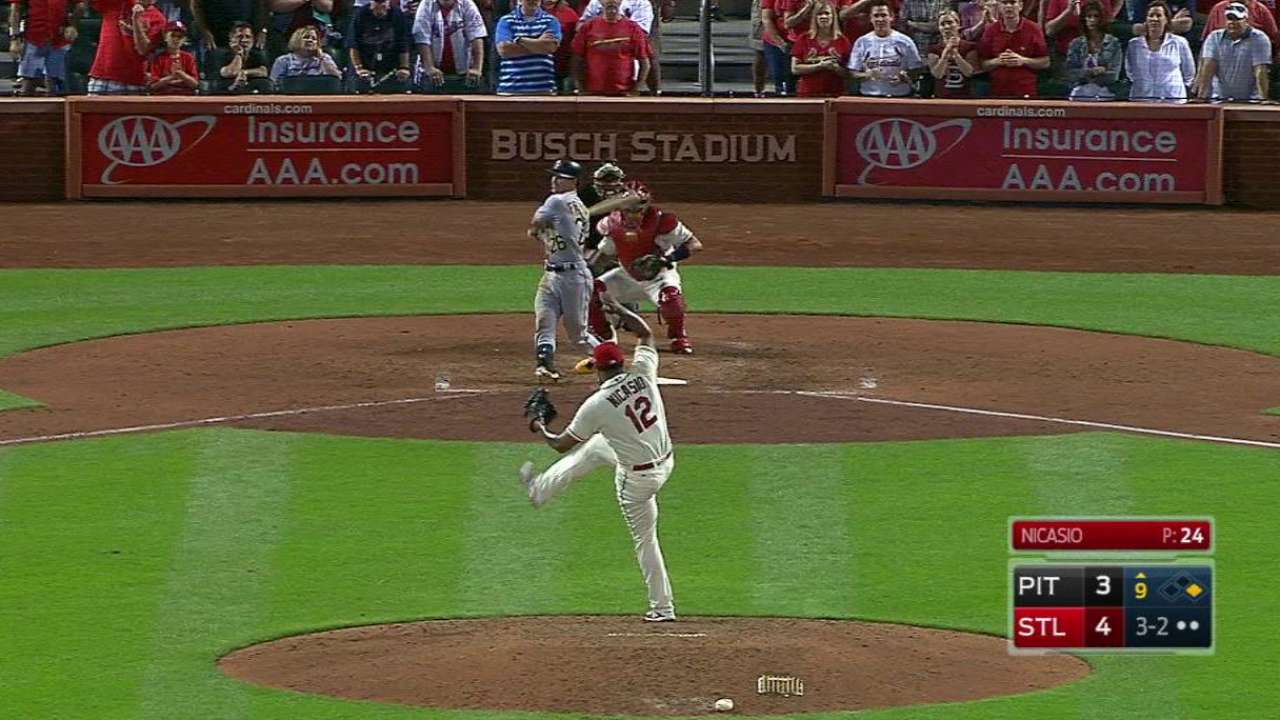 ST. LOUIS -- After an overwhelming response to last week's Cardinals Inbox, I grabbed another batch of your questions to answer today. Remember that if you submit a question for future consideration, please include your name and hometown along with it.
With the surge the Cardinals have been on, a playoff spot is clearly within reach. But how do you see the relievers being utilized over the next three weeks and into October? Do we have a set closer? Or is Mike Matheny going to utilize whoever he thinks fits the situation best at hand?
-- Ellis B., Creve Coeur, Mo.
How Matheny finds late-inning coverage over these next three weeks won't provide a blueprint for October. For one, Matheny has way more relievers at his disposal in September. Even more critically, he has Juan Nicasio. Matheny wasted no time giving Nicasio a pair of save opportunities in the last series, and the newly-acquired righty converted both. He seems to be the best fit the Cardinals have for the ninth right now.
But if the Cardinals advance to the postseason, they won't have Nicasio to use. Because he was acquired after Aug. 31, Nicasio is not eligible to be on a playoff roster. As a result, the Cardinals' closer-by-committee approach will likely resurface. Look for Tyler Lyons, John Brebbia and Matt Bowman to continue factoring into late-inning spots.
• Submit a question to the Cardinals Inbox
Why didn't we push to acquire Nicasio in a trade before the Aug. 31 deadline to be eligible for postseason rosters if he was a target?
-- Charles R., Vail, Colo.
That's a very fair question. While we know the Cardinals put in multiple waiver claims on relievers last month in hopes of adding to their 'pen, they did miss out on a chance to add Nicasio early enough to where he'd be a potential postseason participant. This gets a little "inside baseball," but try to follow me here …
At some point in August, the Pirates placed Nicasio on revocable waivers. In the waiver process, teams in the same league as that player get first priority, starting with the club with the worst record. Then, the process would be repeated by teams in the other league. According to a source, the Cubs were the team awarded the waiver claim. And since Chicago had a better record than the Cardinals through the entire month, that means the Cardinals did not put in a claim.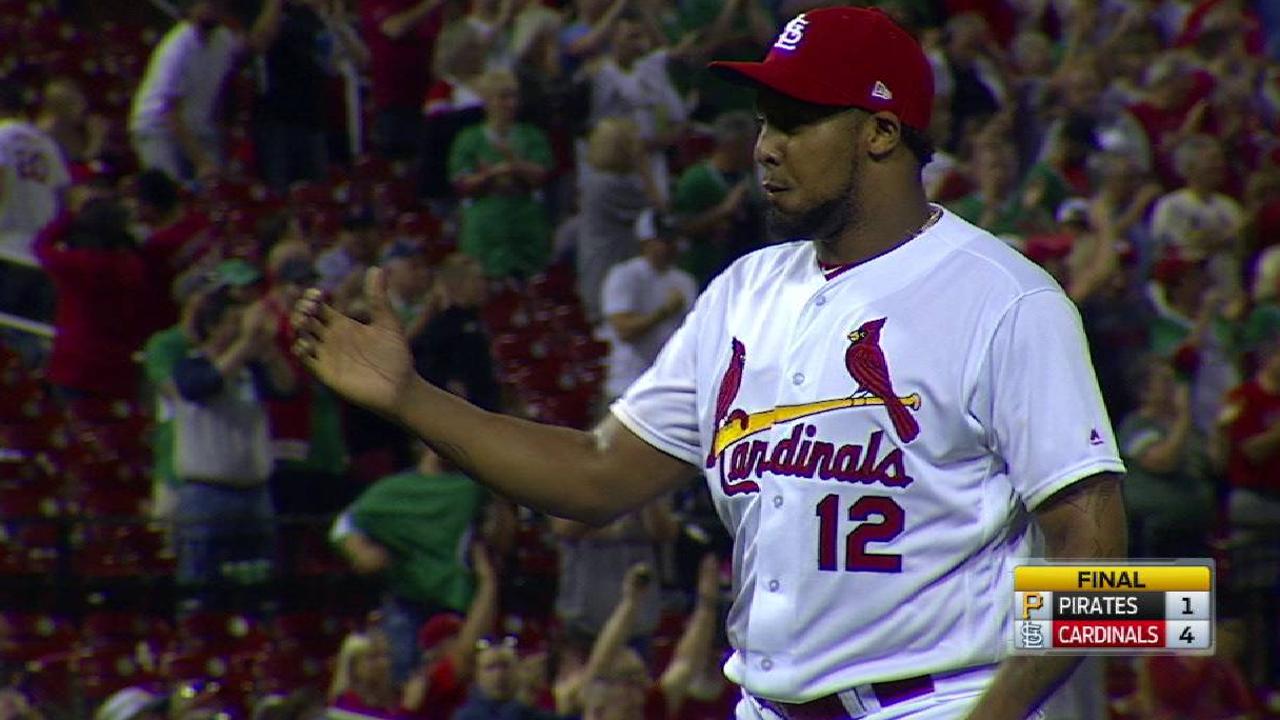 Ultimately, the Pirates were not happy with what the Cubs were offering and chose to keep Nicasio. Pittsburgh later put Nicasio on irrevocable waivers, at which time the Phillies nabbed him. The Cardinals never had a chance to obtain Nicasio at that time since the Phillies, by virtue of their record, had better position. That claim came on the final day of August, which meant that it was then into September before the Cardinals could pull off the deal.
Had the Cardinals claimed Nicasio in his first push through waivers, they would have had the chance to try and work out a deal directly with the Pirates at that pont.
In the short time Magneuris Sierra was here, I saw a guy with elite, game-changing speed. What does his future forecast? He consistently put the ball in play, made defensive plays, and didn't seem intimidated at all. Seems like you don't keep a guy like that down.
-- Shawn M., Normal, Ill.
What Sierra did in not looking overmatched after rising from Single-A to the Majors was impressive and only reaffirmed the Cardinals' excitement about his potential. But it also doesn't mean he was a finished product. The Cardinals believe there's even more potential in the 21-year-old outfielder, which is why they sent him back to the Minors with homework.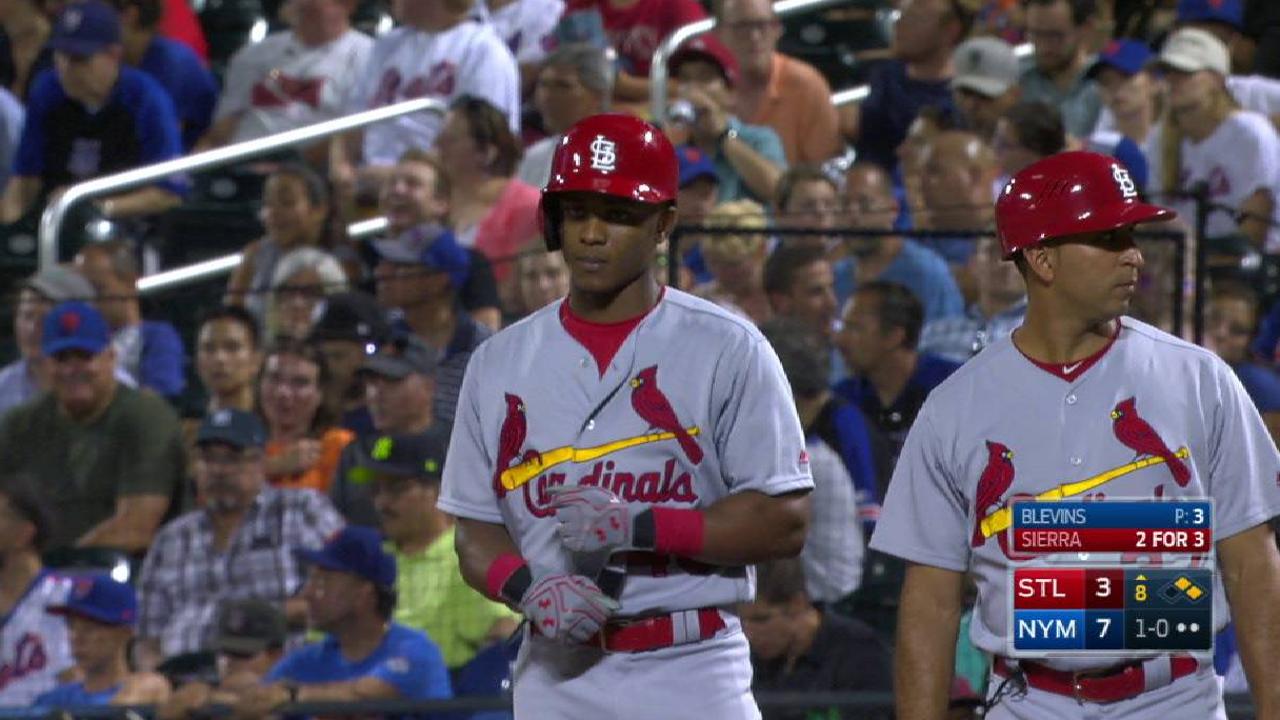 The organization is hopeful that Sierra can utilize his speed to become a more dynamic basestealer. They'd also like to see Sierra drive the ball with more authority when he returns to St. Louis next. Though Sierra tallied 19 hits in his first 52 at-bats with the Cardinals, all 19 of those hits were singles. The Cardinals don't believe he should settle for being a slap hitter who beats out infield hits.
If the Cards make the playoffs, do you think that increases the odds of them NOT making any moves during the offseason? Or do you believe they will move some of the outfield surplus?
-- Ryan R., Mt. Vernon, Ill.
Regardless of how and when the Cardinals finish this season, I foresee an active offseason ahead. Yes, they will address the outfield surplus, and the club also intends to seek a middle-of-the-order addition and some relief help. The worst thing an organization can do is discard its long-term vision because of current success. These last two seasons have impressed upon the Cardinals the need to further shake things up.
With so much young starting pitching and holes in the bullpen, is there any chance of Adam Wainwright reprising his role as a closer, a la John Smoltz?
-- Dave. C, Douglasville, Ga.
That is not Plan A for Wainwright as he looks ahead to 2018, which will be the final year of his current contract. He intends to come back as a starter, and the Cardinals have him penciled in as such. Circumstances can change, yes, but it's hard to see the club entering the season with the intention of using Wainwright out of the 'pen. If that's where he ends up, it'll be because he tried and couldn't stick as a starter.
Jenifer Langosch has covered the Cardinals for MLB.com since 2012, and previously covered the Pirates from 2007-11. Follow her on Twitter and Facebook. This story was not subject to the approval of Major League Baseball or its clubs.