Q&A: Betts touches all the bases
Outfielder discusses life after Papi, playoff fever and playing in Boston in sitdown with MLB.com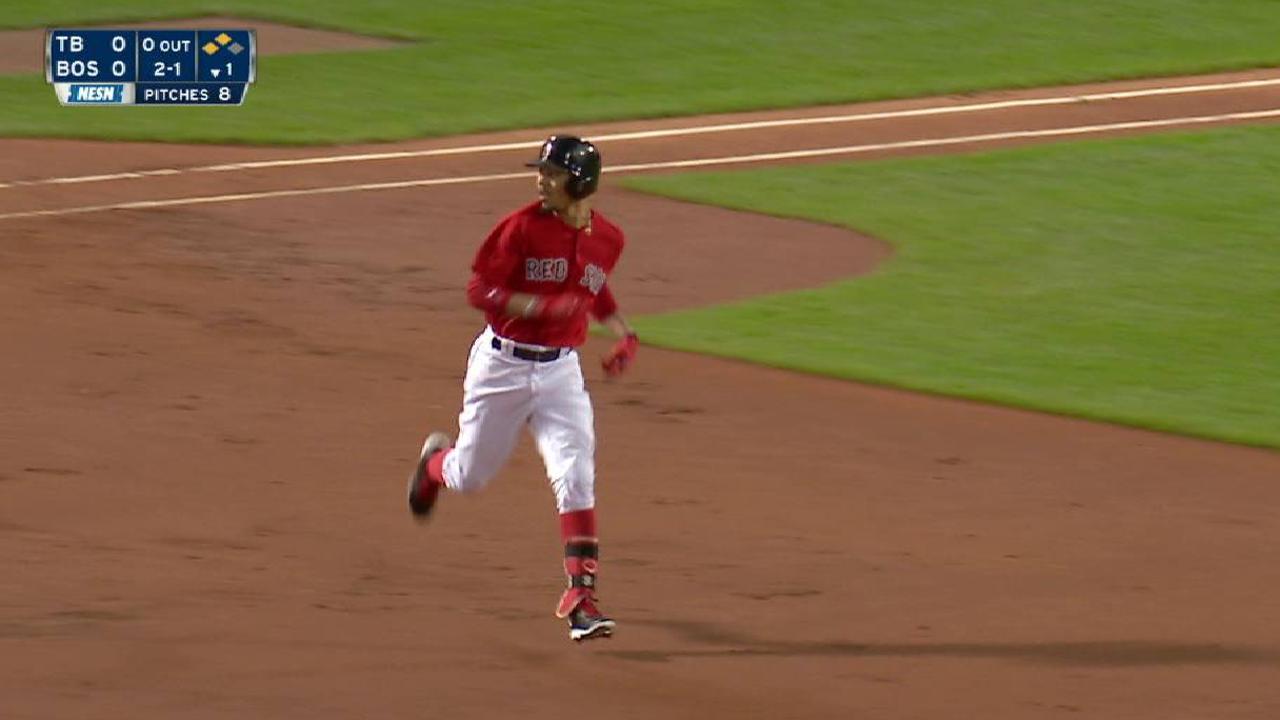 BOSTON -- At the age of 24, Red Sox right fielder Mookie Betts is three weeks from completing his third full season and has established himself as one of the most electrifying players in the game.
Though he hasn't been able to match his production of a year ago -- when he finished second in the American League Most Valuable Player Award voting to Mike Trout -- Betts remains capable of winning a game with his bat, glove, arm or legs, and there are many days he uses all of those tools to frustrate the opposition.
The 2017 season is the first time Betts experienced playing in the Major Leagues without his longtime mentor, David Ortiz. In a recent sitdown at Fenway Park with MLB.com, Betts discussed a number of different topics, including life without Big Papi, his anticipation of getting back to the postseason, his hobbies off the field and whether he will be a professional bowler when he finishes playing baseball.
MLB.com: Last year, you got your first taste of playoff baseball. What were your impressions of playing in those games?
Betts: It was fun. Obviously going in, everybody says the playoffs are a different animal and things are different, but I kind of look at it a different way. It was the same game. I think obviously you just don't know if there's a tomorrow, so there's that sense of urgency and pressure. But if you just go and play and enjoy it and kind of take it all on, that's the best way to do it. This game is already hard enough. You don't want to add any more pressure.
MLB.com: How much will having that experience from last year help you if you get back to the postseason?
Betts: This time, I'll know just to kind of enjoy it versus being really tense and putting extra pressure on myself. I think we all can kind of do that.
MLB.com: How challenging has it been for you this year to become more a focal point of the offense, where last year David Ortiz kind of loomed over everyone?
Betts: It's been tough, just kind of finding our identity. I think obviously we can't wait around for the three-run homer anymore. We have to understand that we have to manufacture runs by stealing the bases and going first to third, making stretch doubles. Stringing a couple of singles and a double together, those types of things. Occasionally we'll hit those home runs, but we have to understand how we're going to score our runs and being aggressive on the basepaths and just stringing long innings together pretty much.
MLB.com: After putting up a year like you did last year, did that make it hard to handle the expectations that you could start putting up Trout-type of numbers every year?
Betts: Yeah, I think the expectations were really high. Obviously I haven't performed how I wanted to or how I'd ideally like to perform. And I wouldn't even want to do better than what I did last year. I think what I did last year was phenomenal and if I could ever do that again, I'd be happy. I've got to play the cards that I'm dealt. Right now I just have to work with what I'm doing and just try to come to the field every day and help the team in some way -- whether it's taking an extra base on the basepaths or maybe a hit or a great play on defense. Whatever it is, I try to do whatever I can to help.
MLB.com: When it comes to David, what's the biggest difference -- aside from the obvious three-run homers -- of not having him around?
Betts: I think it's more the mentality. He's obviously a leader and whatnot, but deeper than that, it's just the mental side. If you were struggling or doing well, whatever, he would pull you aside and talk to you and kind of let you know, "Hey, this is a good time for you to maybe not take BP because you're tired or taking too many swings will hurt you or this is a time." Other times, it was, "Hey, you should go take a couple of swings and get to feeling good," or what to do against certain pitchers, all those types of things. There were just many things that he would go over and talk to you about, and he would help you out tremendously.
MLB.com: Dustin Pedroia is a different kind of leader than David. What is the biggest thing you've taken from him in the few years you've been teammates?
Betts: Because he's so fearless, it kind of rubs off on you. You kind of become fearless to a certain extent. He just also shows how to play the game hard and how to play the game the right way for nine innings. He shows you that you always have to believe in your abilities, and when you do that, success just comes.
MLB.com: Your defense in right field, you've made so many great plays. What are some of the different challenges you give yourself behind the scenes to be able to make some of the plays you make?
Betts: I actually learned the most from Jackie Bradley Jr. Obviously there's a right way to catch the ball. Catch it over your head and with two hands, those types of things. But behind the scenes and with early work, we try to catch the ball with different ways and different angles, because you don't know how it's going to be in the game. We try to make things way harder than they are and that way as the game goes, we've been in a situation like that before to where we can kind of make those catches. A lot of it is just effort. Put in the right effort and the right work and it becomes easier.
MLB.com: You just talked about Jackie. Just to have a teammate like that who shares a similar type of athleticism and defensive skills, how much do you feed off of him?
Betts: It's huge knowing I can look to him and know that he's helped me so much. He's like my brother too. We communicate very well out there. We don't really have any collisions or anything. The one thing is that we both get to a lot of those balls in the gap, so it's just important for us to know who has the gap at that particular point and time. Other than that, it's just fun being able to watch the show he puts on every day.
MLB.com: The whole young core with you and Andrew Benintendi and Xander Bogaerts and Jackie, you guys seem to have so much fun and create friendly competitions like who's the fastest and that type of thing. How much fun is that for you guys to have that dynamic?
Betts: I think it's huge in the sense that we're all young, but we're definitely having fun every day at the park. We're here so much and we see each other so much that there could easily be arguments and hostility could come, but we take a different approach. In BP, we play games with each other. In the outfield, we play games with each other to see who can make the best throws. Really anything. As simple as Bocce ball, that type of thing, or playing "Call of Duty." Anything and everything we just find ways to compete, but to know we're having fun with each other too.
MLB.com: Just for the record, who is the fastest of all you guys?
Betts: The fastest has got to be Jackie or Benny. They're way faster. I'm just quick. Stealing a base, I'm up there and maybe the best out of us. Just running speed is different.
MLB.com: Playing in Boston is all you know in your career. What sticks out about it?
Betts: Obviously we know the fans are amazing and they love sports here. I think just the atmosphere that you know when you step out on this field that you have to bring it every day. For me, I look at it as a positive because I know that there's no slacking, there's no, "I'm tired today, take it easy because we're playing in Boston and we're in first place." We're trying to win every year. You've just got to know that every day, even if you're only feeling about 80 percent that day, you better bring all 80 percent. I've learned to really appreciate that.
MLB.com: What kind of things do you do off the field to decompress from baseball?
Betts: I generally have some family with me. But if I'm by myself, I'll watch a movie or sometimes I'll cook. I just try to occupy my mind in some way to get away from baseball just because I'm here for so long at the park and you don't want to stress yourself out. If you don't play well that day, you don't want to think about it the whole day.
MLB.com: What kind of movies do you like?
Betts: I've always watched comedies. I've just started to watch a few of the scary exorcism movies. They are really weird. They used to scare me, but now it's so off the wall. I'm sure it's real, but since it doesn't hit home for me, I can watch it and it doesn't' really faze me at all. It's just weird to see these things are real life.
MLB.com: Do you binge watch any shows?
Betts: I've watched "Black-ish," "The Black List," "Prison Break." I want to start watching "Game of Thrones," but I've never watched one episode. I heard it's been great and I have to start watching it at some point. I just don't know when.
MLB.com: Are you a music guy?
Betts: I always listen to music. I listen to R&B and Hip Hop. I'm not a big country guy even though I'm from Nashville. I like some songs, but I wouldn't turn on a country radio station or anything.
MLB.com: We all know about your love for bowling and how good you are at it. How much do you bowl in the offseason?
Betts: I bowl Sunday, Monday, I sub on Tuesday whenever my brother doesn't want to bowl. I take Wednesdays off. I sub for my mom if she doesn't want to bowl on Thursdays. Friday, there's a league I bowl on. Just about every day besides Wednesday and Saturday.
MLB.com: Do you think you will go pro when you are done with baseball?
Betts: I don't know. It's a lot. It's just a lot of traveling. I'm not sure. I just want to get to the point where I'm like my dad and I'm not obligated to do anything.
MLB.com: If you had to pick one similarity between bowling and baseball that helps you excel at both, what would it be?
Betts: Repeating the same mechanics. I guess bowling is pretty mechanical. It's kind of a natural motion, but you have to stick within those mechanics. Baseball is way more natural than mechanical. Also, just the little spurts of focus. In baseball, you focus for that pitch and then you reset. In bowling, you focus for that ball and then you reset and kind of step back, breathe, reset.
Ian Browne has covered the Red Sox for MLB.com since 2002. Follow him on Twitter @IanMBrowne and Facebook. This story was not subject to the approval of Major League Baseball or its clubs.