Zimmermann hopes to pitch again this year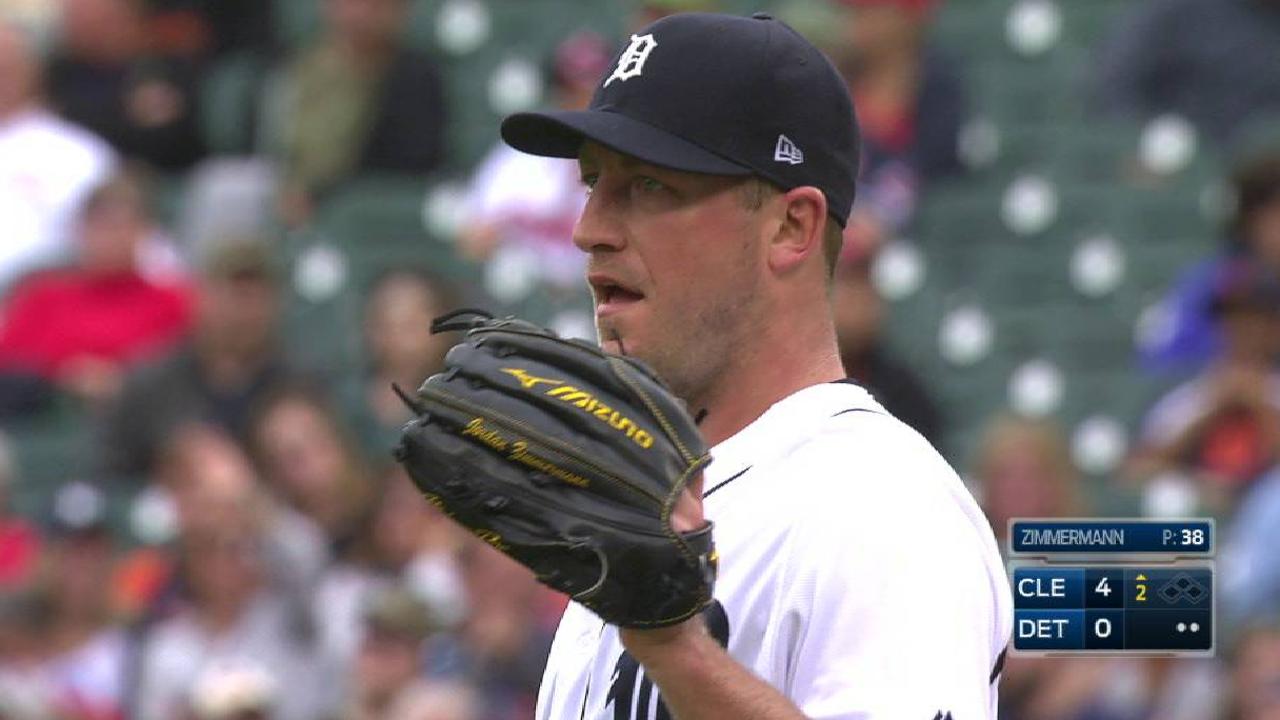 CLEVELAND -- Jordan Zimmermann was back in the Tigers' clubhouse Monday at Progressive Field, hoping the pain in his neck is a thing of the past. If it is, he could return to the Tigers' rotation before the season is over.
Zimmermann received a nerve block injection in his neck last Wednesday for the second time in about a year. He also received an injection in his spine for the second time. Zimmermann played catch on Monday, and while he still felt soreness in the area of the injection, he felt freer while throwing and believes the soreness is a result of the injection itself rather than the neck issues.
"I feel like they hit what they needed to hit," Zimmermann said. "I feel like it's just [a matter of] trying to get the soreness out of there. Tomorrow, I'll throw a little more and try to build back up as quick as possible and hopefully get a couple starts in before the end of the year."
If Zimmermann can do the latter, the Tigers intend to give him every opportunity down the stretch.
"It doesn't mean he's going to start," manager Brad Ausmus said. "But if he's healthy and he feels right, if there's time left in the season and he can start, then he'll start."
It's not about peace of mind, Zimmermann said, but there is some self-assurance that plays into it. A freer neck probably can't fix all the issues that have led to his 8-12 record, 6.18 ERA and 29 home runs over 150 innings this year, but it's a start.
"I think the mechanics and all that stuff, I'll have to take care of over the offseason," Zimmermann said. "That, I built up over time, probably with this neck thing. Just mainly work on the mechanics and add a few more things in my shoulder and neck program in the offseason and try to keep building on that."
Iglesias could return Wednesday
Jose Iglesias remains in Miami with his family after his wife gave birth to their second child last week just before Hurricane Irma struck South Florida. He is expected to rejoin the Tigers in time for Wednesday's series finale against the Indians.
Iglesias and his family were evacuated from their home and moved inland before Irma struck. They returned home on Monday, Ausmus said.
"There's no electricity," Ausmus said, "and he's trying to get his new baby son and wife into the house and set up. He's going to fly out [Tuesday], but he won't be here for the game."
Tigertown safe after Irma
Though Irma's turn inland brought some of the worst of the storm over Lakeland, Fla., the Tigertown complex apparently survived with just fallen trees and debris.
"Very lucky," Tigers player development director Dave Littlefield said in a text message. "A few trees down and wet, but dodged the big stuff."
The Tigers prepared their recently renovated facility for hurricane conditions late last week, back when Irma was a massive Category 5 storm. That planning proved wise once Irma, which was expected to skirt the Florida Gulf coast, instead made landfall near Naples, Fla., and went almost straight north. Though the eye of the storm collapsed, what was left of the eyewall -- and some of the most damaging winds of the hurricane -- passed over Lakeland, taking down many trees and knocking out power to most of the city.
Several Tigers personnel and their families took shelter in the facility, some evacuating from Tampa, Fla., and the coasts. Everyone was OK, Littlefield said.
Jason Beck has covered the Tigers for MLB.com since 2002. Read Beck's Blog, follow him on Twitter @beckjason and Facebook. This story was not subject to the approval of Major League Baseball or its clubs.