Inbox: How will Sano fit in after return from DL?
Beat reporter Rhett Bollinger answers fans' questions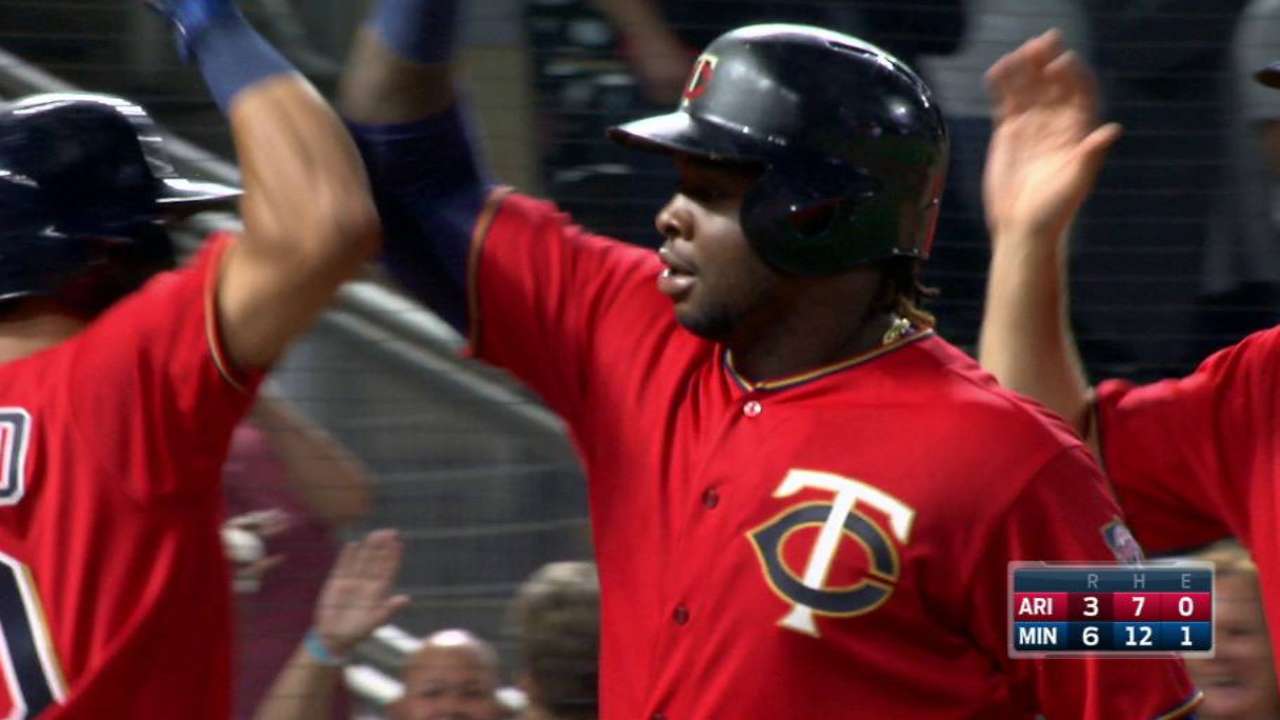 MINNEAPOLIS -- After two straight losses to the Royals to split a four-game series, the Twins enter Monday with a one-game lead over the Angels for the second American League Wild Card spot with 19 games to play.
The offense has helped pick up the slack from Miguel Sano's shin injury, as Eduardo Escobar, Byron Buxton, Jorge Polanco, Joe Mauer and Brian Dozier all have strong numbers since Sano went down with a stress reaction on Aug. 19. But the addition of Sano would be a big boost for Minnesota down the stretch, which leads us to the first question of this week's Twins Inbox.
• Submit a question to the Twins Inbox
With Escobar hot & minor league rehab options dwindling, how do you see Sano easing back into the lineup when/if healthy?

— Terry Anderson (@nater79a) September 10, 2017
Escobar has filled in capably at third with Sano out while showing off surprising power, as he's tied for third in the Majors in homers this month with five. Sano has started to make progress: He's been hitting on the field, taking grounders and participating in running drills at Target Field. But with the Minor League regular season over, there aren't many options for Sano to see live pitching before returning. The Twins could opt for simulated games at Target Field before he returns.
There remains no timetable, but there should be an update on Tuesday when the Twins return home from their seven-game road trip, as Sano has been rehabbing back in Minnesota and wasn't on the road. When he does return, however, manager Paul Molitor said he expects Sano to be limited to designated hitter duty initially, so Escobar will get plenty of time at third before Sano is healthy enough to play the infield, which isn't a guarantee this late in the year.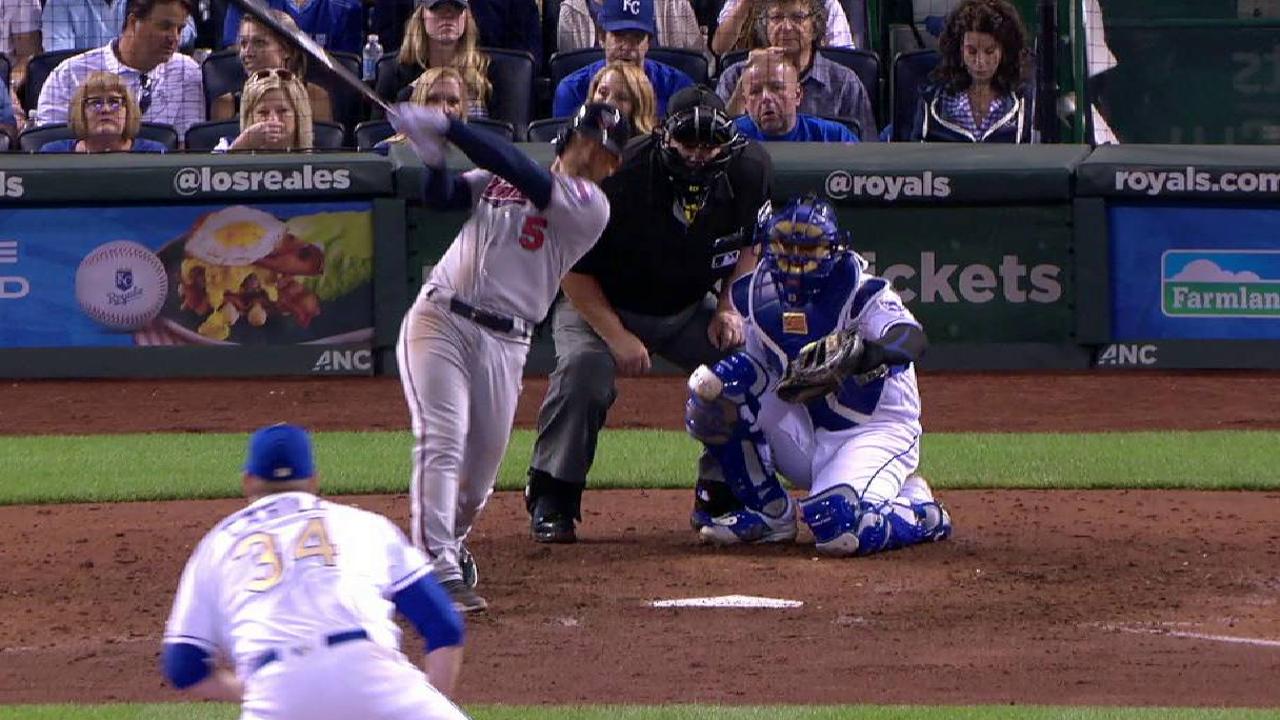 What was said/done by coaches to get Gibby pitching so well the past couple of months?

— Callum Carson (@CallumCarson34) September 10, 2017
Kyle Gibson has been sneaky good since late July, posting a 3.19 ERA over his past eight starts, which has been huge for a rotation that lacks depth. Gibson said he's fixed his mechanics, working to keep his body closed and has been attacking the strike zone more instead of nibbling with his sinker, and the numbers back that up. He's been posting strike percentages well above his career average.
He also got help from Buxton, who stood in at the plate against Gibson after Buxton strained his groin in mid-July, and noticed he was tipping his slider with the way he released the pitch. Once Gibson corrected that, it's allowed him to put hitters away more effectively when ahead in the count.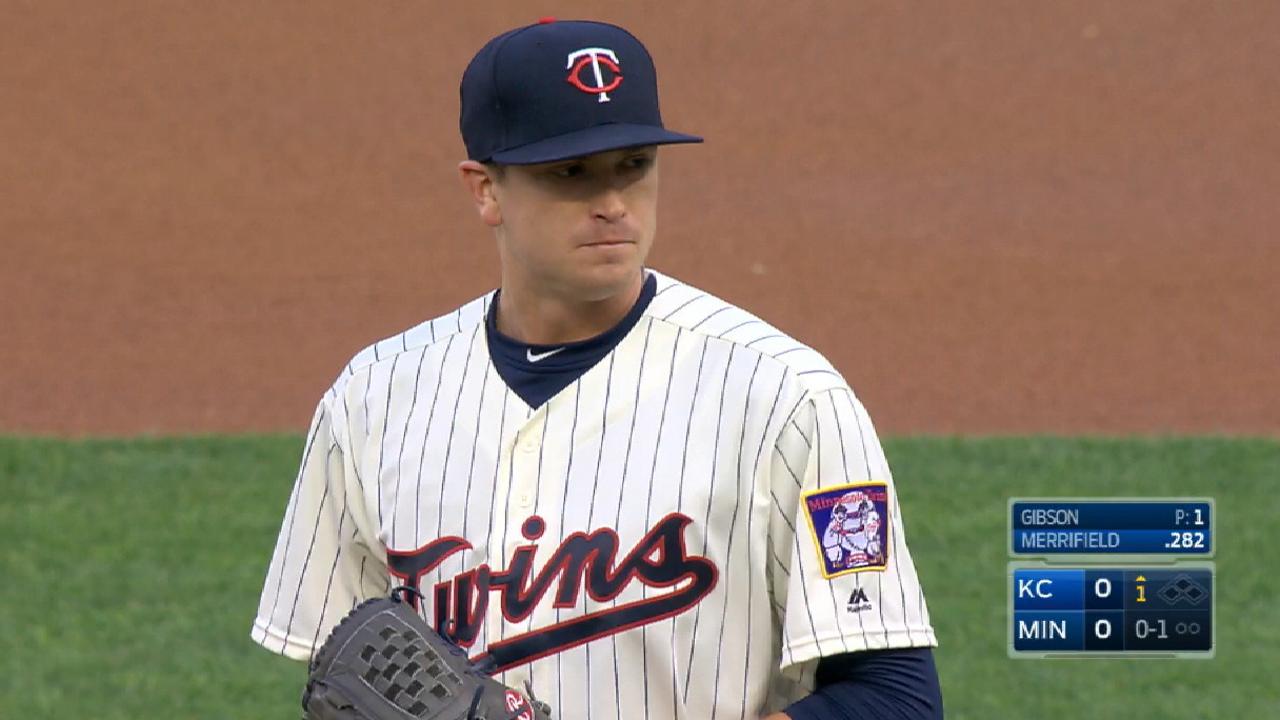 With a (rather unexpected) run at the post-season, what are the Twins' plans this offseason to boost a bigger chance for next year?

— Joe (@joe12miller) September 9, 2017
It'll be a big offseason for the front office, as the Twins will look to supplement their young core via free agency and trade. It's clear that upgrading the rotation and the bullpen will be top priorities, but it'll be interesting to see what avenues they take in terms of acquiring pitching. A right-handed bat who can play outfield and serve as designated hitter would also be a big addition to the club. Minnesota is no longer looking toward rebuilding for the future, so trading assets like Brian Dozier or Ervin Santana wouldn't make as much as sense as it did last offseason when nobody expected them to compete this year.
Where do we rank in attendance? Is everyone else having as much fun as I am with this somewhat surprising success?

— Drew Nonnemacher (@CoachNonne03) September 10, 2017
The Twins are averaging 25,297 tickets sold per game, which ranks 21st in the Majors. Generally speaking, clubs don't see huge attendance bumps until the year after they have a good season. And coming off 104 losses last year, attendance sagged early. But Minnesota is hopeful for strong crowds down the stretch with nine home games remaining, as it averaged roughly 30,000 fans for its three-game series against the Royals before the just-completed road trip.
Are we going to see guys like Reed, Moya, Gonsalves before October?

— Roger Hanover (@wyoming_roger) September 10, 2017
Left-hander Stephen Gonsalves and relievers Jake Reed and Gabriel Moya are certainly intriguing prospects who will be part of Minnesota's future, but Molitor said he doesn't expect any more September callups outside of activating lefty Adalberto Mejia from the disabled list this week.
Where are the twins on winning/losing Alex Meyer Alan Busenitz trade?

— Peter! (@prum36) September 9, 2017
Lefty Hector Santiago and right-hander Ricky Nolasco have struggled since the trade, with Santiago posting a 5.61 ERA in 26 appearances (25 starts) with the Twins and Nolasco posting a 4.56 ERA in 40 starts with the Angels, including a 5.19 ERA this year. It'll be up to how Alan Busenitz and Alex Meyer fare going forward, as Busenitz has been a solid addition to the bullpen with a 1.82 ERA in 24 2/3 innings, while Meyer showed some potential as a starter this year with a 3.74 ERA in 13 outings, but he sustained yet another season-ending shoulder injury and hasn't pitched since July 19.
Rhett Bollinger has covered the Twins for MLB.com since 2011. Follow him on Twitter @RhettBollinger and Facebook. This story was not subject to the approval of Major League Baseball or its clubs.