Fifth starter crucial to Texas' Wild Card hopes
Club needs at least three starts from final rotation spot
ARLINGTON -- The Rangers are down to almost no margin for error in the American League Wild Card race. But they are going to need at least three more starts from a fifth starter and most of their options were on display in a 16-7 loss to the Yankees on Sunday afternoon.
Starter A.J. Griffin got a quick hook in the fourth and took the loss after being charged with five runs in three-plus innings. Nick Martinez took over and could retire just one of six batters in the Yankees' six-run fourth that broke the game open.
The Rangers used rookie Yohander Mendez and deposed fifth starter Tyson Ross to help mop up. Mendez, in his third Major League appearance, allowed three runs (one earned) in 2 1/3 innings.
Ross, whose struggles as a starter helped lead to this predicament, allowed four runs in 2 1/3 innings. The only fifth-starter candidate to not appear Sunday was Austin Bibens-Dirkx.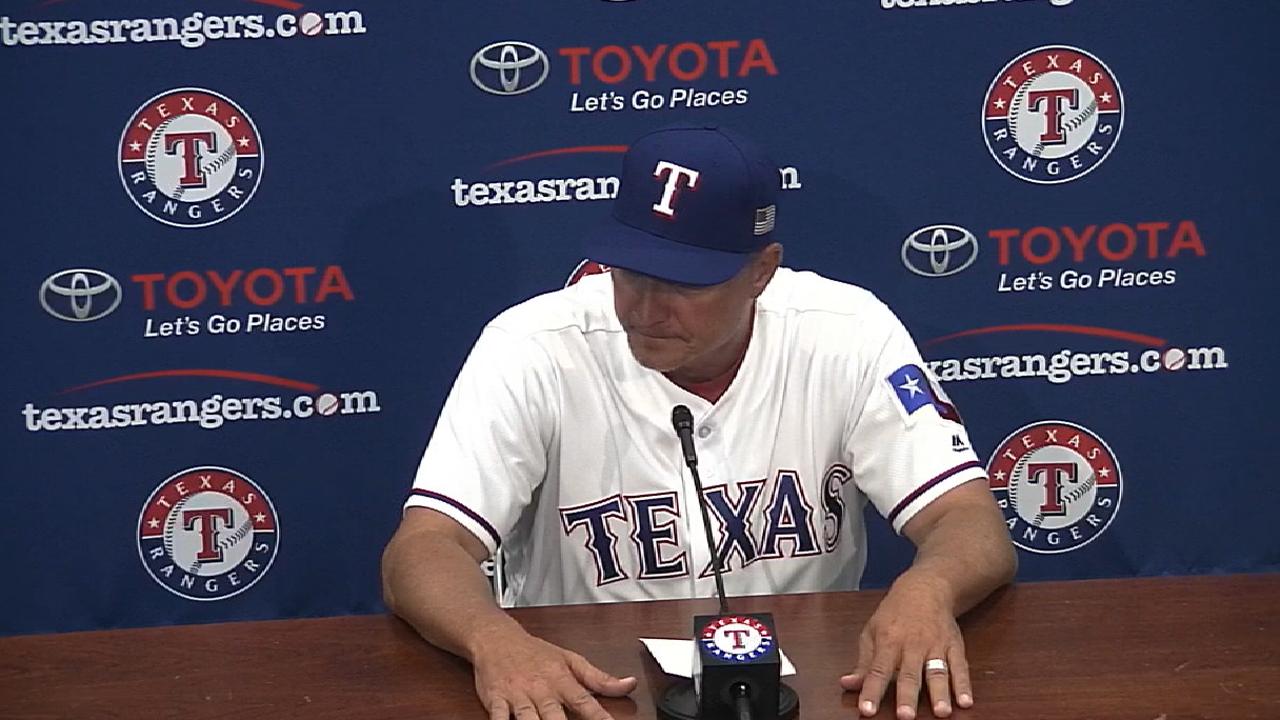 "Obviously we need some quality starts in that spot," Rangers manager Jeff Banister said. "More than anything else, we need quality starts in all those spots whether it's the fifth starter, the first starter or anybody in between from here on out. Then, we do have situations like we did today, the bullpen guys come in and clean things up, help keep things in check and give us an opportunity."
The Rangers have four starters in Cole Hamels, Martin Perez, Andrew Cashner and Miguel Gonzalez. The fifth spot is up in the air and the next assignment will be significant.
Whoever it is will start the first of a three-game series against the Angels on Friday night in Anaheim. He will also have to pitch during a three-game series in Oakland and one more time against the Athletics during the final week in Arlington.
All candidates have had their moments during the season. Griffin has the Rangers only shutout -- against the Padres on May 9 -- but is 0-3 with a 6.88 ERA in his past four starts.
"Whenever my next outing is, I'll go out and do my best like I always do," Griffin said.
Martinez is 3-6 with a 5.40 ERA in 15 starts while Bibens-Dirkx is 2-1 with a 4.72 ERA in six starts. His wins were two of the Rangers' biggest of the season: against the Nationals in Washington and the Yankees in New York.
The Rangers could use some big wins right now. It could also be said the Rangers could use Yu Darvish, but he is 2-3 with a 5.34 ERA in six starts since being traded to the Dodgers.
T.R. Sullivan has covered the Rangers since 1989, and for MLB.com since 2006. Follow him on Twitter @Sullivan_Ranger and listen to his podcast. This story was not subject to the approval of Major League Baseball or its clubs.