Orioles hope to get speedy Gentry back soon
Outfielder slated to have fractured finger examined Monday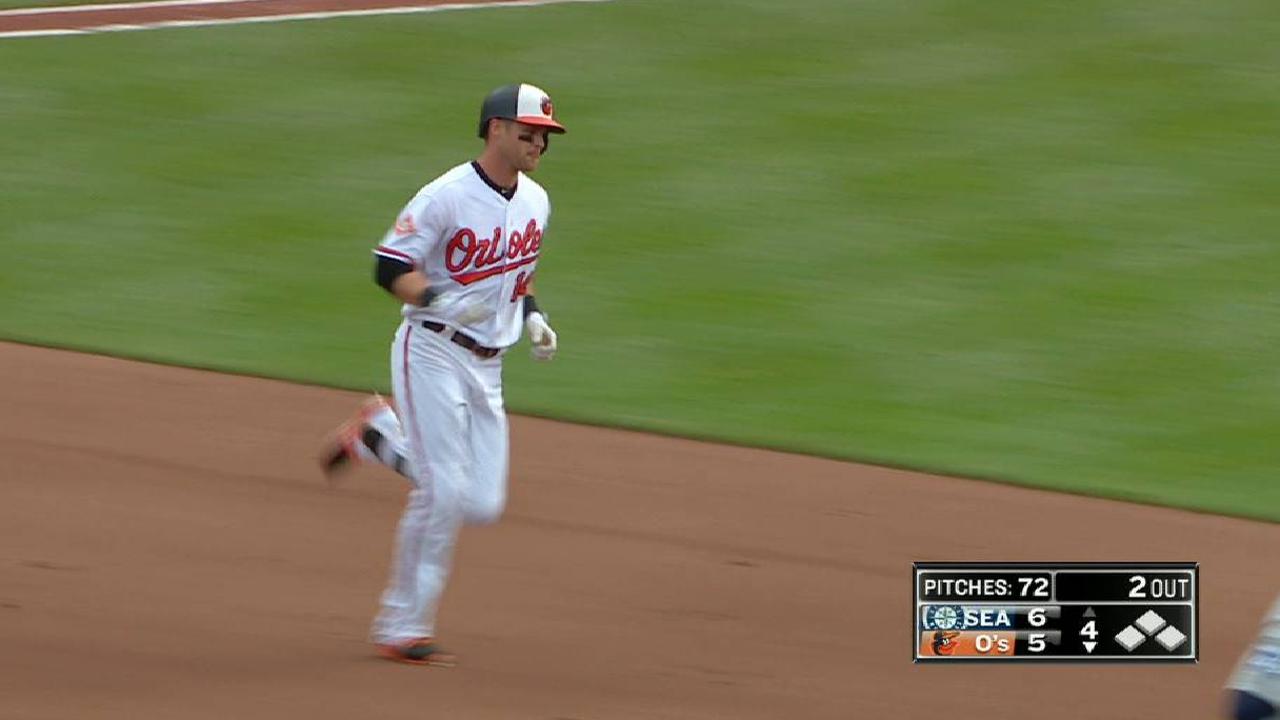 CLEVELAND -- Prior to their Sunday night matchup with the Indians at Progressive Field, Orioles manager Buck Showalter offered some potential good news on the status of injured outfielder Craig Gentry.
Showalter said that Gentry -- who has been on the 10-day disabled list since Sept. 2 with a fractured right middle finger -- will meet with a doctor on Monday to determine if he can rejoin the team when he is eligible to do so on Tuesday.
"Because he's seeing a doctor on Monday, he's eligible on Tuesday," Showalter said. "We're hoping that the doctor clears him on Monday and he'll join us in Toronto and be, at the worst, a pinch-runner."
Gentry sustained the injury during a bunt attempt in the third inning the team's 1-0 win over the Blue Jays on Sept. 1. Although he finished the at-bat, which ultimately ended in a strikeout, he was removed from the game shortly thereafter.
In 74 games with the Orioles this season, Gentry has posted a slash line of .257/.333/.386 with two homers, five doubles, a triple, 11 walks, 11 RBIs and 17 runs scored. Although he may not be cleared to swing a bat, Baltimore values Gentry's speed, as he has gone 5-for-8 in stolen-base attempts this season.
"Some ask, 'Why isn't he just pinch-running?' Well he couldn't slide the way it was," Showalter said. "If that ligament's reattached, then the risk factor goes away."
The O's skipper said that the team misses having Gentry around, and is hoping for the best when he meets with the doctor on Monday.
"They've got an X-ray machine where they can have the X-ray as you're moving it, and they'll be able to tell if he will be in harm's way with the risk of re-injuring it," Showalter said. "So I'm hoping we get good news on Monday. We've missed him."
Worth noting
Before Sunday's game, the Orioles changed the order of their starting rotation for their upcoming series against the Blue Jays. Kevin Gausman was initially slated to start on Tuesday with Dylan Bundy taking the mound the following day, but Showalter opted to bump Bundy up a day and have Gausman start Wednesday's series finale.
Showalter said that Gausman has a blister on his pitching hand.
"Kevin's had a blister issue that would be fine, but we have the luxury of giving him an extra day," the manager said. "Dylan's got plenty of rest. So I just thought we'd give him one more day. I like to give Kevin an extra day when I can. We don't have that luxury very often."
William Kosileski is a reporter for MLB.com based in Cleveland. This story was not subject to the approval of Major League Baseball or its clubs.