MLB.com Columnist
Bill Ladson
What's next for Nats? Trying to run down LA
Washington still trying to gain home-field advantage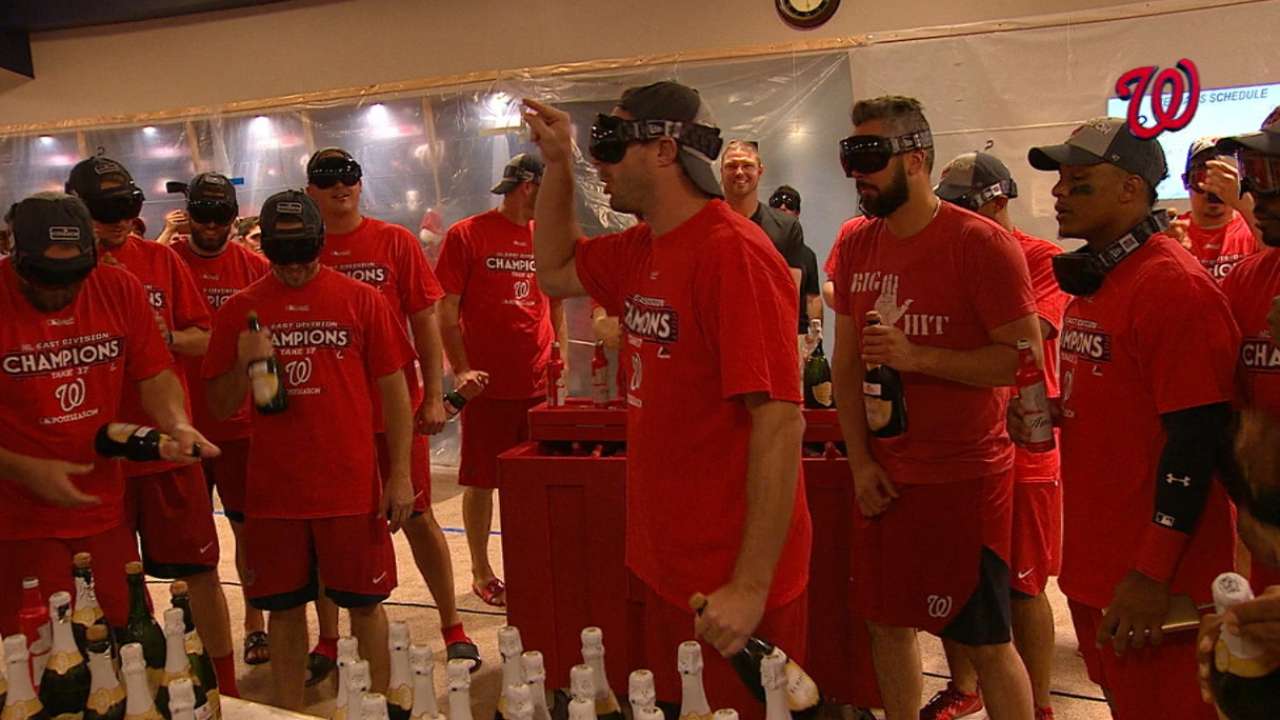 WASHINGTON -- The Nationals became the first of six big league teams to win a division title this season on Sunday, after they defeated the Phillies, 3-2, at Nationals Park and the Braves beat the Marlins in Atlanta hours later. It is the fourth National League East title for Washington in the last six seasons. But don't expect the Nationals to relax for the rest of the regular season.
The Nationals are still fighting for the best record in the Major Leagues. If they can pull it off, the Nationals would have home-field advantage throughout the postseason.
Heading into Monday's action, the Nationals (88-55) are four games behind the Dodgers (92-51) for the top record in the Major Leagues. The two teams face off in a three-game series beginning Friday at Nationals Park. The Nationals took two of three games from the Dodgers in June.
"A month ago, [when] people were saying, 'Let's do better than the Cubs because you are not going to catch L.A.,' I didn't say anything," Nationals manager Dusty Baker said. "I thought in my mind, 'You never know what can happen.' Next thing you know, you are right there with them. [Houston] looked like they were miles ahead of us. We just want some momentum."
If Washington ends up with the best record, it will face the winner of the NL Wild Card Game and that NL Division Series would start on Oct. 6. The D-backs, who are five games up on the Rockies for the NL's top Wild Card, begin a series with Colorado on Monday.
The Nationals took four of six games against the D-backs, while Washington won the season series, 4-3, against the Rockies.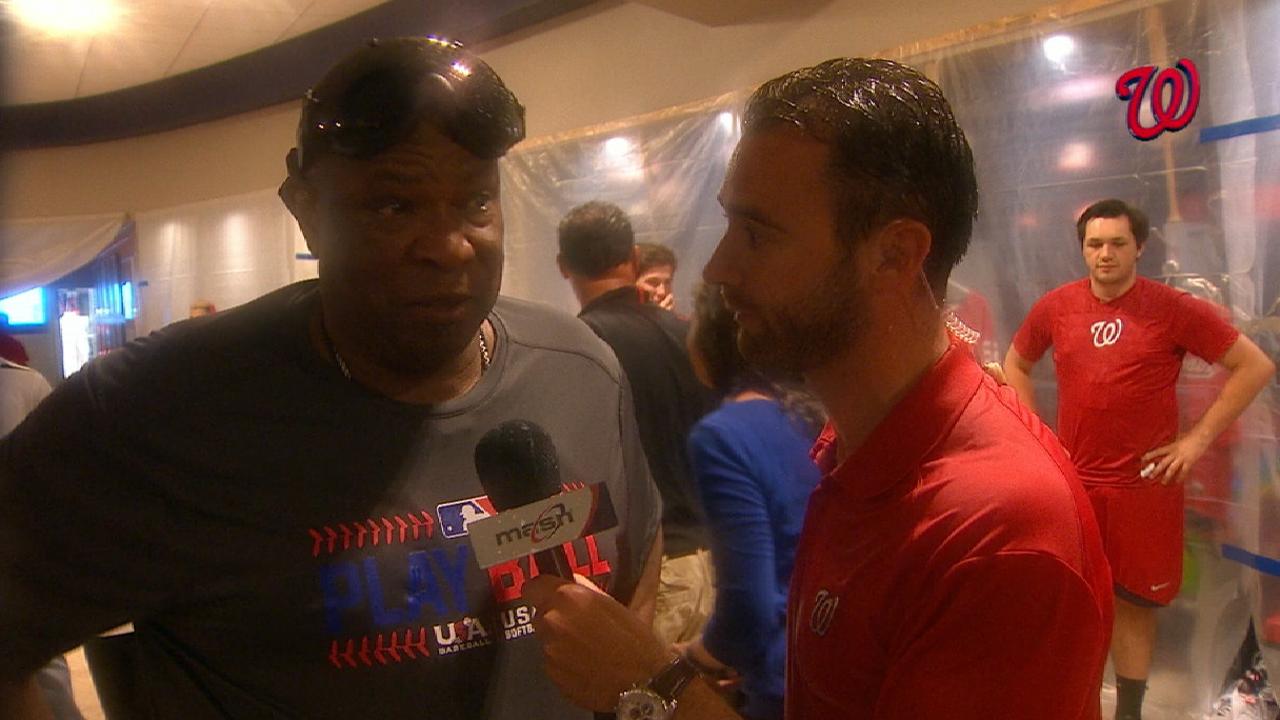 If the Nationals don't end up with the best record, they will likely play the winner of the National League Central. The Cubs could be that likely opponent. Even in that regular-season series, the Nationals had the advantage, winning four of seven games.
Once they enter the postseason, general manager and president of baseball operations Mike Rizzo believes the outcome will be different than it was in 2012, '14 and '16. Those three teams were eliminated in the Division Series. Rizzo believes the Nationals have a much more balanced club than they've had in the past.
"I think it's the most efficient team we've had," Rizzo said. "We are really good with runners in scoring position. We score runs from third base without getting a hit. We don't strike out as nearly as much as we did in '12, '14 and '16. We have more ways to score. Our rotation is our rotation, which is as good as it gets. There's none better. Our bullpen is really strong and our bench is second to none."
Said outfielder Jayson Werth, "This is the year that I feel like the organization took all the steps to ensure we have all the weapons that we need in October. As far as weapons go, we've never been this deep with this many weapons going into October."
In order to go far into the playoffs, the Nationals need to get healthy.
Their best player, Bryce Harper, is still dealing with a hyperextended left knee, an injury he suffered while slipping on first base on Aug. 12. As of Sunday, Harper was playing catch, but there is no timetable as to when he will be back on the field.
Harper's agent, Scott Boras, seems to think that Harper will be ready for the playoffs.
"He is throwing. Our goal is for him to take his time so he is ready for the playoffs," Boras said in the MLB.com podcast, Newsmakers. "He really lucked out."
Werth is dealing with a shoulder injury, but believes he will be back on the field in a week. Brian Goodwin is dealing with a groin injury and he recently had a setback. There is no timetable for when he'll return.
"You get some guys back healthy, man, it would sure be great to get Jayson Werth back to 100 percent, Goody and Bryce Harper back," Baker said.
Werth would like to see the team win it all for Baker, who is looking to win his first World Series title as a manager.
"He deserves a World Series. He is first class. He is a baseball guy. He has been around forever," Werth said. "The only thing we need to put on his resume is a World Series ring. I want to be part of the group that does it for him."
Bill Ladson has been a reporter for MLB.com since 2002 and does a podcast, Newsmakers. He also could be found on Twitter @WashingNats. This story was not subject to the approval of Major League Baseball or its clubs.