L. Adams goes from no invite to walk-off hero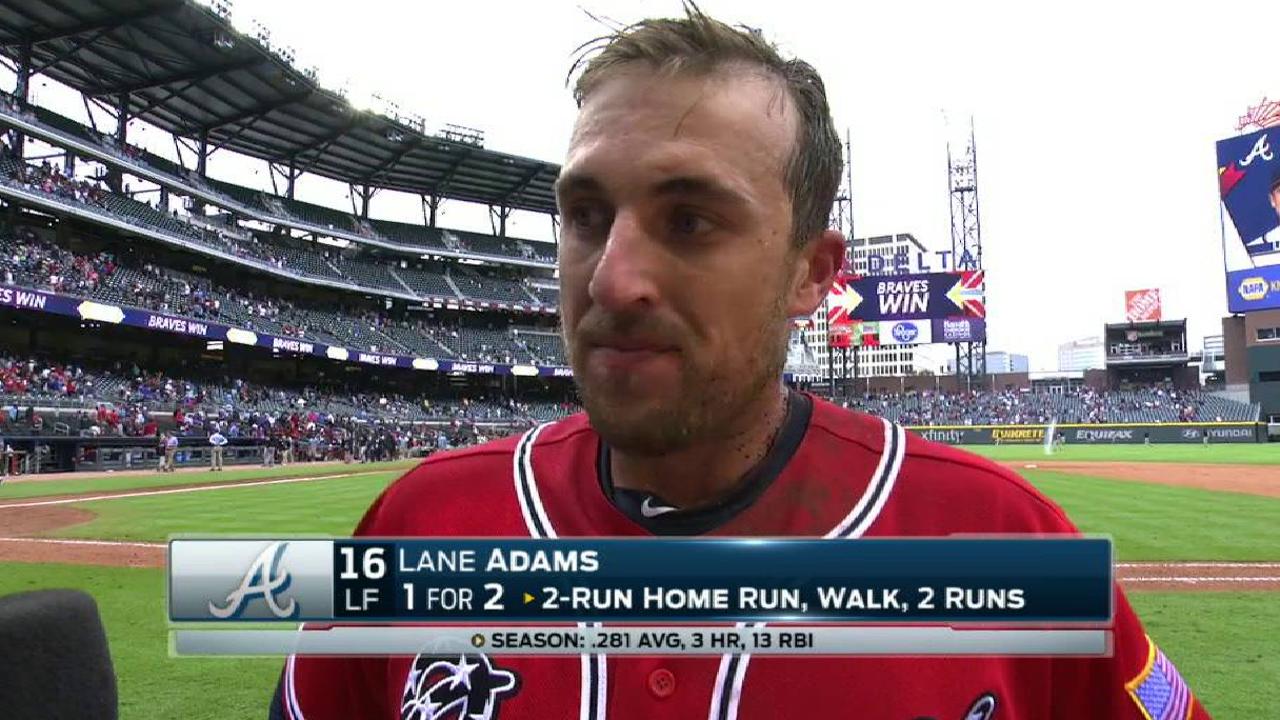 ATLANTA -- As the ninth and 10th innings elapsed at SunTrust Park on Sunday afternoon, Lane Adams and Jace Peterson sat side by side on the Braves' bench and attempted to predict who would deliver a walk-off home run.
The pair predicted the decisive shot would be delivered by Rio Ruiz, whose game-tying, two-out, two-run single in the ninth created a chance for more predictions to be made. Adams stepped to the plate in the 11th and delivered what he claimed to be the first walk-off homer of his life to give the Braves a 10-8 win over the Marlins.
"It was exciting," said Adams, who replaced an injured Matt Adams as a pinch-runner in the fifth inning. "It's kind of what you play for, those big situations. The past couple nights, I've had an opportunity to get the job done and wasn't able to."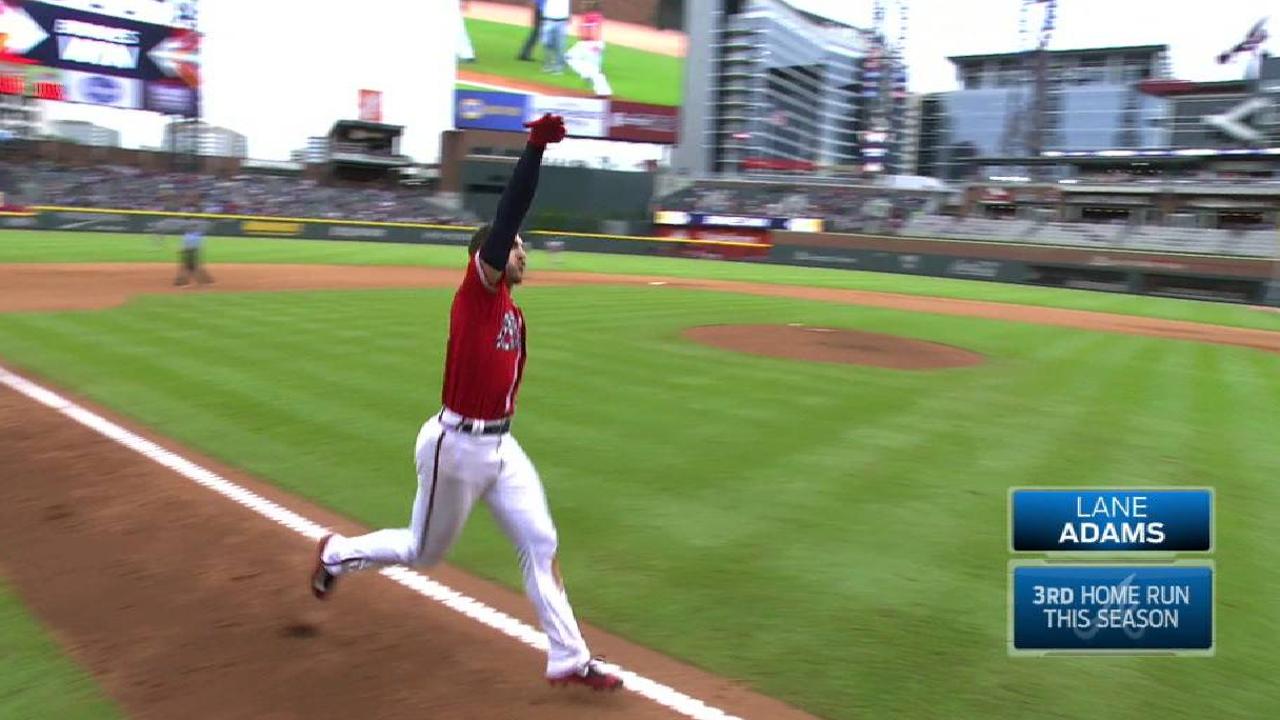 Less than 24 hours after producing a ninth-inning grounder that resulted in an out at the plate but did not prevent the Braves from claiming Saturday night's walk-off win against the Marlins, Adams added to the splendor of this season when he drilled Vance Worley's first-pitch fastball into the left-center-field seats. The memorable shot traveled a projected 419 feet per Statcast™, and Adams made his 360-foot round trip back toward the plate feeling like he was on top of the world.
"He's been a nice little weapon to have," Braves manager Brian Snitker said. "He's got that speed, and he's not scared on the bases. The thing the guy does is if you pinch-hit him, he goes up there and gives you three good whacks and gives himself a chance."
Adams didn't receive an invite to big league Spring Training with the Braves, but he made enough of an impression during the Grapefruit League season to receive a call to be promoted to the Majors in April. His stay proved to be temporary, just like the one he received in his only previous MLB stint, which lasted three at-bats over six games for the 2014 Royals.
"There's a lot of guys at Triple-A who could probably play at this level," Adams said. "It all comes with opportunity and timing, being at the right place at the right time. I was fortunate to be given an opportunity at the right place and the right time."
Adams contemplated ending his baseball career during his eighth Minor League season last summer. His decision to keep playing has been rewarded, as he has been a mainstay on Atlanta's bench since returning from Triple-A Gwinnett in June.
#ChopOn pic.twitter.com/GDE28ljoUn

— Atlanta Braves (@Braves) September 10, 2017
Provided a chance because of his speed and outfield versatility -- an asset in the National League -- Adams has batted .281 with three home runs and an .851 OPS through 74 plate appearances. He hasn't been a frequent on-field fixture for the Braves this season, but his attitude and approach have earned him respect in the clubhouse.
"He's the man for the job in my opinion," Braves catcher Tyler Flowers said. "I think he's pretty ideal for the role he has played. He's got an upbeat attitude and he's a tremendous worker. He's ready in the third inning sometimes. He wants it and he embraces that pinch-hitting role. It's hard to find guys that like that and take on that challenge."
Mark Bowman has covered the Braves for MLB.com since 2001. This story was not subject to the approval of Major League Baseball or its clubs.