Maldonado proving invaluable to Angels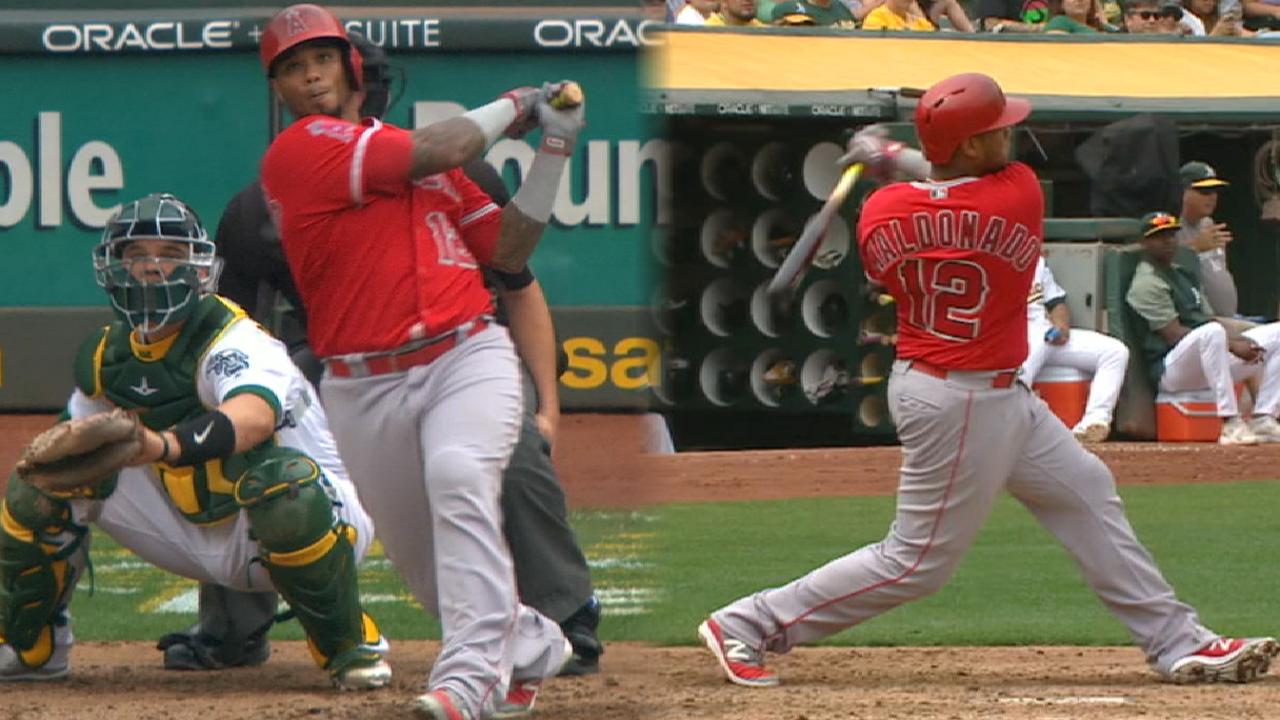 SEATTLE -- It's customary for starting catchers in the Major Leagues to get day games off after they played the previous night, but Martin Maldonado caught Saturday and was penciled in for Sunday afternoon's series finale against the Mariners. The Angels won, 5-3.
It was a subtle reminder of how valuable Maldonado has become in his first season as a full-timer.
Maldonado came to the Angels in a December trade after parts of six seasons as the Milwaukee Brewers' backup catcher. Prior to this season, he had career highs of 233 at-bats (2012) and 79 games (2015). After Sunday, he was at 389 at-bats and 123 games.
The Angels wagered that Maldonado, who always had one of the best throwing arms from behind the plate, was starting catching material at the age of 30, and they have been proven correct.
"I think he's holding up very well and we'll continue to monitor it," said Angels manager Mike Scioscia, a former All-Star catcher who often speaks about how success in baseball begins and ends with the pitcher-catcher relationship.
"But he's still doing things at a very high level that we need. Physically, he's always had the potential to do this, and mentally he hasn't skipped a beat. He's been terrific."
Maldonado has not been an offensive force -- after Sunday he was slashing .224/.284/.378 -- but he has hit 14 home runs and 16 doubles. Again, however, this is not the priority from the backstop position under Scioscia. Maldonado's 39.1 percent success rate in throwing out basestealers, which ranks second in the American League, is one tangible number that helps explain his MLB-leading 123 games caught.
"I don't think there's a catcher in the league that doesn't have some fatigue through attrition," Scioscia said. "But he's still doing the important things for us back there and he certainly isn't a risk with the workload where it is.
"On the offensive side, it's a long season and at times he's had some hot and cold spells, but as far as his game plan, the way he's worked with pitchers and behind the plate, he's been a major influence on why a lot of our pitchers have performed at a high level. And that's the biggest thing that a catcher needs to bring."
Doug Miller is a reporter for MLB.com. Follow him on Twitter @DougMillerMLB. This story was not subject to the approval of Major League Baseball or its clubs.