Syndergaard takes a step back in lat rehab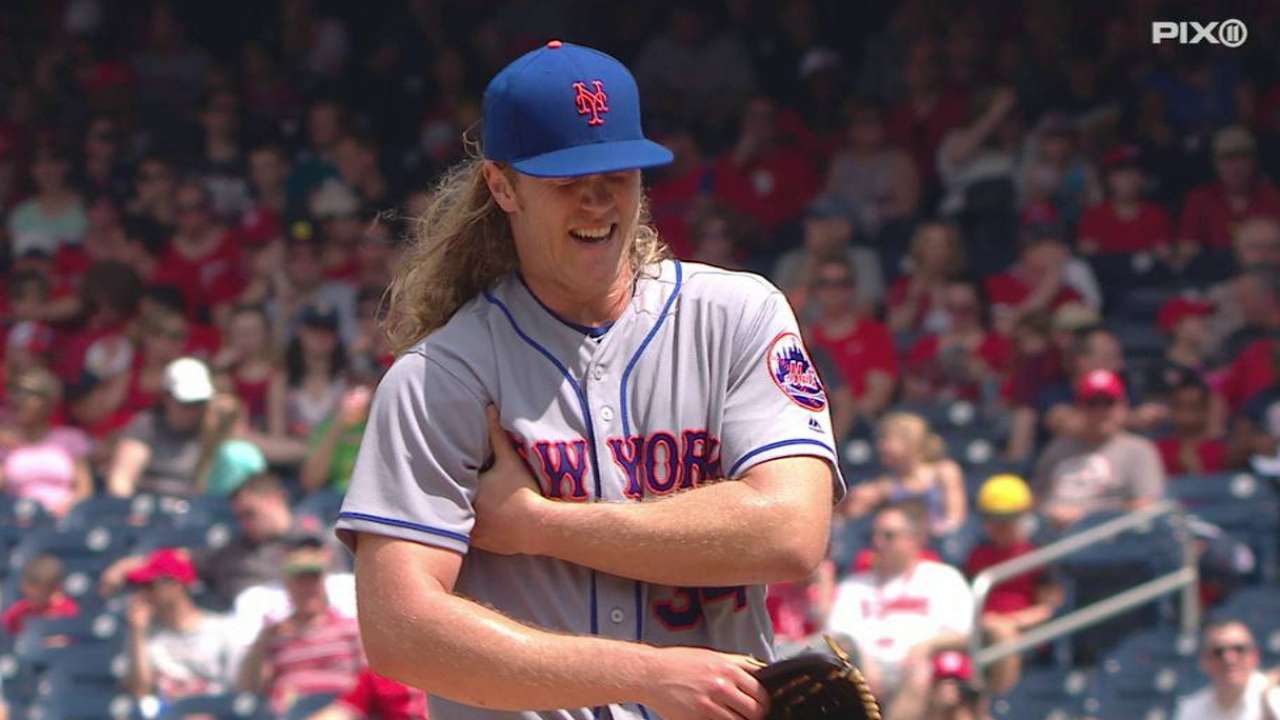 NEW YORK -- Still sore following his two-inning rehab stint at Class A Short Season Brooklyn on Thursday, Noah Syndergaard postponed the 50-pitch simulated game he was scheduled to throw Sunday at Citi Field. The Mets have shut Syndergaard down for at least two days, in hopes that he can return to the mound for a side session Tuesday in Chicago.
"We aren't going to push him," manager Terry Collins said. "We'll go at his pace, and how he feels."
Syndergaard, who has not pitched in the Majors since April 30 due to a strained right lat muscle, allowed three runs in two innings of his second Minor League rehab start Thursday in Brooklyn. He complained of general body soreness following that start and lobbied to throw a bullpen session in spite of it, but the Mets denied his request, according to Collins.
"Why push this right now? So we're not going to push it," Collins said. "We're going to wait the proper amount of time to see where he's at. We are still hoping, and think it's important that by Oct. 1, this guy can pitch in a game. Will he? We don't know. But we hope to get him to that point."
Collins said multiple times that he considers a return to the mound important for Syndergaard, provided the right-hander's body can handle it. A preseason National League Cy Young Award candidate, Syndergaard made just five starts prior to his injury, going 1-2 with a 3.29 ERA. He has talked about revamping his offseason workouts to focus more on flexibility, though Syndergaard has no plans to ditch the heavy weightlifting regimen for which he is known.
Like Matt Harvey, who returned from a lengthy stint on the disabled list last weekend in Houston, Syndergaard also feels it is important to make at least a start or two down the stretch.
"The upside is when he goes in the wintertime, he knows that all he has to do is worry about getting ready for Spring Training, and not have to rehab," Collins said. "The rehab process, which started to take place at the end of April, hopefully has reached its course to where he can get back on the mound and say, 'I am healthy. Now I can go into the winter and do my thing.'"
Anthony DiComo has covered the Mets for MLB.com since 2008. Follow him on Twitter @AnthonyDiComo and Facebook, and listen to his podcast. This story was not subject to the approval of Major League Baseball or its clubs.