Rockies building momentum vs. Dodgers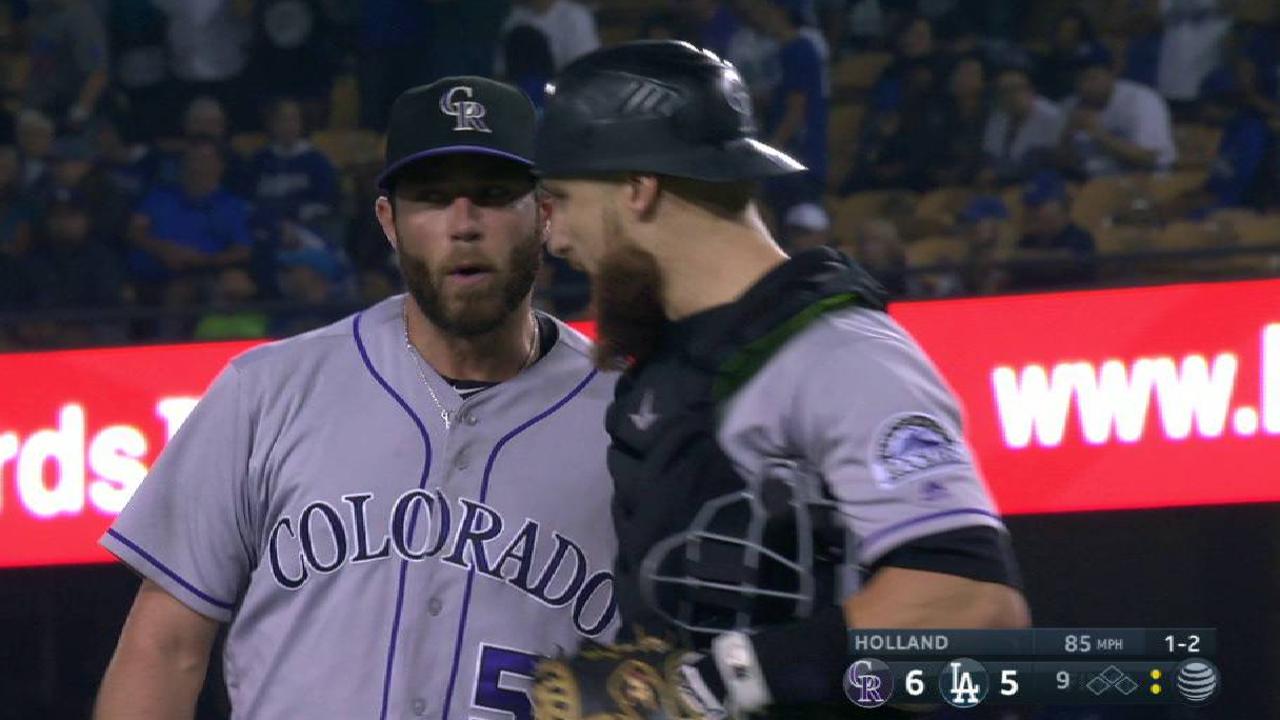 LOS ANGELES -- Rockies manager Bud Black is quick to mention he can't speak for the team's past, this being his first season as Colorado's manager. But that recent past has certainly been filled with tough times against the Dodgers, especially at Dodger Stadium.
The Rockies continued to turn the tide on their National League West rival Saturday, securing the four-game series with a 6-5 win.
"You can definitely build a lot of momentum with wins like this," said Trevor Story, who hit his 20th homer of the year in the second and drove in three runs. "We felt like last time we came in here they beat us up a little bit, so I think we're definitely building off these wins."
Entering the series, the Dodgers were 26-8 against the Rockies since the beginning of the 2014 season, the best winning percentage of any team in the Majors against a division opponent in that span. With Friday's victory, they picked up their first back-to-back wins at Dodger Stadium since September 2013.
"We're rolling right now," right-hander Chad Bettis said. "... The atmosphere at [Dodger Stadium] is really good, especially on weekends. It's always fun to come here and at least take three of four and go for one more tomorrow."
Bettis allowed four runs (three earned) while striking out five over five innings. The bullpen then aided him in picking up his first win since returning from a battle with testicular cancer, the relievers also thriving off the sellout crowd at Dodger Stadium.
"For a lot of the guys who've never been in a playoff atmosphere, this is kind of what is," said Jake McGee, who contributed a scoreless eighth.
"I think the rest of the season is going to be like this for us and we've been thriving since we've gotten here."
Greg Holland locked down his NL-leading 39th save of the year, preserving the team's second one-run win in as many nights.
"We felt like earlier in the year we were winning every close game," Story said. "These last three have been pretty close, so that's a good sign of where we want to be."
The Rockies started to shift the rivalry's momentum earlier this year, winning five of the first nine games. But the Dodgers swept a three-game series at Dodger Stadium in late June, their last meeting prior to this set. The Rockies were outscored 22-7 that series.
Their revival against the Dodgers has placed them five games back of the D-backs for the first NL Wild Card, with a four-game series at Chase Field starting Monday.
"These are three good wins as we get late into September," Black said. "I think we battled hard. We had a couple miscues later in the game, but our guys hung in there."
Ryan Posner is a contributor to MLB.com and covered the Rockies on Saturday. This story was not subject to the approval of Major League Baseball or its clubs.