Albers makes strong bid to stay in rotation
Lefty tosses six scoreless innings in win over Angels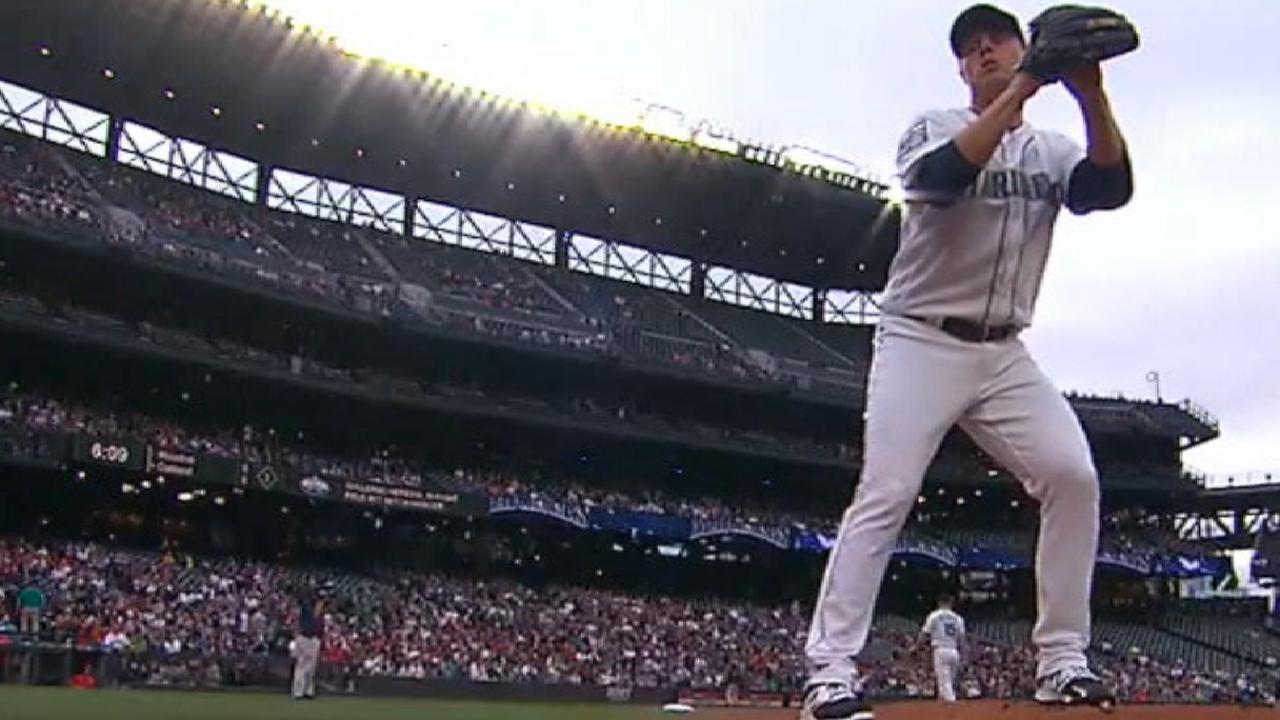 SEATTLE -- If there's anything akin to a job interview for a club, it's been this series of starts for the Mariners' rotation.
And during Andrew Albers' turn, he aced it.
With rotation spots to be freed-up with starters James Paxton and Felix Hernandez set to return from the disabled list next week, Albers earned his fourth win and third quality start in five outings this season with six shutout innings, scattering four hits and striking out four in the Mariners' 8-1 victory over the Angels on Saturday.
Albers has allowed three or fewer earned runs and has gone five-plus innings in all five of his starts since being acquired on Aug. 12 from the Braves.
He's making a case to remain in a starting role.
"He was outstanding," Mariners manager Scott Servais said. "I can't say enough about the job he's done since he's come in here. Just his ability to attack the strike zone. He's doing it consistently, he's giving us a chance to win going deep in ball games. There were some long delays tonight with our rallies and the pitching changes they made on their side."
Albers' continued a run of quality starts from Mariners starters. Seattle pitchers have compiled seven quality starts in eight September outings, Albers has chipped in two of them with only one earned run allowed in his last 12 innings.
"I couldn't be any happier for him," Servais said. "When you go through the journey that he has throughout his career, those guys I think they appreciate the opportunity and I think they appreciate when they're doing well, because they tear themselves up when they aren't going well.
"Exactly what we need when we went out and acquired him. Great job by [general manager] Jerry Dipoto and our front office recognizing a guy like that just needed an opportunity and we certainly had one at that time. We'll keep him going and we'll take as many of those outings as we can get."
Servais and the Mariners' front office will have a tough decision on their hands.
One of the needed vacated rotation spots will be supplied by Andrew Moore, who made a spot start on Thursday. The other will have to come by bumping Ariel Miranda, who pitched six hitless inning on Wednesday, or Erasmo Ramirez, who has a 2.40 ERA in his last five starts and gets the nod Sunday, or Albers.
Fixating on what he can control and just enjoying the moment is what's led to much of Albers' success. And he'll continue to do that no matter what happens.
"Obviously, it's pretty fun right now," Albers said. "... getting to be apart of this Wild Card chase, and I'm just really enjoying it. I can't really explain it. I'm just trying to have a lot of fun. And so far, I am."
Josh Horton is a reporter for MLB.com based in Seattle. This story was not subject to the approval of Major League Baseball or its clubs.