Barreto leads A's young charge in Game 2 win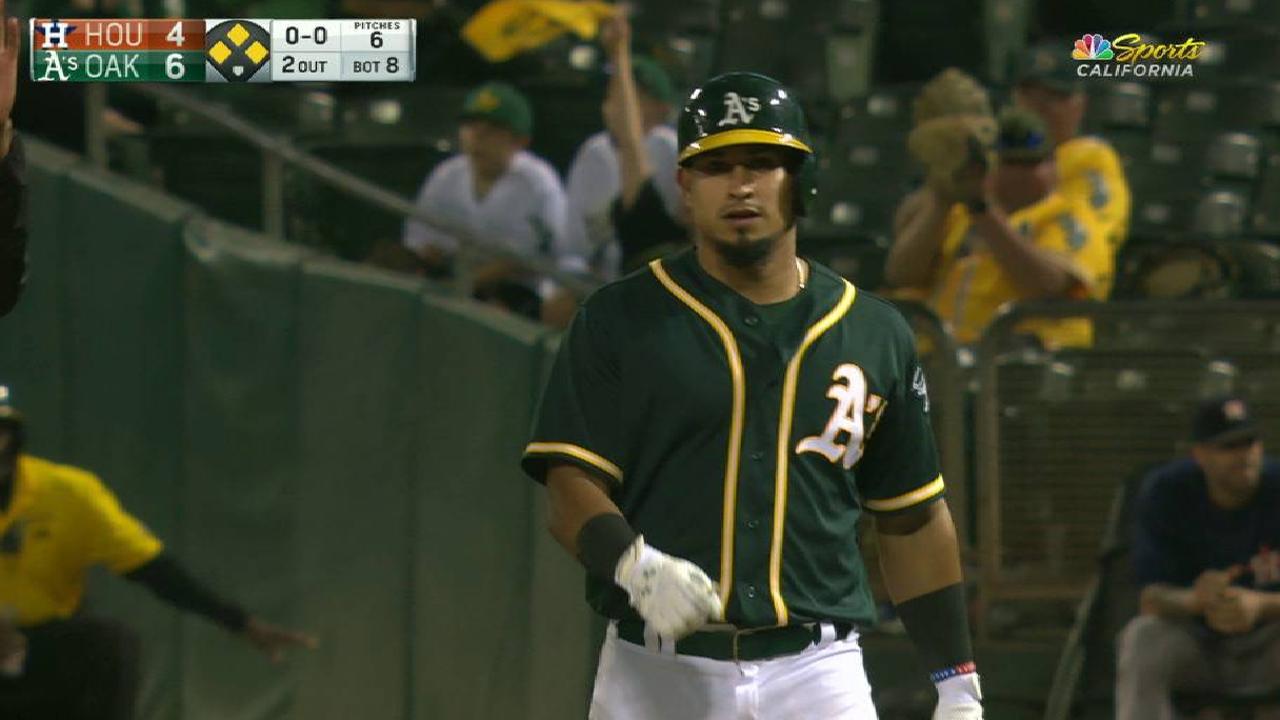 OAKLAND -- A's right fielder Chad Pinder doesn't mince words when he talks about Franklin Barreto's future with the organization.
After Oakland's 11-4 triumph for a doubleheader sweep over the Astros on Saturday, he has good reason. Barreto, the team's No. 1-ranked prospect, according to MLBPipeline.com, collected his first hits since his Sept. 1 recall, going 2-for-4.
"He's an electric player," said Pinder, who homered twice in Game 2. "He's going to be an incredible player for a long time. He's one of the best people to play with, too. He's one guy that is very, very easy to root for. He's a special talent but also a special human being."
After strikeouts in the third and fifth innings, Barreto delivered a key triple in the seventh and legged out an infield single in the eighth to keep Oakland's rally alive. Without Barreto's two-out effort, the inning would have ended abruptly -- without any runs on the board. The A's went on to score six insurance runs, including a run on Barreto's single.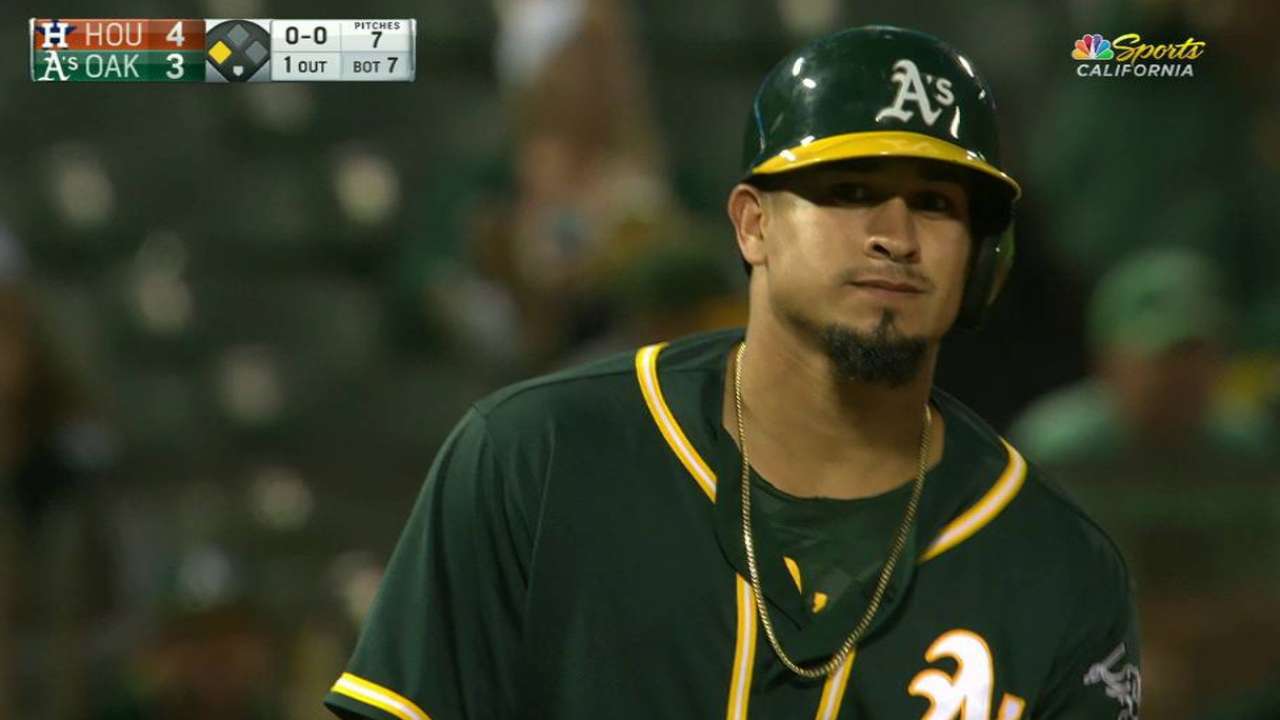 "I knew there it was a hit they were going to be able to make a play on," Barreto said through a team interpreter. "I just got out of the box and did my best to get to first on time."
Barreto said he changed his approach at the plate to succeed against an Astros team destined for the postseason.
"The first two at-bats felt a little rushed and uncomfortable at the plate," Barreto said. "Kind of let the at-bats come to me and get better pitches to hit. That's exactly what I did."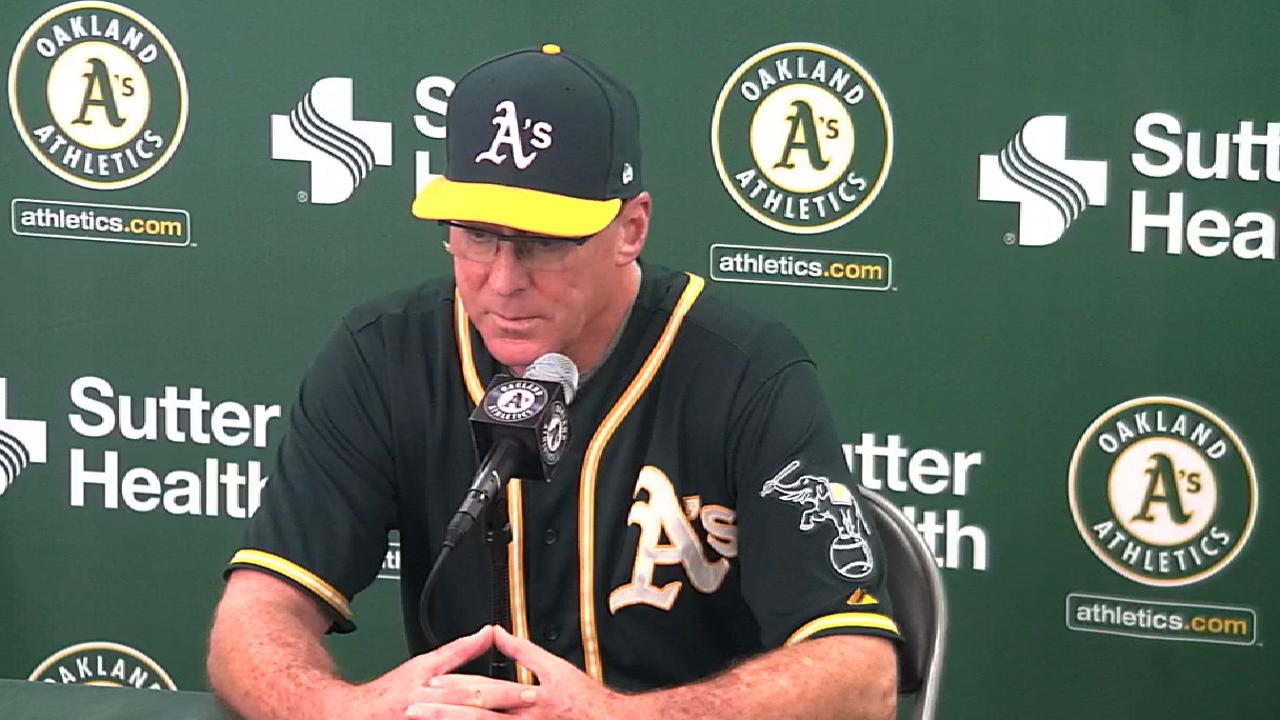 Barreto knows his playing time might come sporadically, but he's ready whenever A's manager Bob Melvin calls on him, like he did Saturday along with a handful of other rookies. Melvin planned to overhaul the lineup with an eye toward the future -- keeping some veterans out for the nightcap.
"We've been playing together for two years and it's great to be around them and do this, and get good results," Barreto said. "It's always exciting to be around these guys."
Added Pinder: "He should know that every single person in this clubhouse has the upmost confidence in him. He's a huge piece of the puzzle going forward."
Jonathan Hawthorne is a reporter for MLB.com based in the Bay Area. This story was not subject to the approval of Major League Baseball or its clubs.