With big lead, Sale K's 8 in 97-pitch outing
Sox pull lefty after 6 innings, will pick spots to get ace rest ahead of postseason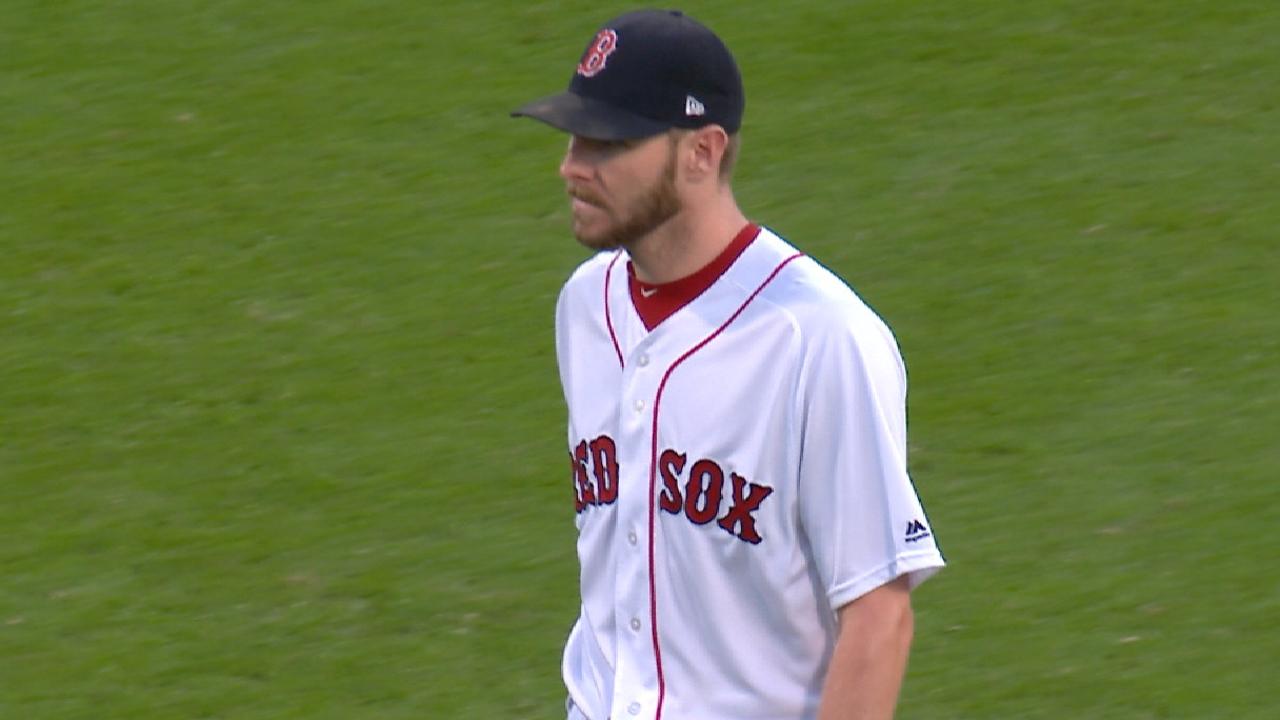 BOSTON -- For the first time in Chris Sale's career, he is likely to have more games to pitch once the regular season ends. And that's why the Red Sox will do what they can to pick their spots with the lefty ace for these last three weeks in the regular season.
There will be no complaints if a couple of more nights like Saturday come along. Not only did Sale dominate as the Red Sox stifled the Rays, 9-0, but the outcome never seemed in doubt after the first inning.
That gave manager John Farrell the chance to remove the invaluable ace after six innings and 97 pitches. It came as Sale was pitching with an extra day of rest due to a team off-day Thursday, and leading up to his next start he will again get five days off before taking the ball next on Friday.
"It's nice," said Sale. "Especially this time of year, these are when they start tacking on so any added rest of little boost helps. Having that off-day there re-energized everybody to come back and get after it."
For the first time this season, Sale was in a mini-slump, having lost three of his last four starts.
But he was crisp throughout Saturday's eight-strikeout performance, providing an indication there is still plenty left in the tank for the pitcher who leads the American League with 195 2/3 innings so far this season.
"I feel good," said Sale. "I've got a lot of good people in my corner with the training staff and guys in the weight room. I think we've done well this year doing some things to back off and get on it when we need to. It's been working well. Obviously, I'm bouncing off them and relying on those guys in there. It's been working out well so far, just trying to keep it rolling."
Though the 81-61 Red Sox lead the Yankees by 4 1/2 games in the AL East with 20 games left, Farrell isn't at the point where he can plot structured downtime for Sale.
"We haven't even approached that. We're not taking anything for granted," said Farrell. "We'll take advantage of the off-days for one, trying to find spots where we can hopefully cut back the pitch count, which, again, was tonight. We can't predict what's going to come up, but it's just a matter of picking our spots where we can give him some additional rest."
Though Sale was pleased his team won on Saturday, he expressed concern for his friends and family members back in his home base of Southwest Florida, which is bracing for Hurricane Irma.
"I think everyone knows that thing is going right where I live," said Sale. "It's rolling. Everybody in my family lives down there. My family, my wife and kids came up here. My in-laws are staying with my sister and my parents are getting out of there tomorrow. Everyone is safe but it's still scary. You just hope for the best."
Ian Browne has covered the Red Sox for MLB.com since 2002. Follow him on Twitter @IanMBrowne and Facebook. This story was not subject to the approval of Major League Baseball or its clubs.