Godley strikes out nine in seven strong innings
D-backs right-hander allows two runs on four hits without a walk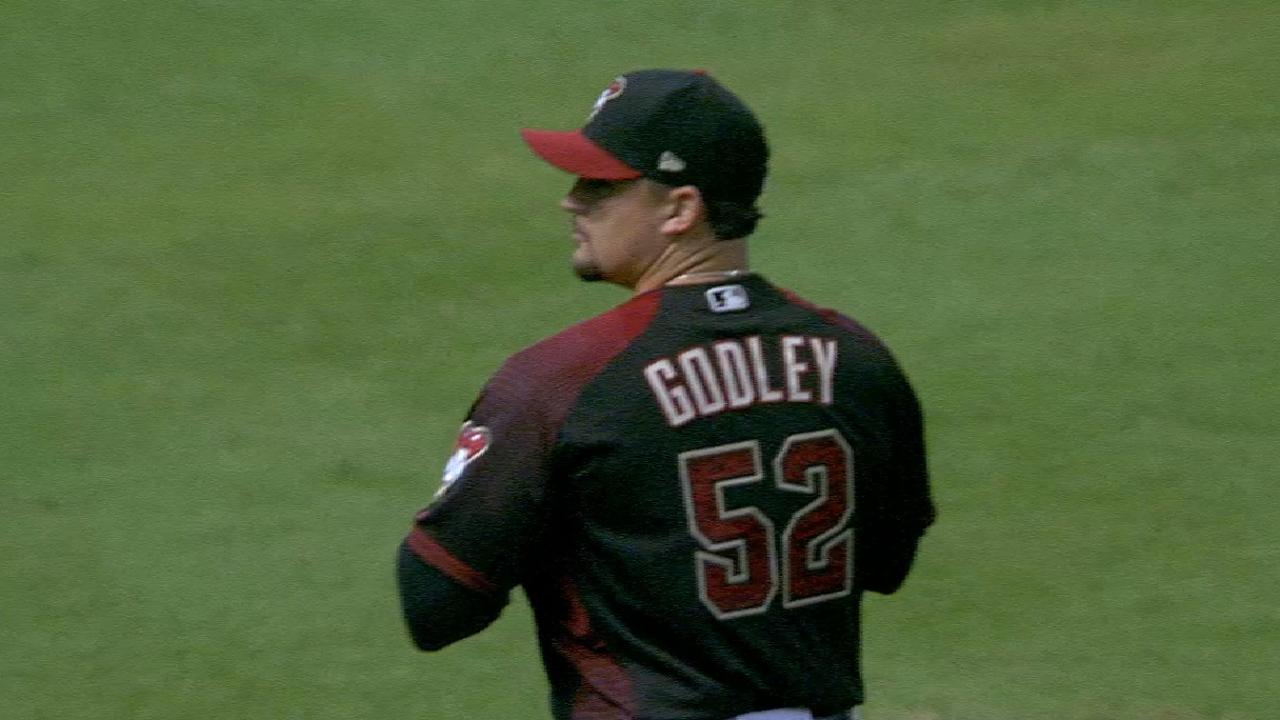 PHOENIX -- The final outcome will leave a bad taste in their mouths, but buried in the D-backs' 8-7 loss to the Padres on Saturday night at Chase Field was one of Zack Godley's strongest outings of the year.
Godley struck out nine batters over seven innings and held San Diego to two runs. The bullpen let him down when it yielded six runs in the ninth inning, but for the first six innings of the game, Godley was nearly unhittable.
Godley gave up a leadoff single to Manuel Margot to start the game, and did not surrender another hit until Yangervis Solarte cracked a two-out double in the seventh inning.
• National League Wild Card standings
"I can't say enough about what Godley's done," Arizona manager Torey Lovullo said. "Have I seen him better? Probably. He's been operating at that level for the majority of the season. … This outing was very typical for a Zack Godley outing. He, unfortunately, didn't get a decision, but he threw the ball very, very well. I'm really proud of what he did."
Between the 19 batters who came to the plate after Margot's single and before Solarte's double, just two managed to hit balls out of the infield. Godley did not walk a batter, and the only runner to reach during that span was Luis Torrens, who struck out swinging in the sixth inning, but reached base safely on a wild pitch.
"Just about everything," Godley said when asked what was working for him. "Mainly my defense. I didn't have a lot of strikeouts; I had a lot of ground balls and they played unbelievably behind me."
The two Padres runs that Godley surrendered came on a 461-foot homer to the left-field bleachers by Wil Myers in the seventh inning, just after Solarte's double.
Godley's nine strikeouts were one shy of his season-high, which he has recorded twice, most recently on Aug. 18. His Saturday outing also marked the first time he has gone seven innings in a game since July 27.
Godley hammered the Padres with 50 curveballs, 13 of which drew swinging strikes, and he racked up 13 more called strikes with the bender. But it was his full repertoire of pitches that allowed him to dial in.
"I felt like most all of my pitches, I was throwing them where I wanted to and getting a lot of ground balls," Godley said. "I think my fastball got more ground balls than my curveball did. I just played well. …. It's kind of one of those things where as the game goes along, you see how everything plays out. Those guys played great behind me."
Jarrid Denney is a reporter for MLB.com based in Phoenix. This story was not subject to the approval of Major League Baseball or its clubs.